Death of Mr. Jacob Frisz Sr.
North Vernon Plain Dealer - August 16, 1906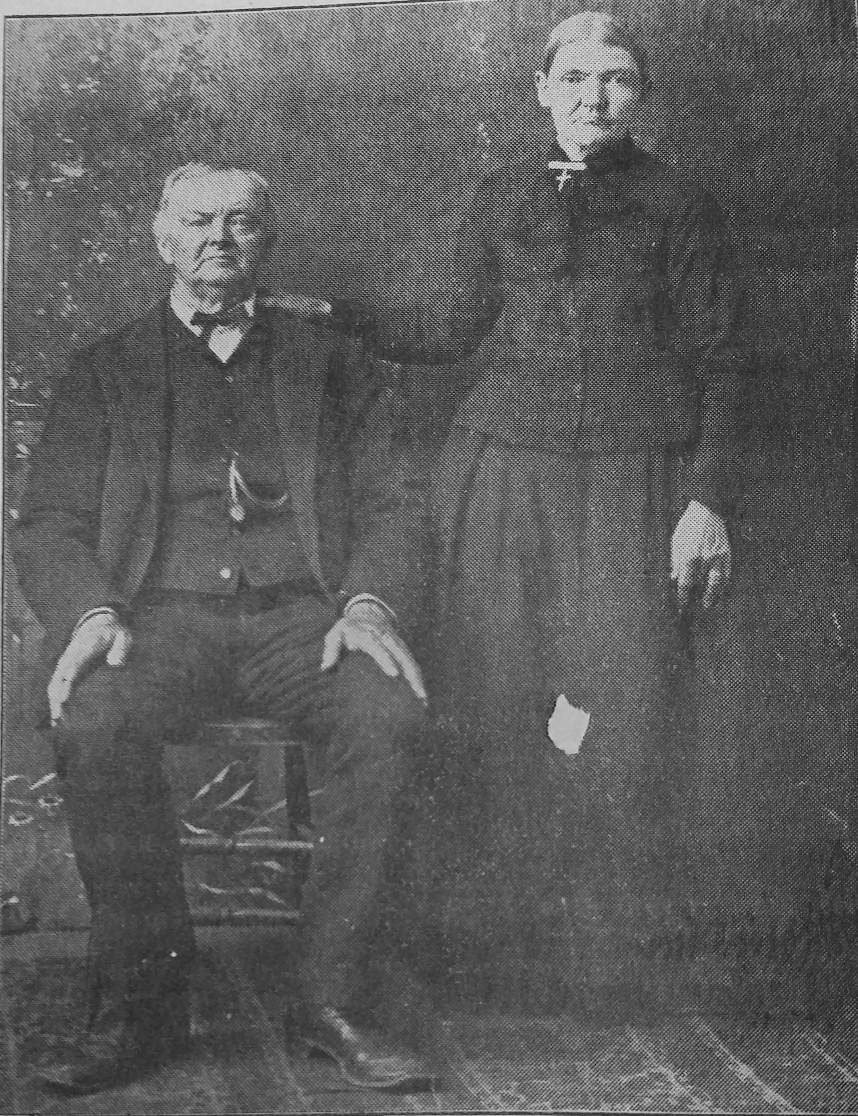 Again death has entered our city and claimed one of our honored and highly respected citizens in Jacob Frisz, sr. The summons came last Wednesday, August 8th just at the break of day. He was surrounded by his faithful wife, his children and friends. He had been confined to his bed only a few weeks, although his health had been failing for some time. Funeral services were conducted at St. Mary's church Saturday morning at 9 o'clock by Rev. Geo. Widerin, after which the remains were interred in the Catholic cemetery.
As we look upon the past life of the late Mr. Frisz more plainly one can see the effects of a noble life lived modestly, and devoted to his creator, dying so peacefully that all could see that he did not fear death in the least but looked forward to a better life. Not a single word can be said against his noble character and treatment of his wife, family, and friends, being ever ready to extend a helping hand.
Jacob Frisz, sr., was born on December 17th, 1826, in Germany, and came to the United States when a young man of 20 years, and settled with his parents on a farm near St. Ann, known as the Kipper farm, this being in 1846. At that time North Vernon was but a garden spot in a wilderness. On July 18, 1859, he was united in marriage to Miss Mary Hemberger, to this union were born five children, three daughters and two sons, Jacob Frisz, jr., one of our prosperous business men being the oldest; Joe Frisz, who is a resident of Terre Haute; Mrs. Barbara Hornberger, who lives at Indianapolis; Mrs. Joe Bauman who is a resident of this city; Mrs. Lena McAllister, the youngest child died about one year ago. Mr. Frisz had been a resident of this city for the past forty years and at one time owned a brick yard where the Eberts & Bro's flour mill now stands, and mad the brick that went into the McCarnan building on O. & M. Ave. and now occupied by Gumble's store.
The following relatives attended the funeral Saturday: John, Peter and Joseph Frisz, brothers of the deceseased, from Terre Haute; Mrs. Anna Kipper, a sister, of Terre Haute; Joe Frisz and family, of Terre Haute; Barbara Hornberger and family, of Indianapolis; Henry Frisz, a nephew, of Central, Ky.: John and Joe Frisz, nephews, of Vincennes; Sophia Ferdinand, a niece, of Vincesses; Mrs. Hazel Hauck, Nettie and Emma Dommershausen, of Terre Haute; Jos. Gottwalles and Lawrence Fogelman, of Indianapolis.
Findagrave link
for Jacob
Findagrave link
for his wife Mary.
---
Daughter of Jacob & Mary Frisz
North Vernon Plain Dealer - August 20, 1905
Called Home
Mrs. Vincent McAllister, better known as Lena Frisz, died Wednesday noon at the home of her parents, Jacob Frisz, jr., and wife. She was brought here several weeks ago from her home in Indianapolis suffering from quick consumption. Her married life was brief but happy. She was married about two years ago (January 12, 1904), and is survived by her young husband and four months old daughter. She was hopeful of recovery until a couple of days before she passed away. Tuesday morning she called all of her family to her bedside and told them goodbye. Soon after she passed to unconsciousness from which she never rallied. She was well loved by her family and friends being a girl of noble character. The funeral will be held tomorrow at nine o'clock from St. Mary's church.
---
You may use this material for your own personal research, however it may not be used for commercial publications without express written consent of the contributor, INGenWeb, and