HARRY DOWD
North Vernon Plain Dealer, July 7, 1949
---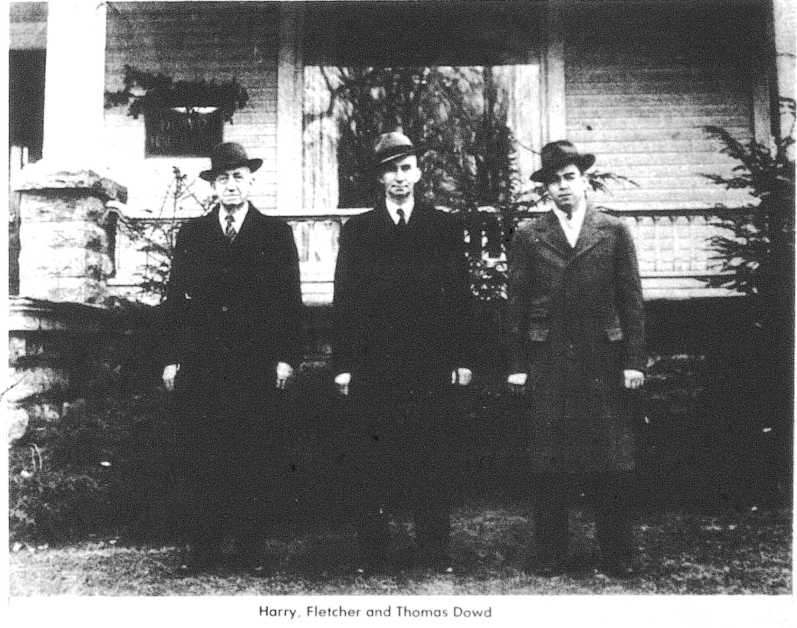 Father Harry Dowd, son Fletcher Dowd, grandson Thomas Dowd
DEATH SUMMONS HARRY DOWD
Harry H. Dowd, 83 years old, died Sunday July 3rd, at the hospital in Columbus, where he had been taken for treatment earlier in the day. Funeral services were held Wednesday afternoon in the chapel in the Dowd Funeral Home conducted by the Rev. Charles Tyler, of the first Methodist church. Burial took place in the Vernon cemetery.
Mr. Dowd was a retired funeral director and was identified in business in North Vernon for many years, conducting a furniture store and variety store from which he retired a number of years ago. He was interested in forest and wildlife conservation in the early days of the Department of Conservation and served as a local representative of the department for a number of years. At the time of his death he was operating the Dowd tourist cabins in this city.
He is survived by the widow Mrs. Myrtle Dowd; one son, Fletcher Dowd of this city; five grandchildren and three great grandchildren; also by a sister Mrs. Cornelia Wagner of Franklin.
---
He was married previously to Jennie Campbell who died in 1914. His parents were George M. and Mary Horton Dowd.
---
You may use this material for your own personal research, however it may not be used for commercial publications without express written consent of the contributor, INGenWeb, and