JOHN J. EVERHART MAKES LAST RUN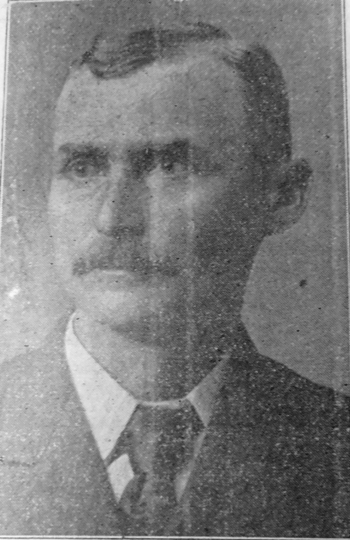 Picture from North Vernon Plain Dealer - January 28, 1909
Picture caption reads-John J. Everhart was born December 12, 1859, at Little York, Ind., and died Sunday Jan. 17th, 1909 in this city.
NORTH VERNON PLAIN DEALER - January 21, 1909
Appoplexy Overtakes Him at His Home Saturday Morning--Death Severs All Earthly Connections Sunday Morning Saturday morning at 3 o'clock John E. Everhart, B.& O. freight conductor, was stricken with appoplexy, which is the breaking of a blood vessel, causing a clot on the brain; he was unconscious until relieved by death Sunday morning at 4 o'clock. The remains were taken to Seymour Wednesday afternoon when funeral services were interred in the city cememtery by the side of his two children.
Mr. John Everhart first saw light of day in Little York, Scott county, Ind., on the morning of December 12th, 1857, 52 years ago; after attending school in the little log cabin a few years the railroad fever seized him and at the age of 17 years, he began life's battle by securing a job with the O.& M., now the B.& O., as brakeman. His loyal service and good business principles placed him in line for promotion and for the past 32 years has served as brakeman, freight and passanger conductor, and was held in high esteem by his superior officers of the B. & O. During these many years he has made hundreds of friends all along the B.& O., having spent a number of years at Seymour and in this city.
John Everhart was married December 12th, 1880, to Miss Clara Boyer of this city; to this union were born five children; two boys and three girls, two of whom are dead, Charles Clifford, age 10, and Mrs. Beulah Ring, age 17. He is survived by a loving wife, two daughters and one son, Mrs. Tony Bott, Miss Nettie, and Howard, all of whom reside in this city. He was a member of the O.R.T. which order had charge of the funeral services at Seymour.
The people who came from a distance were his father, James M. Everhart, of Austin, Ind., J.P. Ulrey, wife and son, of Austin, Ind., Albert Evans and wife, of Louisville, James Boyer, of E. St. Louis, Mrs. Will Smith,of Seymour, Mrs. Harry Reeves, of Cincinnati, Riley Everhart and wife, of Seymour, Mrs. Flora Leiman, of Cincinnati, Michael Subblefield and wife, of Aurora, Joe Ring, of Alexandria, Mr. and Mrs. Chas. Ring, of Alexandria, Mrs. Tom Kelso and Mrs. and Mrs. Geo. Snyder, of Seymour.
---
You may use this material for your own personal research, however it may not be used for commercial publications without express written consent of the contributor, INGenWeb, and