CHARLES H. GREEN
Wednesday, July 1, 1891, North Vernon Sun
---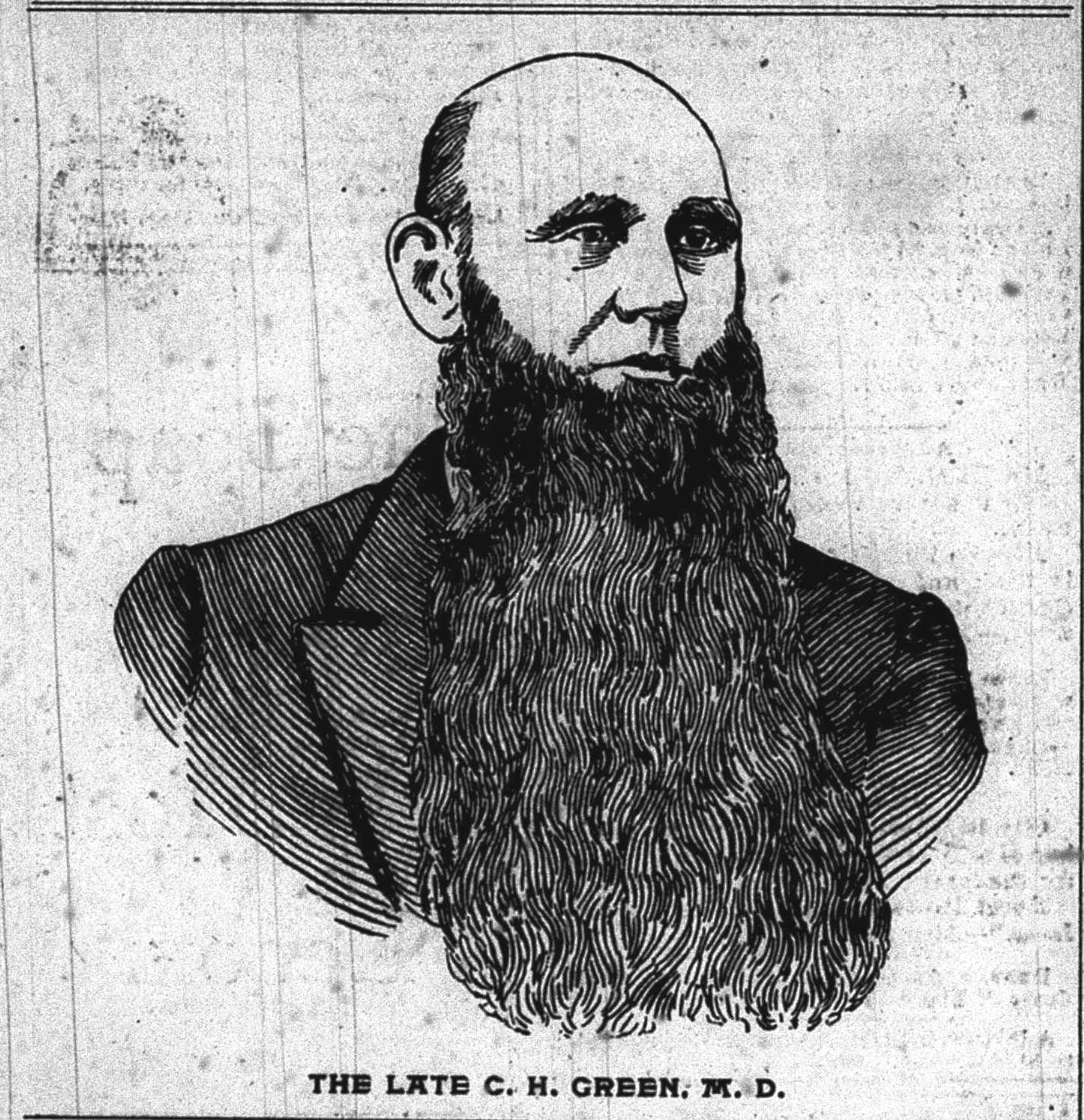 ---
In Memoriam
The following touching obituary on the life of the late Dr. C.H. Green was read by Rev. C.E. Line at the church during the funeral ceremony Wednesday, June 10:
Charles H. Green, M.D. was born in Columbiana County, Ohio, January 26, 1834. Commenced the practice of medicine in Butlerville, Ind. May 20, 1856. He was married to Jennie Hillton, June 23, 1867. To them was born three children, James H. Green, Ary H. Green Charles H. Green, all of whom are living. He united with the Methodist Episcopal church and was made a Mason in the year 1857. Moved to North Vernon in March '59, where he resided until his death which occured Sunday afternoon at twenty minutes of five o'clock, June 7, 1891, aged 57 years, 4 months and 11 days. Dr. Green's life is before us. What do we read? As a citizen he stood high in the community in which he lived. I do not say that he was liked by all, because a man with as marked characteristics as Dr. Green possessed cannot be liked by all. A man with strong convictions and a positive nature is bound to have more or less enemies; but even these are compelled to acknowledge the worth of such a man and they too at last throw the white mantle of charity over all imperfections, confessing as they also are imperfect the dare not cast the first stone. As a citizen Dr. Green was honorable and upright in all his dealings. Begining in this world very poor he struggled manfully and courageously against great odds till he conquered all adverse circumstances. He tried as far as possible to meet every financial claim against him. The height of his ambition was to be honest. In his death North Vernon has lost one of her best citizens.
As a Mason he was true to the order of his choice. He was unflinching in his fidelity to the great principle of masonary. As a physician he was skillful, patient and kind. Money was not the only object with him in his practice, but to be a successful practician and to be charitable to the poor was one of his great desires. Many a poor family in Jennings County to-day thanks Dr. Green for his kindness and to them his memory will ever remain precious. As a student he was careful and painstaking. He searched dilligently and constantly in his department of science. To study human nature was his delight. With him to know men was to successfully doctor men. Nature was always a marvel to him and hence he never became tired in studying her ways. He delighted in watching the lower animals and thus studying their habits and nature. For this reason he became a taxidermist. His office is a monument of his skill in that line.
As a father and husband - we stop here, for we are treading on holy ground. We cannot enter into the sacred precincts of the home and describe him as a father and husband. They who lived with know him best. Hear the testimony of his daughter as the words dropped from her lips at his bed-side. "Oh, he has always been so good and kind to us." He loved his faithful wife and dear children with the deepest affection. his sickness was long and painful. He suffered intensly. While suffering so intensly he sometimes would become fretful. After the great pain would leave him he would become more rational he frequently would say unto me. "I do not want to be unreasonable, I do not want to do wrong." Yes he loved his dear ones, and they will miss his great love which has been their support and comfort for these many years. He did not want them to leave the room; for he wanted to get the last look at their faces as he passed across the river.
In his religious belief Dr. Green was a Methodist, being a member of the church almost 34 years. He was found frequently in the class and prayer meetings, also in the general services. His testimony was clear. He knew God had forgiven his sins and had the evidence of that fact. His constant prayer for a year past has been for a sweeping revival in North Vernon. He said earnestly to me one day in this office, "I am anxious about my children. I do not want them to be just nominal members of the chruch. Oh, that I knew that they were converted and had the evidence of their acceptance with God." During his sickness he clung to life tenaciously, not because he was not prepared to die, but because he wanted to live for his loved ones. Toward the close of his illness he became aware that it was almost an impossiblility to recover. Then he wanted me to pray that he might willingly and cheerfully say, "Lord, thy will and not mine be done." One day Bro. Brazelton and I sat by his side. He said to me, "I want no long funeral sermon, but a plain practical talk, and then as Bro. Brazelton has known me so long, I want him to talk also." At another time his face lit up with a smile and he exclaimed: "The Christian's hope! The Christian's hope! What a blessed hope it is!" Another time I entered the room, and on my iquiry how he felt, he answered, "badly". I prayed with him. Through the entire prayer he said "amen." After the prayer he softly said, "I feel better now." Sunday afternoon his departure was sudden, almost quick as a flash Dr. Green passed to his reward. What a blessed death it is to die a death of rightous. In closing the obituary I want to say a few words:
First To Dr. Green's fellow citizens. During this year death has taken from your midst several of your most prominent men. It behooves you then to live true to the principles of honesty, integrity, and Christianity; for you know not which one of your number will be called next to cross the flood.
Second, To his fellow physicians: Outside of the family two men stand the nearest and dearest to the family. These are the pastor and family doctor. These of all men should be the best and purest of men. We stand here as ministers, you sit there as physicians. God has placed in our case human soul; in yours human lives. To you great responsibility comes. It takes a clear head, a steady nerve and a warm heart to practice medicine. Intoxicants as a beverage clouds the mind, unsteadies the nerves, dulls all moral preceptions, and unfits any man, no matter how far skilled or learned he may be, to practice medicine successfully. I stand here to-day over the remains of this Christian physician to advocate a law which will bar a physician from practicing who is addicted to drink. No doctor, if I know it, shall cross my threshold, upon whose breath is smelt the fumes of alchohol; the lives of my loved ones are too precious to trust in his care. Again. I know some of you are skeptical because you cannot put the human soul under the lense of a microscope or under the sharpe edge of a dissecting knife, you doubt the existance of the soul. I know the tendancy of your profession to make you materialists. But nevertheless every one of you ought to be a Christian. Yes; a consecrated Christian. You stand by the bed side of the sick. The family look to your skill for hope and listen to your words with hope. At last the end comes. Your skill has proved fruitless. Then as the morning glory lifts it head to drink in the beauty of the sun beam, so these bleeding hearts to the hope of the imortality of their friend. Would you crush it? What words of encouragement could you give them. With the dark, chilly unbelief of unfidelity crushing the truest and best instincts of your soul you stand there utterly unable to utter a word of comfort or consolation. May the God of Abraham, Isaac and Jacob, and of the Christian physician lead you out into the light of Jesus Christ, so that into every home where you may go, you may shed abroad the cheery warmth and bright rays of a Christian's hope.
Third to the church: we have lost a faithful member. His seat will be vacant. Let us not be discouraged. Let us pray that his mantle may fall upon his children.
Fourth. To his brother masons. Your order is a grand on. Its principles are founded upon the word of God. But masonary teached the letter of the law. The Bible declares that the letter killeth, but the spirit maketh alive. Hence there is no saving power in masonary. It's man's invention and device. You may belong to the seceret orders of the world and yet die the death of the unrighteous. Hence the lodge is not a substitute for the church of Christ, nor is masonary a substitute for the religion of the Lord Jesus Christ. Your deceased brother did not make this fatal mistake that so many of your number make. Therefore take heed to the exhortation which you Master will repeat soon by the side of this casket, "Let us endeavor, to live the life of the righteous that our last end may be like his." Fifth. To the family: Your hearts are bleeding, but Jesus can heal them. Your hearts are breaking but Jesus can bind them up. "Earth hath no sorrow that heaven cannot cure." Today I would stop your weeping, for God made the tear as well as the smile. But as you weep, weep with joy, that your loved one whose clay rests in this casket sings:
"Save home! safe home in port."
"The exile is at home!
O nights and days of tears,
O longing not to roam,
O sins and doubts and fears,
What matter now, when (so men say)
The King has wiped those tears away."


Then, "Why seek, ye the living among the dead? He is not here, but is risen."
---
Obituary - Dr. James H. Green
North Vernon Plain Dealer - November 24, 1910
Dr. James H. Green, widely known and esteemed in this vicinity, after protracted illness and suffering, died at his home in this city about 5 o'clock Monday morning, Nov. 21, from complication of diseases, the chief which was diagnosed as dropsy of the heart.
James H. Green was born in this city on Oct. 19, 1859, aged 51 years, two months and one day. He was the son of Dr. Charles H. Green, one of the county's first physicians who died June 7, 1891.
He was graduated from the Ohio Medical College in 1884 and took up the practice of medicine here with his father. He was married to Emma Millizen of Sullivan, Ill., Sept. 1, 1885.
He at different times served as county and city health commissioner, county coroner, was a member of the pension board, a number of years. He was local surgeon for the Baltimore & Ohio and Big Four railroads, which position he had held for a number of years.
He was a member of the masons, IOOOF (International Order of Odd Fellows), Modern Woodmen and the Jennings County Medical Association. He was also a faithful member of the First M.E. Church of this city.
He leaves a wife; two sons John H. and Charles H.; a sister, Mrs. Ed Redman of Columbus; and a brother, Charles H. Green of Indianapolis.
Funeral services were conducted Wednesday afternoon at the Methodist Church under auspices of North Vernon Lodge No. 59, F.&A.M. of which Dr. Green had long been a member.
---
I also found this note in the Jennings County Library files.
Dr. John H. Green retired after 48 years of practice. Dut to ill health (two heart attacks in two years) John decided to quit practicing medicine. His first year (1911) as a Doctor found him making house calls in a horse and buggy. In that year there were 20 Doctor's in the county, so he didn't have that much territory to cover. In 1939 when the article was written there were only 5 Doctors in the county. John had delivered 3,521 babies during his practice.
His grandfather Dr. Charles H. Green (obit above), who came here from Ohio in 1856, first opened an office in Butlerville in 1856 and moved his practice to North Vernon in 1858. Charles built a two story brick office building on Walnut Street and practiced there until 1893. This building is on the right hand side of Walnut at the corner of Jackson, as you are going north on Walnut. In 1884 John's father Dr. James H. Green practiced medicine in the same building, where he and his wife Emma Milizen Green made their home in the apartment over the office where John was born. James Died in 1910.
Charles and James graduated from the University of Cincinnati, while John graduated from Indiana Univeristy Medical School (which was located across from the courthouse in Indianapolis at the time.)
John married Minna Graves of North Vernon in 1911 and had no children. He had a private practice in the same two story brick building as his father and grandfather. John served as a city and county health officer for several terms; he was a member of the Indiana State Board of Health for eight years and an examiner for the Jennings County draft board during WWII. He served as a First Lieutenant in the medical corps WWI.
An Editorial written by Dick Mayer in the North Vernon Plain Dealer on February 21, 1961
after the death of Dr. John Green.
Dr. John H. Green
When you think of Dr. Green and his many, many years of service to the sick, the maimed, and dying and those giving birth in Jennings county, you don't want to only captalize the first letter in that noble work Medicine. Instead, the entire word should be written in capitals, and even that seems painfully inadequate.
For he not only practiced MEDICINE, he practiced love of his fellow man. And he indeed was a gifted practitioner at both.
Here was a Doctor in every sense of the meaning of the word. And the memory of him, which lies so close to the heart of us all, hallows and gives reverence to this professional title. for it wasn't a mere title when we said "Doctor" before his name, or were we just showing respect. He was a Doctor and we all knew it. Knew it, in fact, from the day he started practice here in 1911 in a horse and buggy to that time in 1959, when he announced his retirement, and most of us couldn't believe it.
How much, how very much of all of us is wrapped up in this good, kind, gentle man, who gave us so much and asked from us so little? There are, we vouchsafe, few Jennings county homes that knew not the sound of his footsteps late at night when sickness (and the accompanying panic) or an accident had come unexpectedly and he came, always, as expected. And with him came the trained, brilliant mind of a physician, who was not only sensitive to our pain but who never failed to transmit to us the feeling (and in the art of healing this is the true miracle drug) that he really cared about us.
How much we all owe this beloved physician that could never be transmitted into dollars and cents, or for that matter into mere words!
And while we loved him as a Doctor, we loved him as a man. He would have been among our distinguished citizens, whatever his calling might have been. He was a brilliant conversationalist who always had time to talk, and never wanted for enthralled listners. He was a native son, who had a 74-year love affair with the county of his birth, and there was no topic dearer or nearer to his heart than the bygone days of Jennings, and its fascinating history, that was infinitely more fascinating when it came from his lips.
He was a scholar, and well read. The Civil War captivated him, and he eagerly devoured every volume he could get his hand on the war between the states. We gain consolation that God in his mercy spared him so that he could read a great deal of the material that has been published this year on the 100th anniversary of this conflict.
He neglected not his duties as a member of his profession and as a doctor entrusted with the care of the health of this county. He served as both city and county health officer, was a member of the State Board of Health for a number of years, and served the high calling of his profession as president of the Indiana Medical Society.
What more can we say that the floral boquets the contributions to the Heart Fund in his name, the grief we all share and the tears that have been shed have not already said?
How do you get a man like he was boiled down to a few paragraphs of type?
We would bet that if some power would let him read this humble tribute, he would say, for he was always kind, "That's not bad, Dick, but you laid it on a little heavy." And the next thing he'd lean back in his chair, light a cigarette, smile a bit and his eyes would dance, and he'd say: "Dick, that kinda reminds me of the time..."
And we would break into tears and so would anyone else who ever knew him at all.
---
All three of the Dr's Green are buried at Hillcrest Cemetery North Vernon - Links to their Find A Grave listings
North Vernon Plain Dealer June 3, 1965
Charles Green dies in Clayton Saturday
Charles Green, 71, brother of the late Dr. John Green of North Vernon and son of Dr. and Mrs. James H. Green, died in Clayton Saturday. He had been in ill health for several months.
Services were held Tuesday in Clayton. Direct survivors included his wife and two daughters. Burial was in the Clayton Cemetery.
Mr. Green was born and raised in North Vernon and graduated from North Vernon High School in the Class of 1922. He was an outstanding track star for the Panthers in his high school days and also played on the newly-formed North Vernon basketball team.
After graduation from here, he attended Perdue University for a while then worked in sales promotion for a car manufacturer in Indianapolis. He was retired at the time of his death but he and his wife had operated a super market in Clayton for a number of years prior to his retirement.
---
You may use this material for your own personal research, however it may not be used for commercial publications without express written consent of the contributor, INGenWeb, and