"UNCLE JIMMY WILSON"
This page is two articles on James "Uncle Jimmy" Wilson the first is from the March 18, 1902 North Vernon Sun and the Obituary is from January 30, 1903, North Vernon Plain Dealer.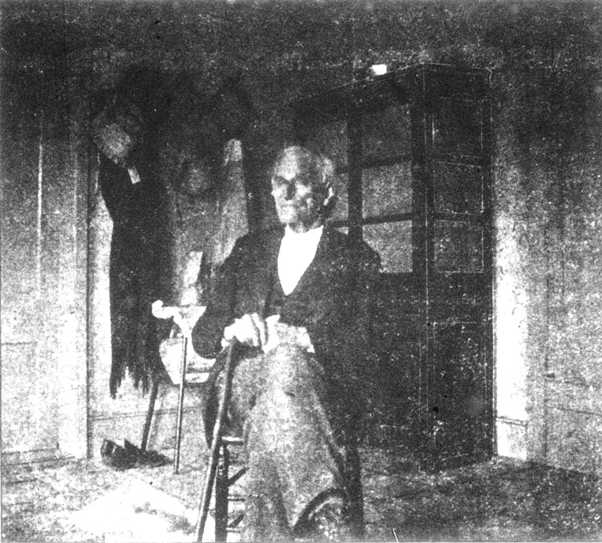 "Uncle Jimmy" Wilson, whose picture we give above, is known to almost every man and woman in the county.
He was born near Mt. Sterling, Ky., November 20, 1809, and came to this state with his parents in 1814, settling in Graham township, Jefferson county, thus making his residence in Indiana long enough to justly entitle him to "A Full Fledged Hoosier" distinction.
In 1834 he came to this county, settling in Vernon township, and has lived here since. Sixty-eight years in one county is a good long residence, and it is no wonder he is known to almost every resident of the county.
Uncle Jimmy was elected sheriff of the county in 1838 and again in 1840, and county commissioner in 1843 and again in 1845. In 1856 he was elected to the state senate and served four years, so you see he was well thought of by his friends and neighbors.
He is the father of eleven children-ten by the first wife and one by the last, but all are dead except two, James H. at Vernon, with whom he makes his home, and John at Indianapolis.
Uncle Jimmy has always been a Democrat, casting his first vote for Andrew Jackson, and proudly boasts that but once did he for for a Republican nominee and that only for a small local office.
He is an Odd Fellow, and has been one for 45 years-the years of an average life.
Just now Uncle Jimmy is in poor health, though not at all dangerous, and bids fair to live many more years, which is the wish of his many friends.
---
OBITUARY
Death of Uncle Jimmy Wilson
James Wilson, aged 93 years, died at the home of his son, James wilson, Jr., last Monday at one o'clock of senility. Funeral Tuesday afternoon from the Methodist church conducted by Rev. Grimes, of Bartholomew county, and Revs. Dolph and Cooper. Interment in Vernon cemetery.
Findagrave link
Uncle Jimmy Wilson, as everybody in this county called him, was born in Montgomery county, Kentucky, Nov. 20, 1809 and emigrated to this state a short time afterwards.
He was married twice; the first time to Charlotte Boner, to which union 10 children were born and the second time to Martha Pearce to which union 1 child was born. Only two children now survive him.
For the past few years Uncle Jimmy had not enjoyed good health and was nursed most of the time by members of the Oddfellow's lodge and relatives, but for some reason he retained a clear memory of events that transpired many years ago, and would forget in a little while, events that took place only recently. He loved to tell of things that occured so long ago that they seemed like ages and one of his favorite themes was discussing politics before the civil war. He cast his first vote for Andrew Jackson and remembered well the days of Wm. Henry Harrison, Daniel Webster and Zachary Taylot and could tell anecdotes of their time. He had a varied political career, having been sheriff of this county four years but the greatest honor he said he ever received was when he was elected to the State Senate from the district of Bartholomew and Jennings in 1857 and 59, defeating Lucias Bingham by a small majority. While Mr. Wilson was in the senate he figured as a peace maker in the senate fight between Col. David Gooding of Greenfield, Mr. Goodings brother-in-law and Horace Heffron.
Uncle Jimmy was always a devout Methodist and Oddfellow and a good Christian man and in former days always extended a helping hand to everybody. In the past few years whenever he was able to be out, he would go among his friends and lend his feeble efforts for good in any direction needed. His friends were numberlesss, his enemies none and his good example in life will serve as a lifeline to those who are prone to follow it. The citizens here, in the county, in the state and wherever he was known will feel grieved because a good, noble and long life has passed to the great majority. An example of his sterling character is shown from the fact that while a senator an attempt at bribery was made. Mr. Wilson spurned the offer and severely rebuked the corruptionist.
A large number of people from Marion township and other parts of the county were here to attend the funeral. The following were the pall bearers: Henry Harman, E.W. Vanscoy, W.M. Nauer, Peter Willman, Eugene Boner and Rolland Merrill.
---
You may use this material for your own personal research, however it may not be used for commercial publications without express written consent of the contributor, INGenWeb, and