G. W. SMITH AND WIFE CELEBRATE GOLDEN WEDDING ANNIVERSARY
January 28, 1909 - North Vernon Plain Dealer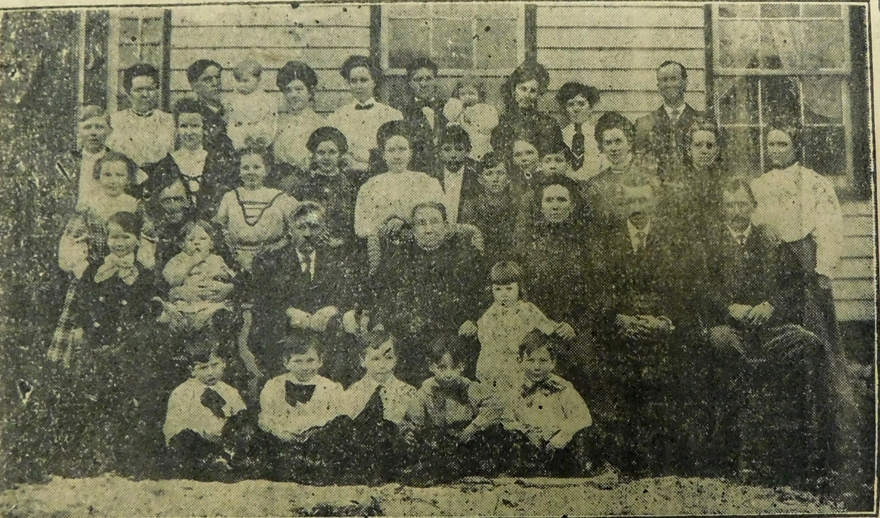 One of the happy events in the lives of quite a number as well as the old time bride and groom, took place Jan. 20, 09, at the home of G. W. Smith and wife, of Paris Ind., when they very appropriately observed the 50th anniversary of their marriage by entertaining their children and grandchildren to the number of 38. Six daughters and two sons, all of their surviving children were present, namely, Mrs. Beecher (Belle) Wainscott, of the Capitol City, Mrs. Ella Reed and Mrs. Della Ricketts, of North Vernon, Mrs. Emma Robertson and Nellie Rector, of Deputy . Chas. and Will Smith, of this community. There were three sons-in-law and seven grand children who could not attend; with these exceptions, it was a case out of the ordinary that so large a family were all permitted to be present.
A merry time was had from the time the different ones reached the station until they took their departure in the evening. A sumptuous dinner was served in good style and heartily enjoyed by all. Mr. Platt White, North Vernon's photographer, accompanied the merry party and took their pictures in several different positions. It was the request of the parents that children should give them only such presents that they could best enjoy the remainder of their lives. Some fine rockers and many other useful and practical presents were given instead of golden ones and are highly appreciated by them.
Mr. and Mrs. Smith at the time of their marriage were residents of Switzerland county, but have lived in a number of different places; they have a nice comfortable home at this place, where they have lived for about nine years, formerly living at Dupont.
Mr. Smith is a veteran of the Civil war and is now enjoying a well earned pension, and we are glad to say he is also a loyal soldier for "King Immanuel," himself and wife are prominent members of the M. E. church, and not members alone but true Christian people who have always endeavored to live honest, upright lives before God and man; their happy wedded life and congenial home bespeaks better than words the results of their efforts.
It has been the writer's pleasant privilege to know this genial couple for years and we can truthfully say no happier couple ever celebrated their golden wedding. They have indeed stood by each other in joys and sorrows, and may prosperity ever attend them and when they reach the shining shore and pearly gates for them unfold, God grant that both may enter in and never, never more grow old.
---
You may use this material for your own personal research, however it may not be used for commercial publications without express written consent of the contributor, INGenWeb, and