Pioneers of Campbell Township Cellebrate Their 61st Wedding Anniversary
October 6, 1905 - North Vernon Sun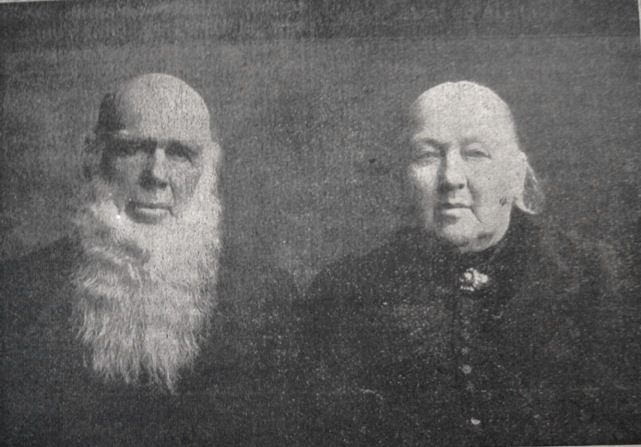 Elijah Davis and Anna Davis celebrated their 61st wedding anniversary Sept. 26th, at their home two miles north of Butlerville.
On the morning of the 26th, when the Great Spirit had taken his garments from before the sun, the children, grand children, great grand children, friends and neighbors of the aged couple to the number of 140 turned their faces towards the Davis farm and helped make the occasion a day of joy. Many presents as well as eatables were brought.
A thirty foot table was placed in the maple grove and filled with all the things a man could wish. Then Mr. and Mrs. Davis were seated at the head of the table and as they sat alone, said truly from hearts: "Children and friends come and take of the bounties of God with us once more."
After dinner Otto White took a photograph of the aged couple and then J.R. Davis, the oldest son of the aged couple, took his family consisting of his wife, nine children and thirteen grandchildren down to the old cave in which there is a spring and which has always been a cherished spot from Mr. Davis' boyhood days to the present time. Another picture was here taken for members of the Davis family.
The following brief sketch of the aged couple is furnished us.
Elijah Davis was born in 1822 on the farm where he now lives and his father, James Davis interred it from the United States government in 1820.
Anna Rees was born in Pennsylvania in 1828 and moved to Jennings county with her parents when a small girl. She was married Sept. 26, 1844, and started on the happy life's highway on the farm where they still reside; and on this farm they raised nine children, but two of the number dying, one in the morning of life and the other touched the noon day of life, then passed to silence and pathetic dust in the Brush creek cemetery, which is on the Davis farm.
They have been good and faithful members of the Brush Creek Baptist church from childhood. Elijah Davis has been a member of the F.A.E. Lodge at Butlerville since it's infancy.
One of the amusements of the day was a base ball game. Davis vs Butlerville Shamrocks.
Score: Davis R.7, H. 10, E. 4 Shamrocks R. 3, H. 3, E. 5
Batteries-J.W. Davis and G.B.Davis, F. Pool, L. Grubs
Some of the guests from a distance were;
Mr. E. Worland and family, Milhousen,
J.S. Davis and family, Versailles;
F. Adkins and family, Versailles;
W.H. Davis and family, Dupont;
C. Davis and family, Dupont;
E.L. Davis and family, Cincinnati, O;
Mr. McGarrean and family, Shelbyville;
J.W. Davis and family, North Vernon;
J.R. Davis and family, Oakdale;
W.W. Grinstead and wife, Nebraska;
F.M. Rees and family,Nebraska;
Jacob Davis and family Nebraska.
---
You may use this material for your own personal research, however it may not be used for commercial publications without express written consent of the contributor, INGenWeb, and