ROY J. MORGAN
May 13, 1890 - October 19, 1918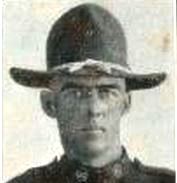 GOLD STAR HONOR ROLL
- Indiana Historical Commission. Indiana World War Records: Gold Star Honor Roll, A Record of Indiana Men and Women who died in the service of the United States and the Allied Nations in the World War, 1914-1918. Indianapolis, IN, USA: Indiana Historical Commission, 1921.
Son of James and Amanda Morgan (Koontz); born May 13, 1890, Butlerville, Jennings County, Ind. Laborer. Entered service October 3, 1917, North Vernon, Ind. Sent to Camp Taylor, Ky. Transferred to Camp Meade, Md. Went overseas in May, 1918, assigned to Company M, 119th Infantry, 20th (Old Hickory) Division. Killed in action October 19, 1918, near St. Quentin, during the Somme Offensive. (Place of burial unknown). (Hillcrest North Vernon).
---
Local Newspaper Clippings on Roy Morgan.
November 28, 1918 - North Vernon Plain Dealer
Roy J. Morgan
Mrs. Charles Knaub, of this city, received notice Sunday of the death of her nephew, Roy J. Morgan, who was killed in action on the western battle front in France, October 19th. Roy Morgan was born and raised in Jennings County, being the son of James Morgan of Butlerville. For several years he had made North Vernon his home and on October 4th 1917, he went with an increment of drafted men to Camp Taylor., where he received his military training.
He sailed for France in May with Company M., 119th Regiment Infantry and had been at the front for several months, taking part in several hard battles. He has one brother, Frank Morgan, with the U.S. Marines and one sister, Miss Vivian Morgan, who is a Red Cross nurse, at present located at Camp Dix, New Jersey. He was thirty years of age. He is survived by his mother, who at present lives at Dayton, Ohio.
January 16, 1919 - North Vernon Plain Dealer
The following is a letter received by Mrs. Maggie Knaub from Capt. T. A. Wright, in regard to her nephew, Roy J. Morgan who was killed in action Oct. 19th, 1918.
Company "M" 119th Infantry
American Expeditionary Forces France
November 27, 1918
Dear Mrs. Knaub:
In answer to your letter of November 9th, 1918 to Commanding Officer 119th Infantry in regard to your nephew, Roy J. Morgan, am very sorry to have to inform you that Roy was killed in action on October 19, 1918, by shell fire.
Roy was an excellent soldier and at all times showed an untiring devotion to duty, and you can rest assured that in losing your nephew was a sacrifice for his fellow comrades and his loved ones back home, and you should and will be proud to have had such a brave and noble nephew.
With best wishes, am Very Truly,
(Signed) T. A. Wright, Jr.
Capt. 119th Infantry
November 27, 1918
April 28, 1921 - North Vernon Plain Dealer, pg 1
ROY MORGAN BURIED WITH MILITARY HONORS
Made Sacrifice In World War Conflict.
The body of Roy J. Morgan, who was one of the heroes who fell in the great World War, arrived here from New York, Friday night, and was taken to the home of his mother, Mrs. Amanda Koontz, on Buckeye Street.
The burial took place with military honors Sunday afternoon, the funeral being in charge of Jennings County Post, No. 91, the American Legion. The ex-soldiers, numbering about two hundred, formed in procession at the residence and marched to the City Cemetery, where the funeral services was held. Rev, C. P. Gibbs, pastor of the First M. E. Church, held a prayer service, after which the ritualistic service of The American Legion was read. Following this the bugle sounded taps, and the firing squad fired the last salute for a departed comrade and hero.
A letter, which was written to his mother by his captain, was read by Rev. Gibbs, at the funeral service. In the letter the captain commended the young hero for his faithful service and many acts of bravery. He stated that the soldier had been chosen as company messenger to carry messages to the front. It was while returning from a mission of this kind that he was struck by a piece of shrapnel and instantly killed.
He is survived by his mother, Mrs. Amanda Koontz, of this city, his father James Morgan, of Butlerville; one sister Miss Vivian Morgan, of Indianapolis, two little half brothers and one half sister, Lester, Archie and May Koontz, and his aunt, Mrs. Chas. Knaub, of this city.
April 28, 1921 - North Vernon Plain Dealer, pg. 4
CARD OF THANKS
I thank The American Legion for taking charge and assisting at the burial of the remains of my son, Roy J. Morgan, a soldier whose death occurred in the service, overseas. I also thank Undertaker Rapp, Rev. Gibbs, all who sent flowers and all who offered assistance and sympathy.
Mrs. Amanda Koontz
April 28, 1921 - North Vernon Sun
ATTENDED BY BIG ESCORT
Full Military Honors Paid Another Hero Of The Late War
The funeral service of Roy Morgan age 24, who was killed in action at Rebauville, France, October 18, 1918 was held at the home of his mother, Mrs. Amanda Koontz, Sunday afternoon.
The funeral took place at 2 p.m., the American Legion having charge of the services.
The body was escorted from the house to its last resting place by a company of one hundred and fifty men, most of them in uniform, who gathered from all over the county to pay their last respects by joining the escort.
The body arrived here Friday morning and was taken to the home of his mother, from where the funeral took place.
Rev. Gibbs officiated at the services and also read a letter received by the boy's mother from the Capt. of his regiment shortly after he was killed. The letter follows:
Dear Mrs. Koontz:-
In reply to your letter of February 24th wish to tell you that there was not a better liked or more popular man in the company than Morgan. By his quiet demeanor and manly qualities he had gained the admiration and respect of both his officers and fellow soldiers.
On account of fearlessness and devotion to duty, I picked him for one of the Company Runners (the most dangerous and trying job in a Company.)
He was killed instantly about eleven o'clock on the morning of October 19, 1918, in the town of Ribeauville (France). At the time of his death he and myself were returning from Battalion Headquarters where we had just received instructions that we would be relieved from the line that night (which we were, and which proved to be our last tour of duty in the line.)
We had just been talking to the Chaplain who was in the town, looking after the dead and wounded, and were about 20 yards from Company Headquarters when we heard a shell coming toward us. We both crouched agains the side of a building within arms reach of each other. The shell exploded within 10 feet of us killing Morgan instantly with a piece of shrapnel through the heart.
He was immediately removed to the rear and received a Christian burial, conducted by the Battalion Chaplain.
Again expressing my sorrow for your loss and the deep respect in which Morgan was held by both his officers and men, I remain.
Yours very truly,
(Signed) Timpthy A. Wright,
Capt. Company "M" 119th Inf.
A few words by Commander Schierling, after which a salute was fired over the grave, and "Taps" were sounded by bugle, ending the last rites for one more of our boys who gave his life for his country.
---
Roy J. Morgan was the son of James Morgan 1855 - 1934 and Amanda (Tate) Morgan Koontz, James and Amanda divorced sometime between 1900 and 1907 when she married William S. Koontz. Amanda & William Koontz divorced in 1922. I have not found a death date for Amanda (Tate) Morgan/Koontz, it anyone has this information please let me know. SLK
---
You may use this material for your own personal research, however it may not be used for commercial publications without express written consent of the contributor, INGenWeb, and