JAMES R. POOL
June 25, 1842 - March 31, 1915
Contributed by Fran Sabo of Valley Stream, NY
---
The pictures below took a long road home to Jennings County where he was born to Isaac & Juliana (Price) Pool. I received an e mail asking if I would be interested in information and pictures of James Pool. Of course I said yes! I was curious about Fran's connection to James so asked and here was her response. "I like to buy now and than on Ebay so decided to look at old photos.I put in a search for Civil War Soldiers photo's so I may be able to have a piece of that time in history. After looking at all they had at the time, James photo came up with his name on the back of the case. I thought that made him more personal." Fran then went a step further and did some quite thorough research on James.
So around 150 years after his service in the Civil War, pictures of James during his service in Company "H" of the 68th Regiment of Indiana Infantry can now be seen by those who may be researching his family and those of us who appreciate his service. More information from Fran's research is below the photo's. THANK YOU FRAN!
---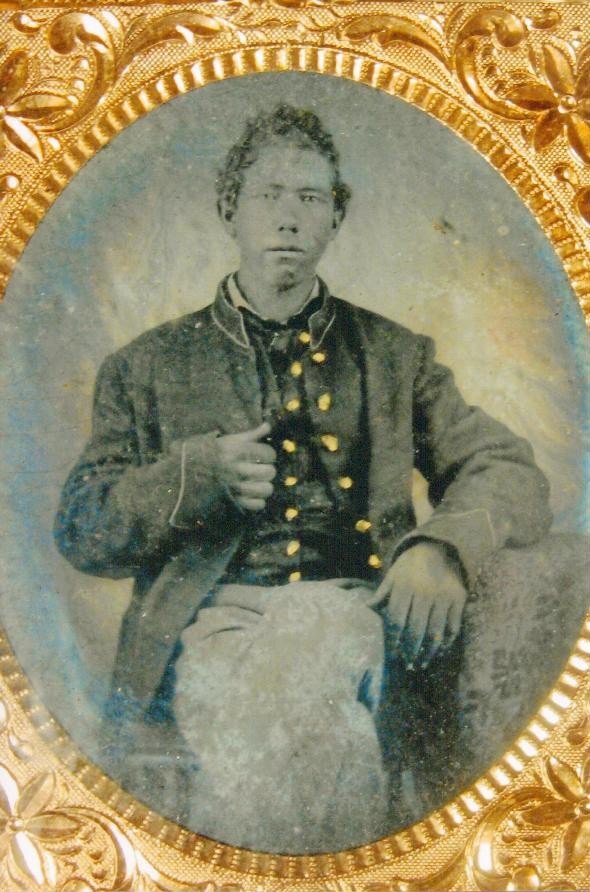 ---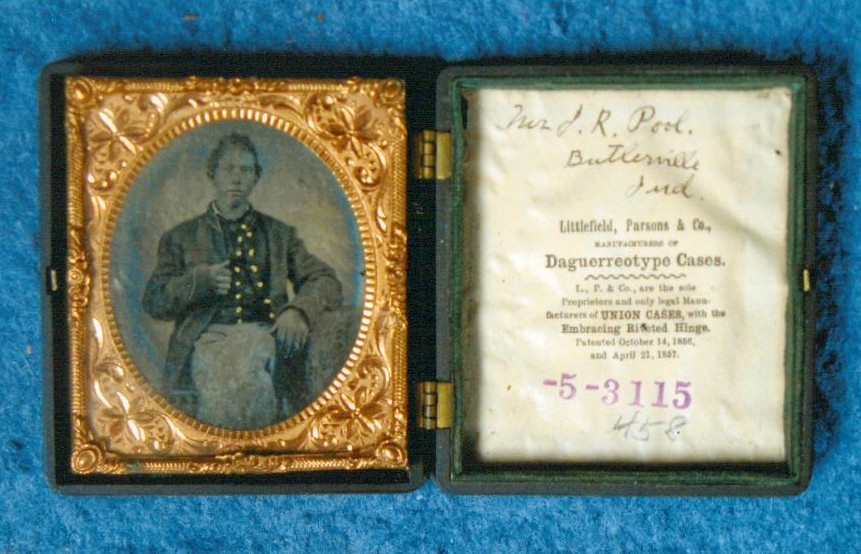 ---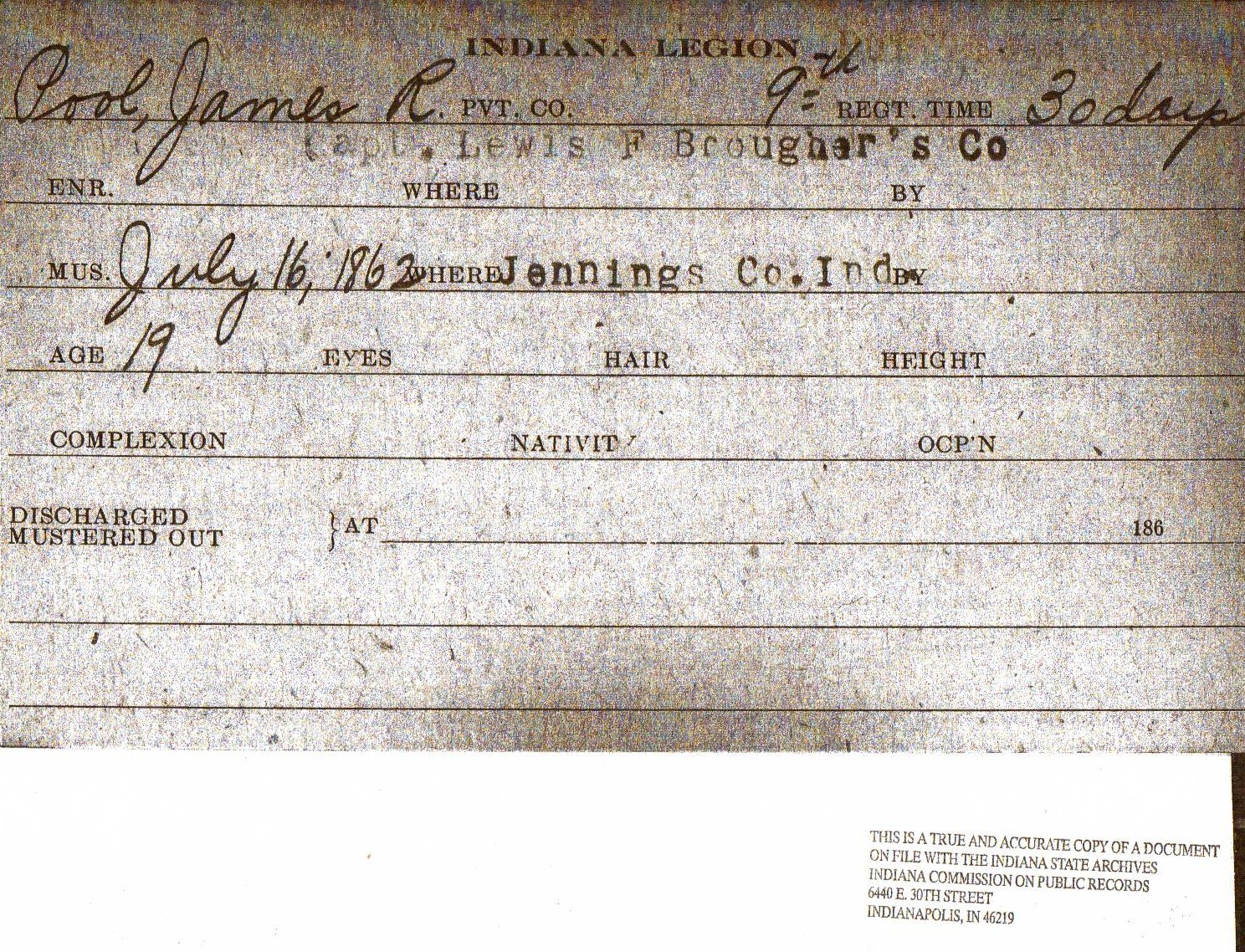 ---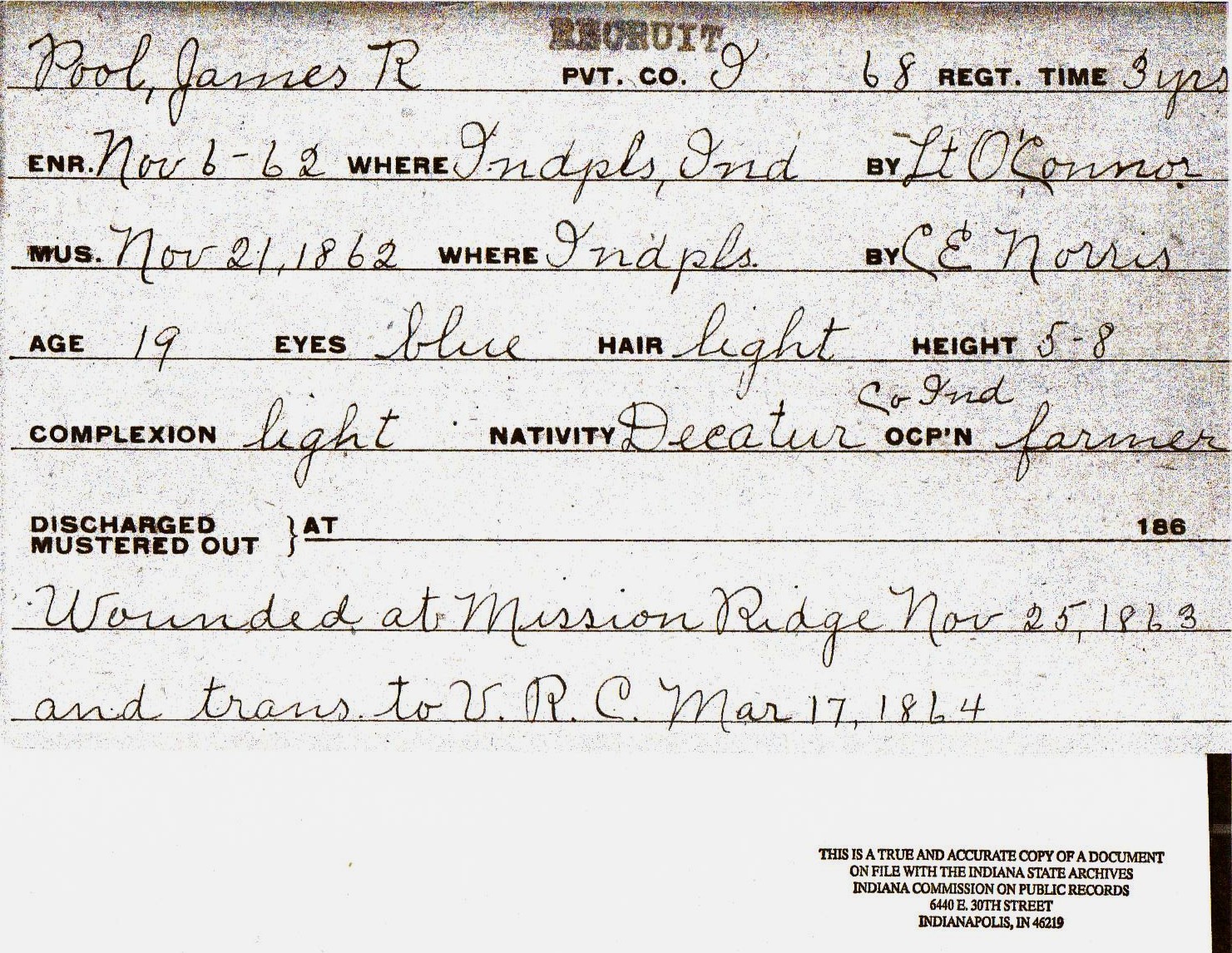 ---
Regimental History
68th Indiana Infantry
Sixty-eighth Indiana Infantry. Cols., Edward W. King, John S. Scobey, Harvey J. Espy; Lieut. -Cols., Benjamin C. Shaw, John S. Scobey, Harvey J. Espy, Edmund Finn; Majs., John S. Scobey, James W. Innis, Harvey J. Espy, Edmund Finn, Cyrus B. Goodwin. This regiment was organized at Greensburg, mustered in Aug. 19, 1862, left at midnight of the same day for Louisville and thence for Lebanon, moved to Munfordville and there surrendered with the other troops to Gen. Bragg, being paroled and exchanged in December. On Dec. 26 a detachment moved to Louisville, where it was joined by the rest of the regiment on the 31st. It proceeded to Murfreesboro, Tenn., where it was assigned to the 1st brigade, 4th division, 14th army corps. It was in the engagement at Hoover's gap in June, 1863; moved over the Tennessee and Lookout mountains in September, skirmishing with the enemy at Pond Springs; was engaged in the battle of Chickamauga, losing 135 in killed, wounded and missing out of 356 engaged, Col. King being among the killed, and it was among the last to leave the field. On Oct. 11 it was transferred to the 1st brigade, 3d division, 4th army corps, and took part at Missionary ridge, losing 82 in killed and wounded. It then marched to the relief of Burnside at Knoxville, and later toward Dandridge, returning soon to Knoxville and moving thence to Marysville. During March, 1864, it was on duty at Knoxville, Strawberry Plains, New Market, Morristown and McDonald's station. It was on garrison duty at Chattanooga from Apr. 28 to Aug. 14, and was then in a skirmish with Wheeler's cavalry at Dalton, Ga. It was engaged in several minor expeditions from Chattanooga until Oct. 27, when it moved to Decatur, Ala., and was engaged with the garrison in a fight with Hood's forces. It guarded the forces tearing up the track near Resaca from Nov. 13 to Nov. 29, when it moved to Nashville, and was in the battle there in December. It was in pursuit of Hood's army as far as Leighton, and from there returned to Chattanooga. It was engaged on bridge guard duty and mustered out at Nashville June 20, 1865, the recruits being then transferred to the 44th regiment and serving with it until mustered out Sept. 14. The original strength of the 68th was 905 ; gain by recruits, 112; total, 1,017. Loss by death, 142 ; desertion, 48; unaccounted for, 5.
This Regimental History taken from "The Union Army" by Federal Publishing Company, 1908 - Volume 3
James R. Pool was injured at Missionary Ridge and transferred to the Verteran Reserve Corps. The Veteran Reserve Corps (originally the Invalid Corps) was a military reserve organization created within the Union Army during the American Civil War to allow partially disabled or otherwised infirmed soldiers (or former soldiers) to perform light duty, freeing able-bodied soldiers to serve on the front lines. The title "Veteran Reserve Corps" was substituted for that of "Invalid Corps" by General Order No. 111, dated March 18, 1864. The men serving in the Veteran Reserve Corps were organized into two battalions; the First Battalion including those whose disabilities were comparatively slight and who were still able to handle a musket and do some marching, also to perform guard or provost duty. The Second Battalion was made up of men whose disabilities were more serious, who had perhaps lost limbs or suffered some other grave injury. These latter were commonly employed as cooks, orderlies, nurses, or guards in public buildings.
---
Descendants of James R Pool
Generation No. 1
1. JAMES R POOL Was born 25 Jun 1842 in Jennings County, Indiana, and died 31 Mar 1915 in Jennings County, Indiana.
He married (1) MARTHA A MONROE 18 May 1865, in Jennings County, Indiana, daughter of GEORGE MONROE and NANCY CHAMBERS. She was born 1845 in Jefferson County, Indiana. In the 1860 census George & Nancy Monroe and family are living in Campbell Township, Jennings County as was James R. Pool.

(2)He married - NANCY REGINA DAVIS 25 Aug 1901 in Jennings County, Indiana, She was born 1853 in Indiana. Nancy was first married to George W. Pool, Jan 1, 1846 - Nov. 27, 1879. She was his widow when she married James R. Pool.
More About JAMES R POOL:
Residences from census records:
1850, Vernon, Jennings, Indiana;
1860 Campbell Township, Jennings County, Indiana;
1870 Sandcreek Township, Decatur County, Indiana;
1880 Columbia Township Jennings County, Indiana; 1900 Center Township, Jennings County, Indiana;
1910 Campbell Township, Jennings County, Indiana.
When James died in 1915 he was buried in Brush Creek Cemetery, Campbell Township near many of his relatives.
More About MARTHA A MONROE:
Residence: 1880, Columbia, Jennings, Indiana, United States
North Vernon Banner Plain Dealer September 13, 1899
Obituary
Martha A. Monroe was born near Kent, Jefferson county, April 17, 1846; died at her home in Brewersville, Sept. 10, 1899. She was married Jas. R. Pool May 18, 1865. To this union five children were born, four sons and a daughter. The husband and four children remain to mourn their loss, one son having died when but five years of age. She joined the Brush creek Baptist church when she was thirteen years old and lived a consistent cristian life. She was a constant sufferer for over two years. During all her suffering she never murmured or complained but patiently waited and prayed for the end to come when she could be at rest. Funeral was preached by Rev. J. W. Campbell at the residence at 10 a.m. Monday, after which the remains were gently laid to rest in the Kellar burying ground. S.D.A.
Card of Thanks
We desire to tender our thanks to our friends and neighbors for their kindness during the sickness and death of our companion and mother.
J. R. Pool and Children.

More About NANCY REGINA DAVIS:
Residence: 1910, Campbell, Jennings, Indiana
Children of JAMES POOL and MARTHA MONROE are:
1. i. MADORA A "DORA"4 POOL, b. 1869, Sardinia, Decatur County, Indiana.
2. ii. JOHN M POOL, b. 1873, Jennings County, Indiana.
3. iii. JEREMIAH T "JERRY" POOL, b. 1875, Jennings County, Indiana.
4. iv. JOSEPH W POOL, b. Jun 1877, Jennings County, Indiana.
Generation No. 2
1. MADORA A "DORA" POOL was born 1869 in Sardinia, Decatur County, Indiana.
She married EDWARD "ED" CLARKSON, son of GEORGE CLARKSON and CARRIE. He was born 1864 in Jennings
County, Indiana.
Children of MADORA POOL and EDWARD CLARKSON are from census records:
i. HAZEL D CLARKSON, b. 1897, Jennings County, Indiana; d. 09 Sep 1996; m. UNKNOWN FERDINAND
ii. LAWRENCE CLARKSON, b. 28 Oct 1898, Jennings County, Indiana; d. Dec 1981.
iii. ENID CLARKSON, b. 1901, Indiana.
iv. CAROLINE M CLARKSON, b. 1903, Indiana.
v. ALPHA CLARKSON, b. 1904, Indiana; m. CHAT? ROWEN.
vi. JOSEPH CLARKSON, b. 1907, Indiana.
vii. GEORGE CLARKSON, b. 12 Mar 1908; d. Oct 1983.
viii. ALMA J CLARKSON, b. 1910, Indiana.
ix. JAMES CLARKSON, b. 1915, Indiana.
2. JOHN M POOL was born 1873 in Jennings County, Indiana.
3. JEREMIAH T "JERRY" POOL was born in 1875 in Jennings County, Indiana
4. JOSEPH W POOL was born June 1877 in Jennings County, Indiana
Notes:
In 1900 census, Center Township, Jennings County there is an Eldo Pool age 17 living with
Joseph and John all are listed as saw mill workers and employees of a J. B. Stearns who
owns a mill. They are all living with Mr. Stearns and next to Dora and her husband Ed
Clarkson, their father James R Pool is living with the Clarksons.

---
You may use this material for your own personal research, however it may not be used for commercial publications without express written consent of the contributor, INGenWeb, and