Letter to the Freedom Guards
October 1, 1863 - Vernon Banner, written August 18, 1863 in Jefferson County, Indiana
---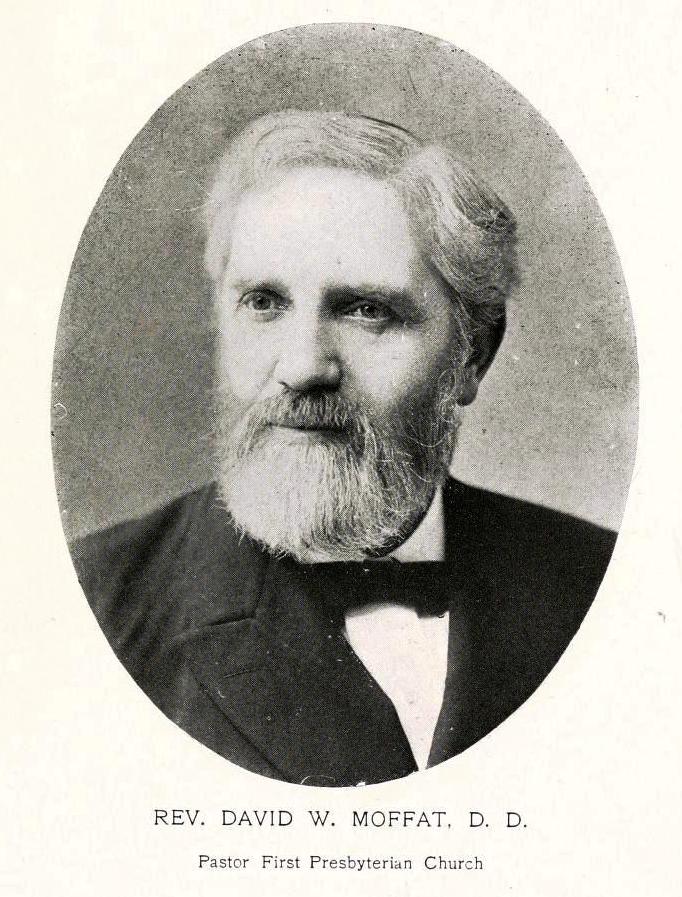 Rev. David W. Moffat author of the letter below taken when he was pastor of the the church in Fort Wayne, Indiana
---
FREEDOM GUARDS; - Being removed from Jennings County, and it being to your interest to have a captain with you, I have sent to the Governor through Col. Brown, my resignation of the office of Captain, which I have held in the company since its organization.
The occasion calls for a few words from me: It is over two years ago since you conferred upon me the highest honor in your exclusive gift. Unexpectedly to myself and against my own wishes you unanimously elected me. With diffident hesitancy I accepted what I did then, have ever since esteemed an honor,- not because it was a captaincy, for that ordinarily amounts to very little. But because it was the captaincy of the Freedom Guards.
As to the manner in which I have discharged my official duty it becomes me to say little. I have tried to do my duty in the government of the company. I determined from the very first to aim to control more by moral than by military power;- not to depend on the power officially in my hands, but on the reason and honor of the members of the company. I said to myself, "I know the Freedom Guards. They are intelligent true and honorable men. Show any one his duty and he will do it cheerfully. They dont need a commander so much as one to regulate and superintend the company affairs." I was not deceived, true and honorable, I have found you to be. Mistakes doubtless I have sometimes made but to day I can say upon looking back over the period of my official relation with you, that I do not remember an act of mine whose motive I could wish to change. I am not conscious of a single act of mine, as your captain which did not spring from a sense of duty to the service, to the company, or to the individual members. To a minitary officer within these three departments, lies his duty to his God.
During all the time of my official connection with you, harmony as perfect and entire as ever falls to the lot of erring mortals has reigned among us and now at parting with you, I can say from the heart that I regard you all as personal friends, and that my love and esteem for you are not clouded by a single grudge or grievance. Why should it be so? every day that I have been with you has only given you a renewed opportunity which you have invariably used to add to the weight of my obligation to love, honor and esteem you.
To the Lieutenants, whose constant cordial and generous manifestation of friendship I can never forget. I have nothing new to give for they have always had my highest esteem and unshaken confidence.
To the non-commissioned officer, Sergeants and Corporals, for their able and efficient service, and prompt and cheerful attention to orders, I offer my sincerest thanks.
Freedom Guards, Officers and Privates, to you all for the noble generous and ever indulgent manner in which you have individually and collectively treated me a your Captain. I can make no return except the offering of the sincere tribute of a heart which shall cherish your memory, with the warmest affection, and esteem, while it continues to beat. Here I would stop and supress one of the biggest thoughts in my mind, but I cannot. The memory of the noble dead claims a place here. The dust of some of them sleeps near you. The blood of others who have gone out from us, has been offered a willing sacrifice on the altar of our common country. Holier blood has never dyed a battle field of the Union, than that which former Freedom Guards have shed. Nobler hearts and purer spirits have not gone forth to battle, than those who went out from among us. Peace be the ashes of the dead, and honor to the memory of the living. For I cannot but remember too those who still stand on the field of action, for liberty and Union. Indeed our little company has been a Patriotic military training school for the army. And when I think what has made our numbers so few, I feel proud that they are so few. Your own service, brother soldiers, you do not put it in comparison with that of those who have gone into the Federal army, yet it has been useful, timely and upon your part self sacrificing. And auspicious as this hour in the history of the war is, your country may yet have need of you. The prospect is bright and cheering. The armies of the Union are everywhere victorious but let us not think the war is over. Think not the danger is over. Preserve you organization, perfect your drill, learn to shoot, to a hairs brenth; trust in God and the justice of our cause: and remember if you are called on to fight, I want to have a gun and be with you. I say the war is not over. I would hope the worst is over, but it is best to be prepared for any emergency. And let the war be long or short, ultimate victory is sure. That the principles for which we are fighting shall prevail, I have no shadow of a doubt. God reigns, and truth and right shall triumph, and triumph as they always have done, in the past, through suffering.
The blood of this war is a fountain of purification, and our country shall yet come up from it, regenerated, redeemed, more lovely, and more loved than ever before.
Let every patriot do his duty, and no danger of the result.
Let us have no armistice or truce with traitors in arms.
Let not the patriotic lives which have been sacrificed in this war, be sacrificed in vain. Let us conquer a peace that shall be righteous, pure, and enduring, as right and purity.
Let nothing rotten be wrapped up in it. Let us not throw a vail over the course of the war, and say
peace
. Such a peace would be but a delusion, disasterous in its results. When this war commenced I was opposed to the idea of the Government interfering with slavery. I wished to see the Union restored without reference to slavery, one way or the other, I looked to peaceful means to do away with that curse of our country. But the logic of events has convinced me as it has thousands of others, that the only permanent peace we can obtain, is that which shall have no cause of war, wrapped up in it. My faith is that we shall have such a peace, and that when our country comes up from this baptism of blood, her skirts dripping with the crimson life tide of her brave and patriotic sons, she shall come up purified from the foulest blot that has heretofore stained her robes of Liberty.
But I have detained you too long. Again I beg you to accept my sincerest love and highest esteem. And with the most ardent good wishes for your welfare as individual friends, and as a company, I bid you my beloved fellow soldiers, a most affectionate farewell.
D.W. Moffat
---
This is another case of someone who fascinated me so I did some research on him.
Sheila
MEMORIAL RECORD
of
Of Northeastern Indiana
Chicago
THE LEWIS PUBLISHING COMPANY
1896
Pages 91-93
R
EV. DAVID W. MOFFAT, D.D., has devoted the greater part of his life to his fellowmen and is now continuing his labors in the fields of Christianity as pastor of the First Presbyterian Church of Fort Wayne. The salvation of his fellowman has long been to him a most absorbing theme, and earnestly and unostentatiously has he worked for the betterment of humanity. His power as a minister has been heightened by his fine scholarship, his oratorical ability and his persuasive arguments, and to-day he is recognnized as one of the leading representatives of the Presbyterian ministry in Indiana.
On the 9th of January, 1835, the Rev. D.W. Moffat was born, in Morris county, New Jersey, descended from Scottish ancestors. His father, David Douglas Moffat, a New Jersey farmer, emigrated westward in 1836 and with his family settled on a tract of land bordering the Ohio river near Madison, Indiana. Among the beautiful hills and vales of that region David passed his childhood days, developing a love of nature that is often manifest in his discourses, and that adorns his speech as do the flowers the brookside. He began his literary education in the Madison schools and in 1858 was graduated at Hanover College, meeting the greater part of his collegiate expenses with money that he earned by teaching. He also received limited assistance from his father. The period of his young manhood was an era of political agitation. Slavery was the all absorbing theme and he took a deep interest and active part in the great anti-slavery debate and movement to prevent the extension of slavery into the new Territories. He was a lover of freedom and the pernicious influences of human bondage met his strenuous opposition. His powers as a public speaker undoubtedly led to his selection of the legal profession as a life work, and after graduating at college, he began the private study of law in Vernon, where his parents had previously removed.
There comes a time in the life of perhaps every one when momentous questions come up for a decision,-questions upon which the future weal or woe of the individual depends. Dr. Moffat had now reached this period of life. He had been reared in a Christian home, but doubt and skepticism had entered into his mind and what he had accepted as truth because it came to him as the teaching of his honored parents he now wholly or in part disbelieved; yet he was fair-minded and realized that every professional man ought to have settled and intelligent knowledge of the teachings of the Bible. He therefore entered upon a systematic study of the work and he continued the investigation, new light dawned upon him, he became intensely interested in the evidence and truth of Christianity, and as truth after truth was unfolded to his astonished gaze he acknowledged its devine origin and gladly took his place in the ranks of the Christian brotherhood. He acknowledged the power of the Creator, the divinity of the Savior, and in July, 1859, entered into membership with the Presbyterian Church, with which his family had for many generations been allied. His desire to reveal to others the truths of the Gospel overcame his intention of devoting his energies to the legal fraternity and political life. He began preparation for the work of the ministry in January, 1860, as a student in the theological seminary of Princeton, New Jersey, in which his brother, Rev. James C. Moffat, D.D., became professor of church history in 1861. In May, 1862, he was graduated, in June was licensed to preach, and in April, 1863, was ordained for the ministry.
Dr. Moffat's first pastorate was in Clinton county, Indiana, where he remained for a year. He also spent two years in charge of the church in Vernon, and in 1866 entered upon the work of pastor or the First Presbyterian Church in Madison. For four years he continued labors there, winning the love, confidence and support of the people, and then received a call from the church in Georgetown, District of Columbia. This he accepted, locating there in February, 1870. Two years later he returned to Indiana to accept the pastorate of the First Presbyterian Church of Fort Wayne, where he has now remained for twenty-three years. It is the oldest church in the city, and under his leadership has become a power for good that is widely and strongly felt.
The Rev. Dr. Moffat is a man of broad sympathies and kindliness, the counselor and freind of the needy and distressed. He is revered and honored by people of all denominations and the First Presbyterian Church of Fort Wayne has found him its strength and stay.
On the 20th of January, 1870, Dr. Moffat was united in the holy bonds of matrimony with Miss Mary J. Cochran, the eldest daughter of Samuel Cochran, of Madison. She was his faithful companion and helpmeet until departing this life, in Fort Wayne, October 29, 1882, he was married to Susan W., only daughter of the late S.S. Moffett, of Madison. She is a Christian lady of very superior attractions and mental endowments, and one son blesses this union.
---
Will of David D. Moffat - father of David W. Moffat.
Jennings County Public Libray - file #574
In the name of God our Heavenly Father, I David D. Moffat, of Jennings County, State of Indiana, do make and publish this my last will and testament.
I give and devise to my beloved wife Everything I possess or own, land, stock, money, notes, goods, chattels, or whatsoever else may belong to me, during her natural life.
Having heretofore made a bequest to my son James C. Moffat, at the death of my said wife I devise and bequeath to my son David W. Moffat all the said property or whatever may remain of it on condition that he pay the sum of three hundred dollars to my daughter Elizabeth C. Graham and three hundred dollars to my daughter Helen Klapp. But should my son David W. Moffat not comply with the said condition then the said property shall be equally divided among my three children David W. Moffat, Elizabeth C. Graham and Helen Klapp.
I do hereby nominate and appoint my son David W. Moffat Executor of this my last will and testament hereby authorizing and empowering him to compromise, adjust, release and discharge in such manner as he may deem proper the debts and claims due me. I do also authorize and empower him if it shall become necessary in order to pay any debts to sell by private sale or in such manner, upon such terms of credit or otherwise as he may think proper all or any past of my real estate and deeds to purcharsers to execute acknowledge, and deliver, in fee simple.
In testimony hereof, I have hereunto set my hand and seal this 10th day of October in the year 1864.
David D Moffat
Signed and acknowledged by said David D. Moffat as his last will and testament in our presence and signed by us in his presence.
Thomas Giboney
James Winchester
Will Proven April 25, 1865, Recorded in Book 2 at pages 82-83-84
---
---
You may use this material for your own personal research, however it may not be used for commercial publications without express written consent of the contributor, INGenWeb, and