THE WILL OF JETHRO NEW
A lesson in confusion and finding answers.
---
In May of 2018 I received a request to find the Will of Jethro New. Jethro is one of the Revolutionary War soldiers buried in Jennings County. There is a portion of his will in the oldest Will & Probate Book at the Jennings County Courthouse, I had done a partial transcription on the book back in 2012 and this is what I had.
Jethro New's Will
In the name of God Amen I Jethro New of the County of Jennings and State of Indiana considering the uncertainty of this mortal life and being of sound mind and memory blessed be almighty God for the same Do make and publish this my last will and testament To Viz 1st that all my just debts after my decease be paid out of my personal Estate 2nd I do give and bequeath to my wife Agness the sum of fifty cents to be paid in money and no more.
I thought, I might have missed a page as this very old book was pretty difficult to work with, so I double checked the pictures I had taken at the time, then went over and looked at the book again. Dates were few and far between in this book but I did find a document previous to this will segment dated October 24, 1824. Of course, that is another problem as in the many genealogies out there his death date is listed as 1827 - of course many wills are made out sometimes years prior to death. So, without a proof of the will being submitted to court we had a problem. So the search was on - find the will and get some dates. In an old binder at the Jennings County Library there was a note with Jethro's information giving page numbers and locations for his will. One was for the portion I had already seen at the courthouse but the page number was wrong, then it gave a book and page number for the Jennings County Recorders office. Some wills were recorded there, especially if property was involved in the will. Due to my having some mobility issues I asked a friend Dawn Seip to get me a copy of the will if it was there. When she checked book and page numbers we had from the Revolutionary Soldier Binder - it was not there. Next step was to look through other books. She finally found it in Book A, pages 276 & 277. YAHOO!!
I sent a copy of the will to the person who had requested it. Then I checked other local writings and records on Jethro New - bad news. His headstone at Vernon Cemetery is very clearly marked that he died in 1827. The will we had in hand clearly stated it was written November 29th, 1824 and proven on February 16, 1825. A will is not proven in court until after the death of the person. That is two years before the date on the headstone.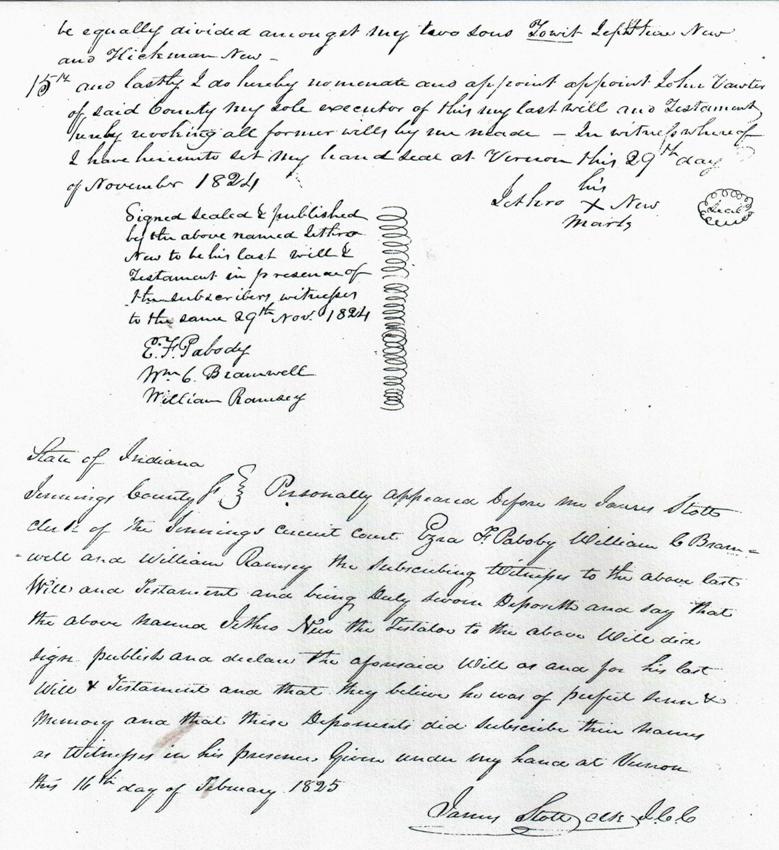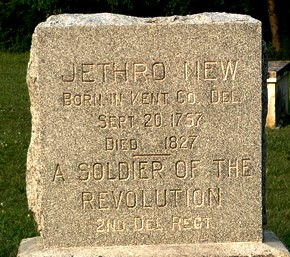 More than once I have found dates on headstones to be incorrect, especially when they were either replacement or memorial stones (placed years after death by relatives). I know of very few original stones still in existance here from the 1820's and those are in pretty poor shape.
I tend to go by preponderance of the evidence, and since I had never personally researched Jethro New, I had to do a little more digging. First I checked with Vernon Cemetery to see if they had a record as to when the stone was placed, they did not. So I called Shaw Monuments one of our oldest monument companies here and they have nothing either.
Ah Ha, Hugh N. Woodward, the Jethro New descendant I am working with, found a newspaper article from the Indianapolis News on August 19, 1916. The large article tells of a Centennial Jubilee to be held in Vernon and that as part of the celebration a movement was being started to put up a monument for him. So it looks like the stone pictured above was placed after the Jubilee but from a project started at that time.
One of the problems we currently have is everyone copying from trees already on line without checking for themselves, so if there is an error it repeated time and time again. In his will Jethro leaves very small bequests to his children and in what trees I am seeing some of those children died prior to 1827 yet they are mentioned in his will as living, one whould have to verify each death date, which will be difficult being as they are all early. I am working on those who lived longer to verify the ones I can.
Since Jethro New is listed in D.A.R. I checked some of those records and they say he died February 2, 1825. This fits better than either the headstone in Vernon Cemetery or the trees on line that have him dying in 1827. So this cautionary tale comes down to be sure to not just copy what you see on line and even be careful about what is carved in stone.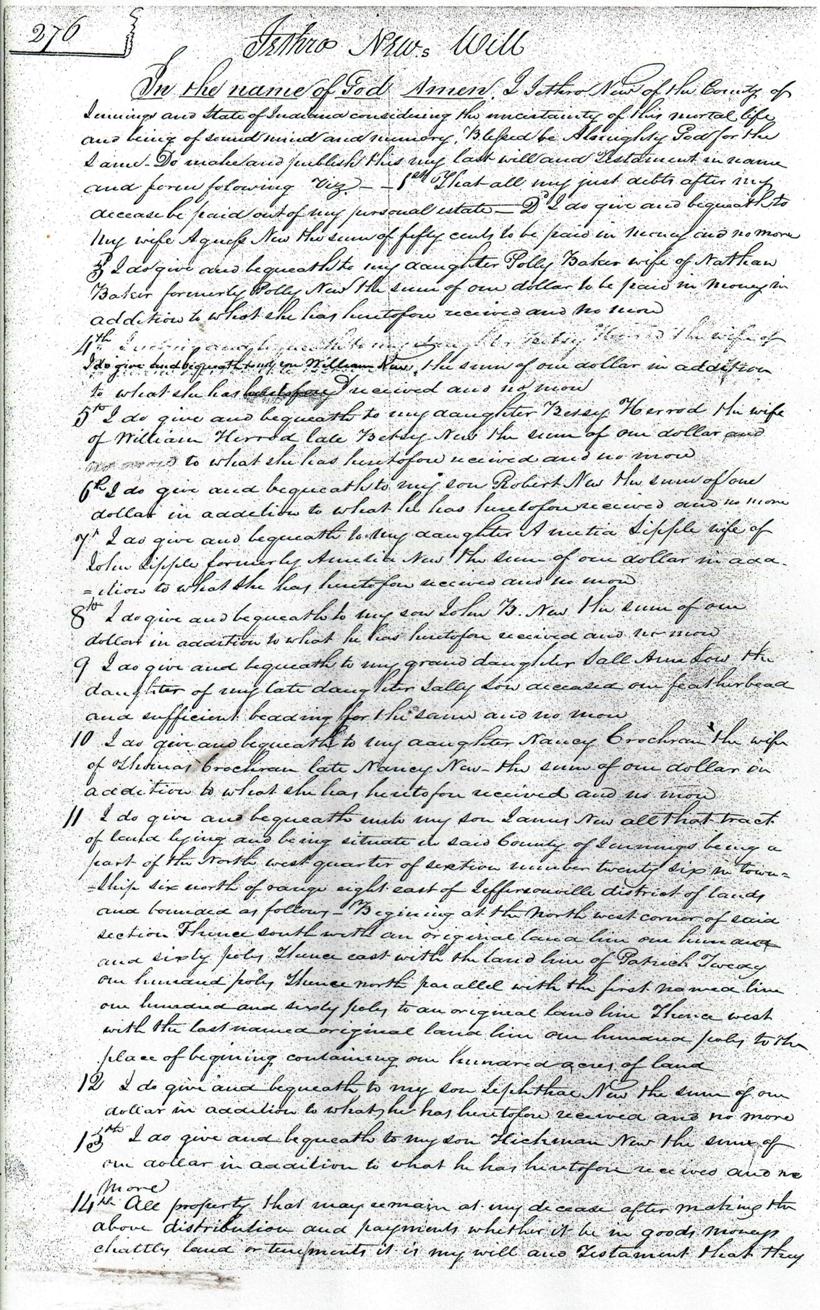 Page 277 see above
---
You may use this material for your own personal research, however it may not be used for commercial publications without express written consent of the contributor, INGenWeb, and