OOPS - Errors Found
I will try to add errors like these, when I find them.
---
Headstone errors
- William M. "Squire Bill" Deputy, his headstone says he died December 31, 1894 but I found his Obituary in the North Vernon Banner Plain Dealer, the paper was dated January 10, 1894.
Houston, that was a problem
. So I started checking more and found his estate notices in the same newspaper dated late January and early February. He could hardly have died in December of 1894 if all that was going on in early 1894. His Obituary states he died December 31, 1893. So this one looks like the tombstone was made with the wrong death year.
January 10, 1894 - Banner Plain Dealer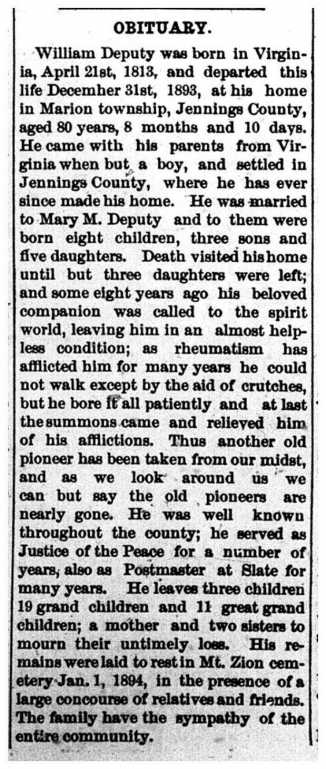 The second error has been corrected but just in case anyone used it in their tree (as many people on Ancestry.com did). The death year for Lucinda (Speer/Spear) Elliott who is buried in Zenas Cemetery was listed on Find A Grave as January 5, 1888 and her actual death year was 1883. I again found death notices in local papers, and if you actually look at the close up of the headstone you can read it is 1883. I put a correction in Find A Grave to person who had created it and she changed it but she also transferred both her memorial & that of her husband David Elliott to me. I did not ask for the transfer and she is one that does not accept private e mails or messages so I seem to have just inherited them.
---
January 11, 1883 - North Vernon Plain Dealer, Page 3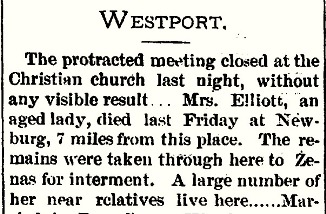 January 12, 1883 - Greensburg Standard, Page 3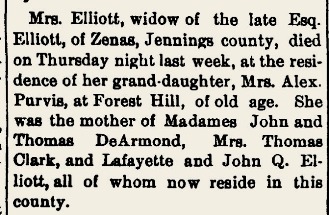 ---
August 16, 1877 - North Vernon Plain Dealer

This one is a double whammy - the headstone is correct (1877) but the listing on Find A Grave and on one of our three listings for this cemetery at the library was wrong, showing 1873. Then the NewspaperArchive.com date the paper where his death is listed was dated wrong in their data base it should be 1877 but is listed on their database as 1876. I had found this clipping at the library in the August 16, 1877 issue of the North Vernon Plain dealer but when I pulled it up at NewspaperArchives it said 1876 - if you go back to page one of the paper you see that the actual date on the paper is 1877! Aaaagh! I have asked for and the Find A Grave listing has been corrected. Thank you Linda Cardinal Erler!
---
November 13, 1903 - North Vernon Banner Plain Dealer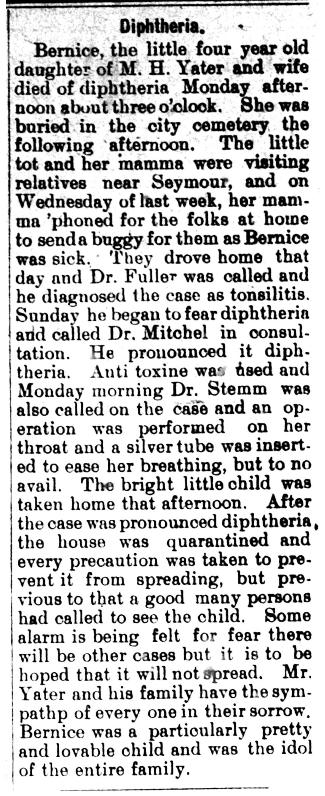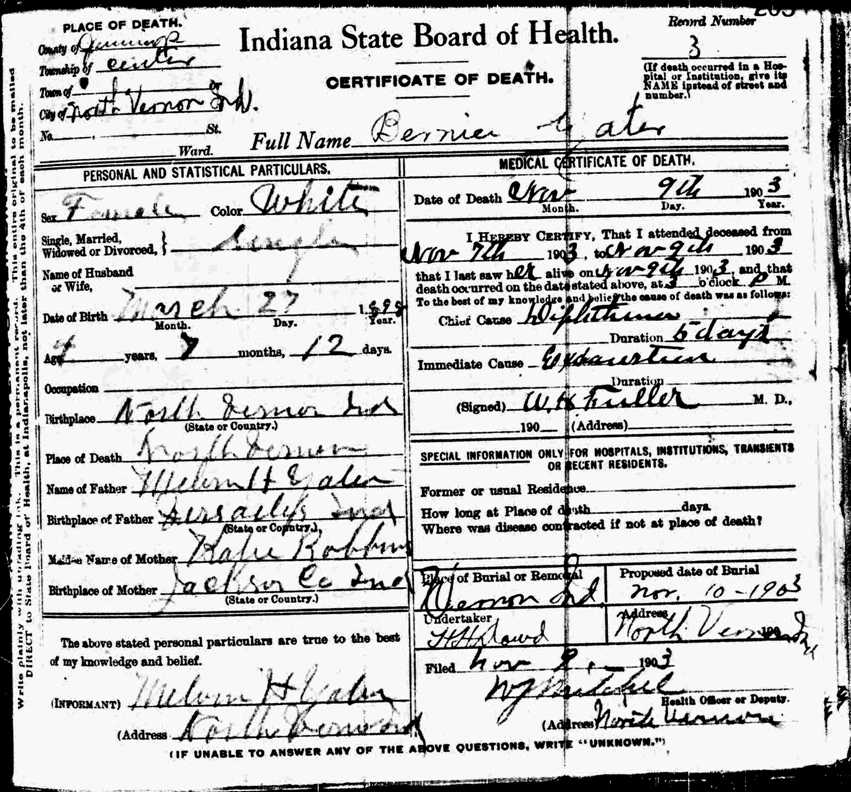 In this one little Bernice Yater's headstone as seen on Find A Grave is marked with a death year of 1904. Both her obituary and Death Certificate are dated 1903. She is buried in Hillcrest Cemetery in North Vernon. I cannot change a headstone but the death certificate is available on Ancestry.com. only it is listed under the name Bernie Yates.
Deep sigh
.
---
Another confusing one - I found the following Death Notice -
March 10, 1864 - Vernon Banner
John Basnett, son of Mr. Philander L. Basnett, and member of Co. H, 26th Ind Vols., died at this place, at his father's residence, on Monday night last. His disease was chronic diarrhea, contracted whilst in the field. Thus another faithful, brave son has given his life in the cause of his country. Brave and faithful, he stood high among his comrades in arms, and the community mourns another son sacrificed \ on the altar of his country.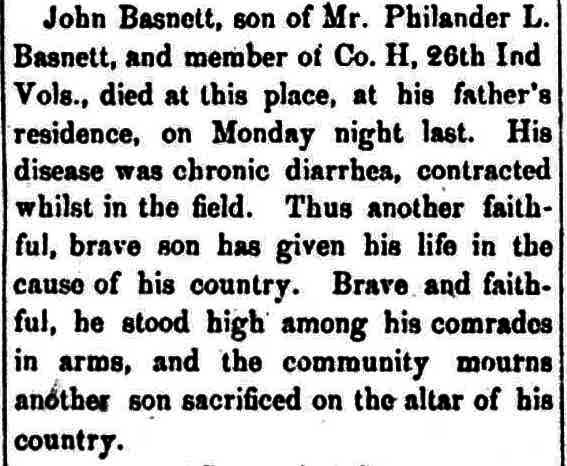 I try to add a link to a Find a Grave if there is one listed and I went to do that. I found a John W. Basnett listed but the information on the listing did not match the death notice above. It had him as the husband of Emily (Bullock) Basnett, with a birth date in the 1820's. Oh Oh, more checking required. I downloaded the headstone picture and found it said this John W. Basnett was born in 1942. I was pretty sure that was the fellow who matched the death notice. Also the stone said he was in Co. H of the 26th Regiment, Indiana Volunteers which matched the death notice. I again contacted Linda Erler and she double checked me and corrected the Find a Grave listing, so it is now correct for John W. Basnett.
---
This one is just an incorrect headstone.
William G. Berkshire
is buried in Vernon Cemetery and I have contacted Linda Erler to correct the Find a Grave listing. His headstone death date says 1888 but if you note the date on the following Obituary you can see it is in the paper a year later than that, there is no Death Certificate but I found the same Obituary in the March 7, 1889 issue of the Versailles Republican so it looks like the headstone is off by a year.
February 27, 1889 - North Vernon Plain Dealer.
DIED
BERKSHIRE-At his residence in this city, at a quarter past four o'clock, Tuesday morning, February 26th, of pneumonia, after a short illness, Mr. William G. Berkshire, in his 83rd year. William G. Berkshire was born near Cynthiana, Harrison county, Kentucky, April 22d, 1806. He and Thirza Ann Harding were married January 11, 1830. They had four children three of whom are living, the oldest being Judge John G. Berkshire, of this city. His first wife having departed this life, he on the 15th of October, 1841, was married to Narcissa Jane Cook. They had two children, both of whom are dead. After the death of his second wife, Mr. Berkshire was married on the 11th of March, 1849, to Mrs. Nancy Hoover, who survives him. They had seven children, six of whom are living.
Soon after his first marriage the deceased took up his residence in Indiana, and has resided in this State ever since.
A loving husband, kind father, and honest man, after a long and busy life has gone to rest.
Funeral services will be held at the residence of his son, Judge John G. Berkshire, commencing at 2 o'clock, on Thursday afternoon, February 28th, and the remains will be interred in Vernon cemetery.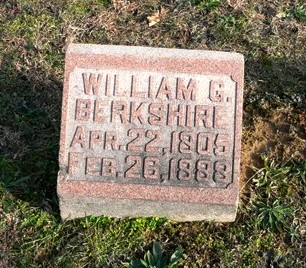 ---
You may use this material for your own personal research, however it may not be used for commercial publications without express written consent of the contributor, INGenWeb, and