CHARLES FREDRICK WOHRER
Taken from the Hayden Spirit - August 1996
Contact - Rodger Ruddick at the
Hayden Historical Museum
for more Hayden History
---
The Information for this story was taken from the journal written by Alice Bruner Wohrer 1852 - 1941
---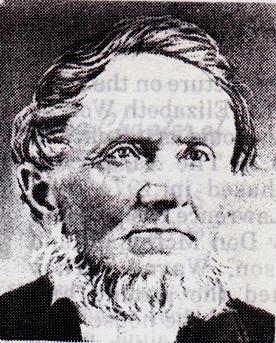 ---
One of Spencer Township's early settlers was an immigrant from Baden Germany, Charles Fredrick Wohrer, born in 1805, departed his villiage in Germany at the age of fifteen and walked and worked his way across France. By the time he reached the coastal city of Brest, it had taken him two years but he had acquired the money he needed to embark on the forty day voyage to America.
His ship landed in Philadelphia and he now at the age of 17, soon found work and saved enough money to send his mother that she and his brothers and sisters could come to live with him in America.
They were together for four years when Charles decided to move to Cincinnati, Ohio. He went to work in a carriage factory and it was there he met a young lady by the name of Anna Mote. After a very brief courtship, they were married in 1828.
Charles then changed jobs, this time working in a confectionery. His new boss had told him, "Now, Charles, just whenever you wish or are hungry, help yourself to anything you like - any eats or candy." Charles looked over the lovely eats...pies, cakes, rolls, lovely fancy food, fine candies and thanked him. So he tried it. A piece of pie, a piece of cake and candy. But before the week was out, things began to pall, didn't look as good and he soon found that plain bread and butter was best for his appetite.
Their first child was born in 1830 and they named her Mary, for both his and Anna's mother's name was Mary. But their little girl would die of scarlet fever in 1832, the same year of the great flood.
In a short time, Charles and Anna began their own business, running a boarding house. He controlled the barroom and she did the cooking and housekeeping. They made plenty of money here and saved back enough that by 1836, heard about land for sale in a part of Indiana called Jennings County. He purchased a section of ground in Spencer Township and while they remained in Cincinnati, he hired some men to begin clearing the land to farm. His money would run out before the farm would bring an income and he would later tell his children "How foolish I was. Had I stayed with my business I could have made enough to have the land cleared, buildings put up, and lived like a gentleman in the meantime. But I was crazy to own a farm."
He had no idea the work it would take to clear a forrest. Here, he denied himself and his wife many things that were enjoyable to people of their intelligence. He chose an area to build a small cabin and also a spot for a garden. He did not know how to chop down the large trees so had to hire much of the work done. The workers took advantage of him, coming for breakfast, dinner and supper, as well as charging him for their help.
Taking a keen interest in the organization of this new township, Charles would become one of the first Spencer Township trustees. He was instrumental in getting the roads improved and the schools established in the area.
Anna's widowed mother, Mary, and her children were living in Dearborn County. They decided to follow the Wohrers to Jennings County and bought a piece of property adjoining their's. The Mote children were John, James, Isabel, Mary, William, and Catherine.
Charles and Anna's three children were born in their first cabin. Elizabeth was born in 1838, John in 1843, and Caroline in 1845. Work had already been going on for a nicer, larger log cabin so that six weeks after Carrie was born, the Wohrers moved into their new home.
This cabin provided for their needs for several years and before long, the children all grew up and left the home place. Elizabeth married Roswell Childs and they had one child, Alice, who was born in 1858. John grew up with his father's gift of business sense, but also developed a closeness with the soil and other things of nature. It seemed that everything John ventured into was a success. It was a blow to Fred when John went into the army during the Civil War, but John would complete his service to return to run the family farm. He also began a saw mill operation and helped his sister Elizabeth in the building of her new frame house in 1872. This home stood in the field across the road from where the Wohrer cabin was.
Charles and Anna were getting upin years so they moved into this new home with their daughter and son-in-law.
Caroline would marry Billy Whitcomb shortly after the Civil War. They would build their farm on the hill west of Hayden and along with farming, he was a gifted maker of furniture. They would have two sons, Fredrick and Shepherd.
John would marry Billy's niece, Alice Bruner, in 1874, and they set up house keeping in the Wohrer cabin while John began building a fine brick home which was finished in 1875.
While it was an exciting time for John and his new bride, John's father would develop double pneumonia and would pass away that same year. He was laid to rest in the little cemetery on a corner of his farm, property which he had set aside for the families in that part of the township for local burials.
Anna continued to live with her daughter, Elizabeth, until she passed away in 1887 and was buried along side her husband.
John and Alice had 12 children, Charles, Susie, Florence, Anna, Myra, Ellen, May, Willie, Fielding, Ethel, Willard and Caroline. John continued to use his father's property to farm and cut timber. He prospered and acquired more ground so that by 1884 he owned nearly 785 acres.
Like his father before him, John would serve as Spencer Township Trustee. He knew how important a good education was and how it would benefit the entire community to be able to give the children the best possible opportunities to get that education. He was the one who established the high school in 1894 and was proud to see his daughter Florence, and nephew Shep Whitcomb, in the first class to graduate from Hayden High school in 1897.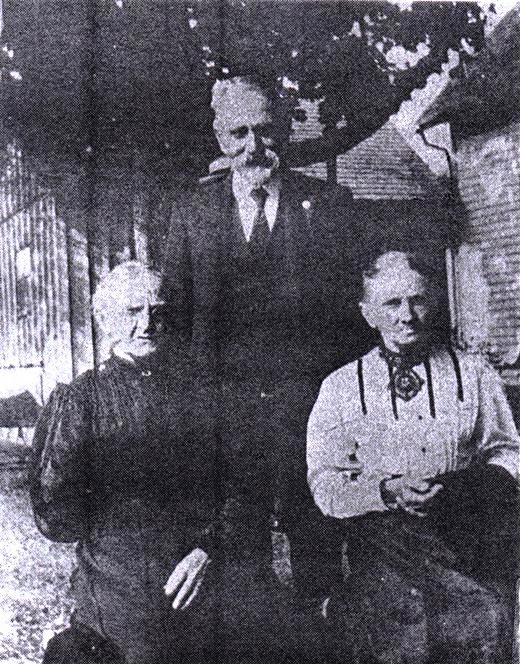 Caroline Wohrer Whitcomb, John Herman Wohrer, Elizabeth Wohrer Childs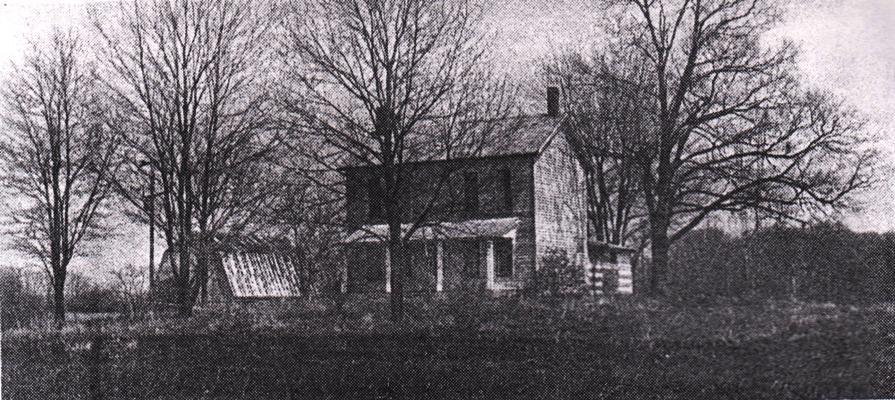 Roswell & Elizabeth Wohrer Childs Home 1872 - 1996, picture taken 1988
The flooring from this home was donated to the
Hayden Historical Museum
by the family of Don McDonald who had purchased the property to farm. Bill, Rodger, and Spencer Ruddick pulled up much of the flooring which is now part of the pre-1900 bedroom display at the museum. It is very appropriate that it was used there because the bed, night table, and chest of drawers in this exhibit had, at one time been in this house. In fact, these three items belonged to Mr. and Mrs. Charles Wohrer and were in their cabin until they moved into their daughter's house. The Whorer's son-in-law, Billy Whitcomb, made the night table and chest of drawers.
---
You may use this material for your own personal research, however it may not be used for commercial publications without express written consent of the contributor, INGenWeb, and