Wagner Plow Works
Detail from - Vernon Banner - January 29, 1873
---
Owned and managed by John Henry Wagner & Co. The firm consisted of John Henry Wagner, Uriah Wagner, Irby S. Wagner and Abram Wagner. The Wagner family moved to Vernon in 1819 the senior member of the family was John Henry Wagner who was the second person to live in what is now the town of Madison, in Jefferson County, arriving in 1909. He was also the first blacksmith in the town. He was born in Pennsylvania. His son Lewis Wagner, born in 1791 in Pennsylvania and who died here in Jennings County in 1866 was the father of John Henry and Uriah Wagner who later became the owners of Wagner Plow Works.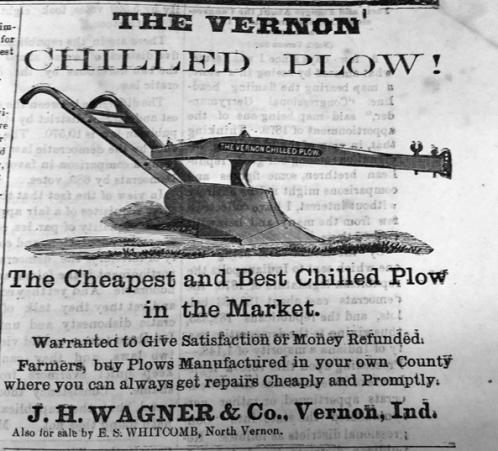 The buildings constituting this establishment, are six in number, as conveniently arranged, perhaps as they can well be considering that the business commenced in a comparatively small way prior to 1850, and new buildings were added and additional machinery introduced, as trade increased, demanding greater facilities. They consist of;
1. A blacksmith shop, 30 x 60 feet, in which are four forges and a furnace for heating mold boards preparatory for pressing them into shape. Instead of by ordinary bellows, the air blast is supplied to all these forges and furnace by a fan propelled by steam, which the proprietors estimate, saves the labor of two hands and do one third of more work.
2. An engine room, and machinery room-two story- 30 x 50 feet.
3. A paint shop and ware room, where plows, etc, are temporarily stored while receiving the finishing touches, 30 x 70 feet.
4. An iron foundry, with cupola attached, 30 x 70 feet.
5. A stocking shop, 18 x 70 feet.
6. A ware room, for storage, near the depot, 1 ½ story, (2 floors) 24 x 80 feet.
These departments contain in the aggressive 10,110 feet of floor surface, besides which there is a grinding department and some other small buildings.
The machinery used in this establishment consists of 2 planning machines, 1 iron and 2 wood lathes, 1 jig saw, 1 circular saw, 1 boring machine, 1 handle rounder, 1 screw cutter, 2 drills and to immense grinders (grindstones) 5' in diameter, 3 emory wheels (1 of solid emory), 2 rollers for cleaning castings-all of which are propelled by steam power- besides which are handle benders, press for shaping old boards and other hand power machines of which we did not take any note.
The hands employed are at present-8 blacksmith shop, 3 plowstocks, 2 iron molders, and 1 cupola tender, 2 grinders, 1 painter, 1 engineer, 1 teamster, and one bookkeeper-21 in all. In the busier seasons two or three more regular hands and frequently an additional force of laborers are temporally required.
The two older members of the staff, John H. and Uriah Wagner, are both skilled mechanics and through business men, and personally superintend all the mechanical operations. Irby S. Wagner is the bookkeeper, and thoroughly understands his business. Abram Wagner assists in the general business, cultivators and harrows are also manufactured.
The wages paid to employees exceed $10,000, and amount paid for wood and timber was upwards of $2,000 nearly if not quite every dollar of which has in turn been expended with our own merchants, mechanics, laborers, and farmers.
Upwards of $12,000 was paid for iron and steel, nearly $4,000 of which was also picked up in this and adjoining counties in shape of scrap iron.
---
You may use this material for your own personal research, however it may not be used for commercial publications without express written consent of the contributor, INGenWeb, and