The Family of William F. Brumblay
Left to right Matilda (Jackson) Brumblay, Clara Louise (Brumblay) Kinney (age 23) holding her baby Mabel Virginia Kinney, William F. Brumblay (Father of Clara Louise).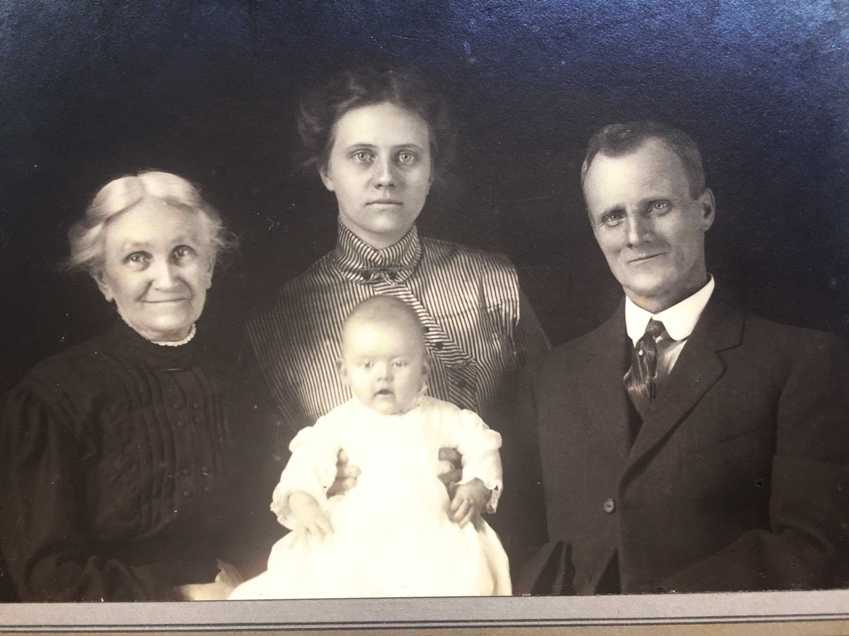 ---
Clara May (Reeves) Brumblay wife of Frank L. Brumblay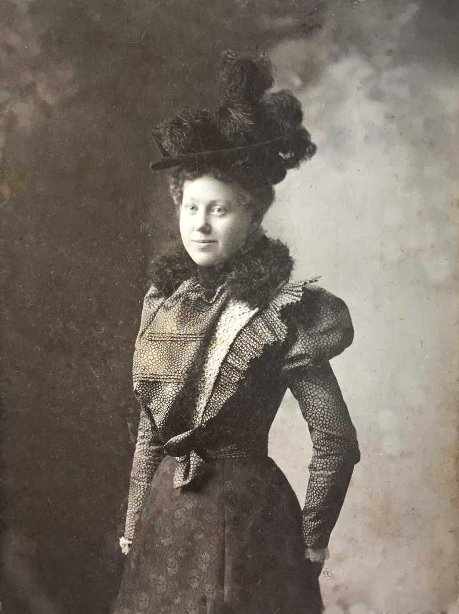 ---
Clara Louise (Brumblay) Kinney daughter of Frank & Clara Brumblay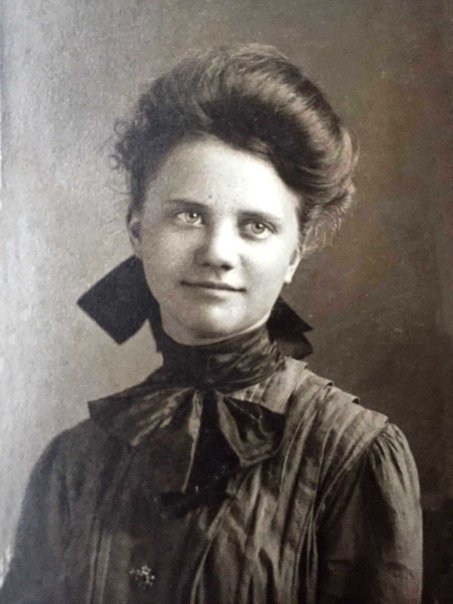 ---
Harry Kinney husband of Clara Louise (Brumblay) Kinney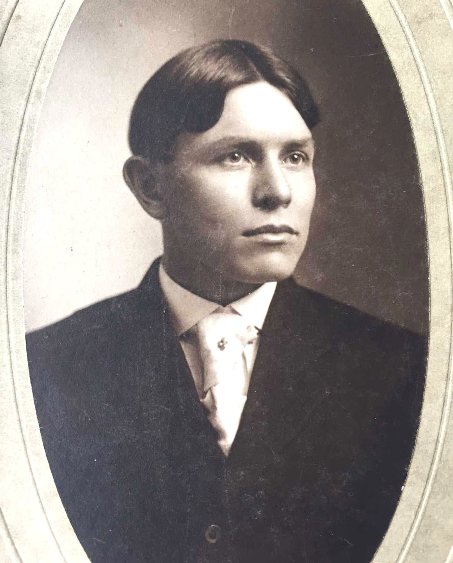 ---
FAMILY OBITUARIES
July 22, 1926 - North Vernon Sun
MATILDA J. BRUMBLAY DEAD
Matilda Jane Brumblay, daughter of Edmund and Rosanna Jackson was born at Sedamsville, a suburb of Cincinnati, O., June 30, 1840.
At this place she spent her childhood and young womanhood and on June 21st, 1864, was married to James Wm. Brumblay, just out of service in the Civil War and a young railroad engineer, who was intimately connected with the development of the Baltimore and Ohio Railroad until his death Sept. 22, 1907.
To this ideal union were born seven children, six of whom survive: Wm. F. Brumblay and Asa J. Brumblay, North Vernon; Chas. L. Brumblay, Washington, Ind.; Anna Louise Williams, Bloomington; Jos. E. Brumblay, Mt. Shasta, Calif.; and Harry A. Brumblay, Houston, Texas. To this number are added sixteen grandchildren and seven great grandchildren. Mrs. Mary Jackson of Cincinnati, the widow of her beloved brother Edward Jackson and who has for 53 years been a devoted sister, together with her son Edw. Jackson and daughter, Mrs. Vernie of Chicago, also mourn her loss.
Mrs. Brumblay early became a member of the Presbyterian Church and was a thorough Christian whose life was one of unusual faith in the God of her devotions. Her bible gives evidence of continued use, its passages are marked where charity, devotion and prayer are mentioned. In some bits of a diary is found this notation: "A bright beautiful day, worked half day, remained at home all day. Spent evening reading in bible, 12 Chap. Romans." Tillie.
In the absence of her husband from home at his duties as a railroader, she naturally bore the burden of raising her family. How well she did it is evidenced by a family of men and women that are without exception a credit to her devotion and Christian life.
Mrs. Brumblay died after an illness of many months, on Monday morning at 12:20, July 19, 1926, beloved by all who knew her.
Funeral services were held at her home 2:30 P. M. July 21, 1926, 419 State St., Rev. L. V. Rule, officiating.
Pallbearers were four sons and two grandsons, Wm. F. Brumblay, Chas. L. Brumblay, A. J. Brumblay, H. A. Brumblay, Howard Conner, Paul Brumblay.
A poem by Clarence Hawkes "Tired Hands" seems a tribute to this dear mother:

Folded they lie upon her tranquil breast,
My mother's tired hands, their labor done,
Knotted and scarred in battles they have won,
Worn to the quick by love's unkind behest.
Pulseless they lie, while from the crimson west,
A flood of glory from the setting sun
Shines on her face; I hear the deep "Well done,"
God's angels that calls her soul to rest.
Found is the Holy Grail of knightly quest.
Here in her home, where such brave deeds
She suffered, toiled, and died; God knows the rest
And if Christ's crown shines not above her cross
Then all is loss, immeasurable loss.
were done
As knight ne'er saw since chivalry begun.

This poem in July American Magazine, article "God took away my eyes that my soul might see."
---
December 13, 1917 - North Vernon Plain Dealer
DEATH COMES SUDDENLY TO MRS. W. F. BRUMBLAY
She is not pictured above which means she probably died prior to the picture of the family being taken.
The news of the death of Mrs. Clara Brumblay, wife of Wm. F. Brumblay, which occurred at her home southwest of town Saturday night, December 8th, came as a shock to her many friends. Her death was due to a sudden attack of heart trouble. She was forty-eight years of age.
Mrs. Brumblay had suffered attacks of heart trouble for many years, but aside from these attacks which were of short duration, she seemed to be in good health. On Saturday she was in good health and spirits, going about her household duties as usual. The family retired about ten o'clock and shortly after retiring Mrs. Brumblay was taken with a violent spell of coughing. Mr. Brumblay began at once to minister to her, making her as comfortable as possible and was preparing to send for a physician, when she succumbed. the illness having lasted but a few minutes.
On account of the heavy snow which rendered the roads to the Brumblay place almost impassable, the funeral services were held at the home of Asa Brumblay, on State Street, at two o'clock, Tuesday afternoon. Rev. C. P. Gibbs conducted the funeral.
Mrs. Brumblay was an estimable, home-loving woman, she devoted all her time to making a comfortable home for her husband and children. She was a member of the Christian Church. She is survived by her husband and seven children: Mrs. Louise Kinney, Mrs. Mabel McCarnan, Mrs. Agnes Bodine, Orville, Paul, Grace and Ferd Brumblay.
---
August 24, 1939 - North Vernon Plain Dealer, Page 1
WILLIAM F. BRUMBLAY CALLED BY DEATH
William F. Brumblay, seventy-four years old, died at his home in Indianapolis, Thursday, August 17th. The body was brought to the Fletcher Dowd funeral parlor in this city, and funeral services were held Sunday, conducted by the Rev. R. A. Shumaker. The burial took place in Hillcrest Cemetery.
William F. Brumblay was born in Cincinnati, Ohio, August 14, 1865, the son of James W. and Matilda Brumblay. On March 3, 1889, in Carmi, Illinois he married Clara May Reeves, whose death occurred December 8, 1917.
In December 1905, he moved his family to North Vernon, when he entered the restaurant business and continued in the operation of Conner's Restaurant here until he retired from business in 1937. In September 1938, on account of failing health, he moved to Indianapolis to make his home with his daughter, Miss Grace and his son, Ferd, where he lived until his death.
He is survived by seven children: Mrs. Harry Kinney and Paul C. Brumblay, of North Vernon; Mrs. Fred McCarnan, of Cincinnati, Ohio; Mrs. Harry Bodine, Miss Grace P. Brumblay and Ferd Brumblay of Indianapolis; and Orville R. Brumblay of Jamaica, Long Island. He also is survived by seven grandchildren, one sister, Mrs. E. Williams, of Bloomington; and four brothers, Charles Brumblay, of Long Beach, California; Joe Brumblay of Bloomington; Asa J. Brumblay of North Vernon; and Harry Brumblay, of Houston, Texas.
In his many years of business in this city he made a host of friends and was held in high esteem by all who knew him. He was a member of the Masonic Lodge of this city.
---
May 25, 1960 - Seymour Daily Tribune
Harry Kinney, North Vernon, Dies Today
Harry Kinney, 76, of North Vernon, died at 2:45 a.m. today in Schneck Memorial Hospital here, where he was admitted April 20, for medical treatment.
Mr. Kinney, a life-long resident of North Vernon, was an engineer for the Baltimore and Ohio Railroad for a number of years, prior to retirement. He was a member of the First Methodist Church, North Vernon, and the Brotherhood of Railroad Trainmen.
The North Vernon man was born December 7, 1887, in Jennings County, son of the late Jimmie and Eva Marlett Kinney. His wife, Clara Louise Kinney, preceded him in death in 1850.
Survivors include a son, Carl Kinney, of North Vernon; a sister, Mrs. Nell Collins, of North Vernon, and three grandchildren. A daughter, Miss Mabel Virginia Kinney, preceded him in death in 1933.
Funeral services will be conducted at 2 p.m. Friday from the Dowd Funeral home, North Vernon, with the Rev. Ivan Morgan, pastor of the First Methodist Church, North Vernon, in charge Burial in Hillcrest Cemetery, North Vernon.
Friends may call at the Dowd Funeral Home after 2 p.m. Thursday.
---
You may use this material for your own personal research, however it may not be used for commercial publications without express written consent of the contributor, INGenWeb, and