Stewart Memories
This is a part of a group of interviews John Stewart Willis had with his grandfather Charles Stewart when he was in his 90's. I have excerpted the section about when they lived in the Jennings County area. Charles Stewart was born 1891 the son of Simeon Stewart and Geneva Agnes Ayers.

---
I recall when I was five years old that my dad Simeon Stewart, was in charge of the fairgrounds in Madison, Jefferson County, IN. We had a black porter, Walter Smith, who had been a servant for General U.S. Grant during the Civil War. He took care of me as a young boy and I loved him very much. We lived in a hotel at the fairgrounds. I recall sharing sandwiches with our pet cat. My brothers Ben and Frank and I used to slide down the beer chute in the basement of the hotel. I recall one day Ben pulled Frank and I in a little red wagon, down a hill towards the Ohio River, there was a sharp axe in the wagon and my mother was scared.
We moved on a farm, west of Paris Crossing, Jennings County, IN. I recall going out to a stack of straw and was frightened when a wolf jumped out. Some of the men chased it with dogs, but never caught it. The wolf had been shot in the leg before I saw it. I was five or six years old at the time. We moved to Hill Town about a half mile west of Paris Crossing, In, where we lived for a brief period of time, then moved to Old Paris, IN where I started school
In 1900, we moved a half mile east of Commiskey, IN, on the George Corya Farm, where we lived for about three years. My two brothers and I walked to Paris Crossing, IN where we saw out first movie. It was a distance of about 5 miles each way. I don't recall the name of the movie. It was shown on the second floor of a hardware store. I was about nine years old at the time. My brother Frank Stewart and I were attacked by a wild boar while walking in the woods near where we lived. Frank picked up a club and hit the boar on the nose and it ran off, saving us from harm. Our family took in timber cutters where we lived. They cut down a large oak tree and found the scalp of a man with red hair inside. They estimated the tree had about fifty years of growth around the scalp.
In 1902, we moved over Charles F. Lurton's Grocery on first or Main street, in Commiskey, In. Dad brought in a quail with a broken wing. Mother set the wing and we had a nice pet until it was well enough to fly. Dad took it out in the woods and let it loose.
In 1904, we moved to Paris Crossing, IN where we lived until 1906. Edgar Watson was the agent for the B & O Railroad. The station where he worked was the hangout for the local kids. He hired me to take care of the the switch lights for ten cents per day. I filled the lights with lard oil. He also started an orchestra that played in all the local events. I played the first mandolin. He wanted me to become a telegraph operator for the railroad but I didn't. He was a good man who kept a lot of young boys from getting into trouble. One rainy March day a gang of us boys hopped a freight train at Paris Crossing, IN. and rode nearly to Louisville, KY. Someone hollered we were going into Louisville and we all jumped off. Bob Craig landed in a water filled ditch and we had to wring him out. We then hopped a ride back to Paris Crossing. We were about eleven or twelve years old at the time. One day we got lucky. A freight train came by and stopped near us. A "brakey' got off and broke into a car load of watermellons and got a big one out. When he tried to jump back on the caboose the wartermelon slipped out of his hands. Seven of us boys had all the watermelon we could eat.
My brother Ben Stewart and I rode the train to Mitchell, IN to visit the Squire family. Their mother was a sister of fathers first wife. We called them cousins but they wern't. One day while riding the cement train to the quarries, we walked over to the White River. We borrowed a skiff and crossed the river where there was a big watermelon patch. We got seven watermelons. We saw two men in a tent watching the watermelon patch. They both had shotguns.
In 1906, dad bought a house in Paris, Jennings Co., IN. It had been used as a parsonage for the Methodist Church. He paid $300.00 for this house. This is the house I painted a picture of. It was a fine old house built of brick and had 21/2 inch solid poplar doors and window frames. We were the third owners. It was built in the 1800's. (This house is still standing in Paris).The house is on the west side of 2nd street, across from a school. This was the first school I attended. Mother and I planted two hard maples in the front yard, which made beautiful shade threes. This is the house I left to live with my half sister Jose, in Rushville, IN. One night while walking home from Paris Crossing IN at about 9:00pm, I saw a meteor go by so close over my head that I could feel the heat. It landed about a quarter of a mile south and burned a place on the ground. It smelled like sulpher.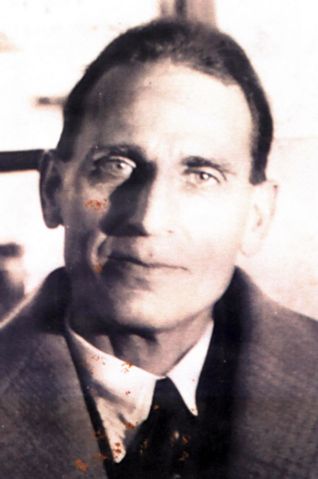 ---
This section is some of my mother Frances (Stewart) Smith's memories of her time in Paris.
"During the Depression my parents lost everything and my father could not find a job so we went to live with Grandma Stewart in Paris. I remember sitting on the steps crying because we were eating beans again, but I also remember the good times. Every Saturday night a little local band would play on the steps of Dan Botkins store, the band consisted of Herman Windburn-fiddler, Louie Davis-guitar, Cecil Boardman-jug, Marion Terrell-mandolin and Ralph Botkin-guitar. Grandma Stewart owned the house that had once been the Methodist Church Parsonage, it was a little house but very comfortable and it is still standing in Paris. Grandpa Stewart had died in 1925 so it was just Grandma, my father-Francis Marion Stewart and mother Della (Theobald) Stewart my little brother Charles Herbert Stewart and myself. We had a good time as kids playing in the woods and going to the swimming hole on Davie's Creek, we also liked to go to Shilliday Cave and explore. Some of the people who lived in Paris then were, George Wykoff, Virginia Windburn, Mrs. Riggs (Riggie), "Elzie" Davis, Earl & Emma Higgins and Emma Higgins father Mr. Vincent, Ollie & Tom Rowland lived in the big Cement House, Stan & Marie McGannon, "Little Meg" Wykoff, Mary Catherine Spicer, Uncle Lee Ayers, Junior Morgan, Lula Terrell, John Darin and the Botkins lived in the big brick house that Rev. Dennis Willey had built years before. My best friend was Francie Davis her mom was a Ray, Francie still lives in Commiskey but I moved to California the 1950's. Francie and I ran off together and got married in Kentucky she married her first husband Ernie Gray and I married Charles Smith from Madison. Later Francie married Harold "Hap" Maupin from Commiskey, we are still good friends."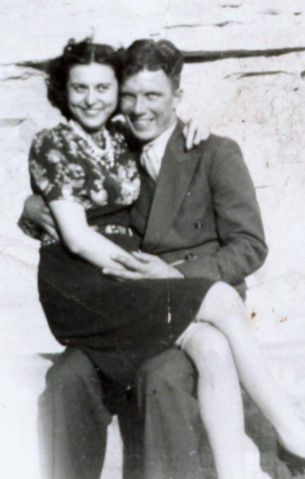 Charles & Frances Smith 1940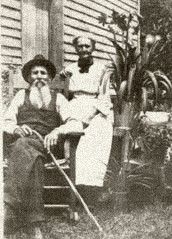 Simeon & Jennie (Ayers) Stewart, parents of Charles Stewart & grandparents of Frances (Stewart) Smith
---
You may use this material for your own personal research, however it may not be used for commercial publications without express written consent of the contributor, INGenWeb, and