Of Dr. J. T. Shields Ended by Death Sunday

Dr. John Tipton Shields, a well known and old-time citizen of Seymour died at the home of his daughter, Mrs. Elizabeth Ross on North Broadway Sunday morning aged 85 years and during the past several months has failed rapidly in health. Dr. Shields was at one time one of the most prominent men living in this section of the state. He was born in Jennings county September 24, 1821, on Sandcreek a mile south-east of Sherwood near the McCammon cemetery near the first water mill in this county. He was the son of Colonel James Sheilds a soldier of the war of 1812 and a cousin of General John Tipton. Dr. Shields mother was Sarah (McCasland) Shields. His grand father Robert Robert Shields came from Eastern Tennessee and settled in Sandcreek in the north edge of Jennings county before 1811 on the old Indian Boundary line. Another branch of the Shields family settled at Seymour about the same time. His maternal grandfather McCasland was a Revolutionary soldier. His maternal grandmother (nee) McCollough's father an Irish Lord who helped America against England in the War of 1776. His great grand parents were members of famous Irish families which Participated in the Scottish Wars. Governor Severe the first Governor for whom Severe county Tennessee for whom Severe county Tennessee was named was a close relative of his great grandfather Shields.
The family settled in Jennings county where they were engaged in farming and merchandising at Vernon. The youth of Mr. Shields was spent at this place and he received an education in the schools of his native town. Later he began the study of medicine in the office of Dr. W. C. Thompson of Indianapolis.
In the year 1838 he went to St. Charles, Mo., where he continued his studies in a private office. After studying here he took a course in the McDowell Medical College at St. Lois and returned to Vernon. After residing here about a year he opened an office at Dupont, Jefferson county. In 1846-47 he attended the Ohio Medical College at Cincinnati and graduated with a degree of M. D. After traveling for a few years over the greater portion of the country, he finally located in Seymour in the year 1865 and practiced his profession here successfully for a number of years.
Mr. Shields took an active part in the public affairs of his day. He was a deep thinker a fluent speaker and a lifelong member of the democratic party, and was elected to many offices. In the extra session of 1868 and the regular session of 1869, he represented Jennings county in the State Legislature, although the county was strongly Republican at that time. He was also elected to represent this county in 1878-80. For twenty years he was a prominent and leading member of the city council of Seymour. In his earlier life he was an active member of the Masonic, Odd Fellows and Knights of Pyhthias lodges.
In August 1843, Mr. Shields was married to Miss Eliza j. Barton, the daughter of Huffman Barton of New York, an educated and talented lady and college graduate. Two children are now living Scott Shields and Mrs. Elizabeth Ross, both of Seymour.
The funeral occurred at the residence Monday afternoon at two o'clock, conducted by Rev. James Omelvena. Burial at Riverview cemetery. Find A Grave Link


---
January 1, 1904 - North Vernon Sun

Died, Mrs. Louisa Shields Sullivan at her home in this city on Tuesday after a brief illness; aged 79. Funeral services were conducted by Rev. W. O. Goodloe at the residence on Wednesday afternoon. Interment in Vernon Cemetery.


---
March 30, 1911 - North Vernon Plain Dealer

WISE-Nancy A. Wise, daughter of Col James M. Shields was born in Jennings Co. near Vernon Ind., on Sept. 24, 1829, died March 27, 1911, at the home of her grandson, Harry O. Long, of this city, at the age of 81 years 6 months and 3 days.
Buried in Vernon, cemetery by the side of her husband Henry Wise who was killed in the battle of Chickamauga leaving her a widow at 30 years of age.
Most of her long life was spent in this city she being one of the pioneers of the place. At that time the present site of North Vernon was an unsettled region of woods, She saw our little city grow from its earliest infancy and in her old age did not want to live out side of the place to which she had become so deeply attached and with whose growth she had been closely in touch.
She heard the first locomotive puff through the woods on the old J. M. & I. railroad she heard the first school bell call the children; she heard the first church bell give its invitation to worship.
She was an active member of the Methodist church meeting with the people of that faith when they held their meetings in their homes, then finally in what was known as Wise's hall.
Then the first church, where Hicks' foundry is now located, and where those of that faith now worship on Jackson St.
She was closely associated with upbuilding of the old parsonage and never lost her interest in the new. She was one of six children none of whom died under 80 years of age. One brother, Dr. James Shields survives her. She was the mother of three children, only one of whom is living Martha E. Long, of Columbus Ind.
She had three grand-children all of whom are living. She was a woman of good courage and strong convictions and her long useful life has been crowned with the Master's words "Well Done."
She has fought a good fight, she has finished the faith and gone home to await us there. Find A Grave Link


---
January 18, 1912 - Seymour Daily Republican

DIED

SHIELDS-Dr. James S. Shields, after a long and active life, died at 11:50 Wednesday night at his home on Indianapolis avenue. Until recently he had been in fairly good health aside from natural infirmities that come with old age. The night of January 5 he suffered a stroke of paralysis and did not afterward fully regain consciousness.
Dr. Shields was born in Vernon January 24, 1834. He attended schools there and received his medical education at Ann Arbor and at the Ohio Medical College at Cincinnati, being graduated from the latter. He had studied in Seymour with his brother, Dr. J. T. Shields, and practiced some here in 1853 and 1854 but began his active work in the profession at Mitchell in 1856 for the construction companies which were building the O. & M. During the years since that time he has been engaged in the practice and in other pursuits at a number of places. He practiced here and at Courtland and Medora in this county. During the war he was engaged in the drug business in Seymour and sold out to Andrews & Charlton. He was of an inventive turn of mind and at different times devoted considerable time to such work.
He was married March 4, 1857 to Miss Mary E. Martin of Mitchell who is still living. Six children were born to them and three survive him. They are Dr. James M. Shields of Seymour, W. T. Shields, who lives in Oklahoma and is an engineer on the Rock Island, and C. B. Shields of St. Louis.
He was a man of ability, was always busy whether engaged in the practice of his profession or out of it, made friends easily and held them, was respected and liked generally.
The funeral services will be held at the house at 9 a.m. Saturday. Burial at Riverview.


January 24, 1912 - Brownstown Banner

SHIELDS -Dr. James S. Shields, one of Seymour's most highly respected citizens, died at his home in that city of infirmities of old age, Wednesday night January 17, 1812, aged 78 years. He was born at Vernon, Jennings county, in 1834. Deceased formerly practiced his profession at Cortland and Medora and retired from active work a number of years ago. Besides his widow he is survived by three sons. Dr. Jas. M. Shields, of Seymour; W. T. Shields, of Oklahoma, and C. B. Shields, of St. Louis. Find A Grave Link


---
May 15, 1879 - Brownstown Banner

C. Brown Shields, half brother of Dr. J. T. Shields, died near Reddington of typhoid pneumonia, Friday morning. Find A Grave Link


---
SARAH (SHIELDS) JACKSON




I have not been able to find an Obituary yet for Sarah but here is her Death Certificate.

You will notice that her son Elmer Jackson is the reporting party, it appears he has mixed the names of her mother Martha Wilson and that of her father James Shields' second wife Sarah McCausland when giving the names of her parents. Her husband Hiram Jackson had passed away in 1910 Here is his obituary.

November 3, 1910 - Columbus Republican

Hiram Jackson

Hiram Jackson, aged 73 years, a veteran of the civil war, died of Bright's disease at the home of his son, Elmer Jackson, of Nortonburg, at 8 o'clock Wednesday, Oct. 26. He leaves a widow and one son Elmer Jacskon. For thirty years he lived in Petersville neighborhood, but a few weeks ago, because of their illness, he and his wife moved in with their son. The widow has been bedfast for three months. Funeral from the residence at 10 o'clock Friday morning. Burial in Garland Brook.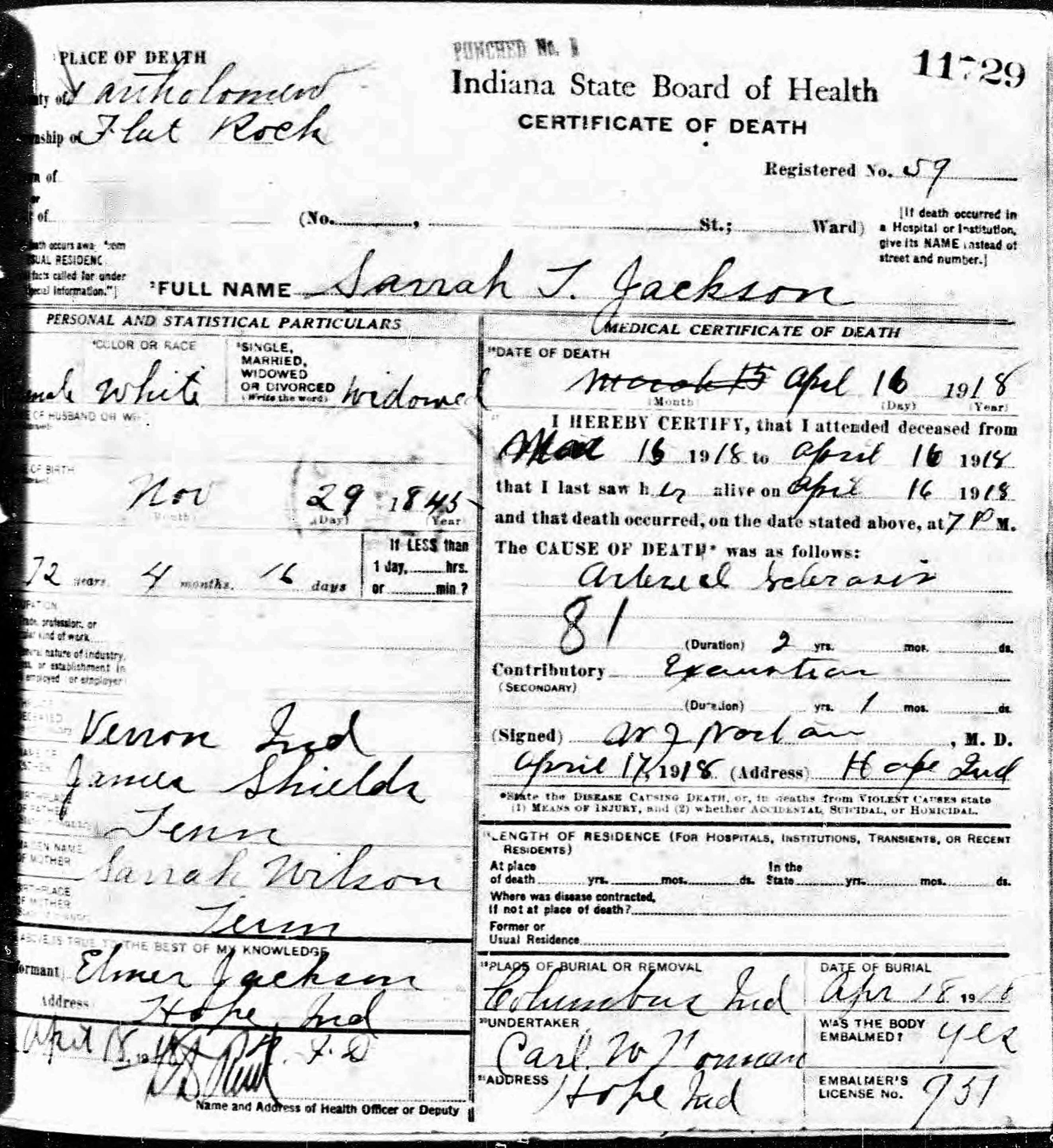 ---
April 19, 1916 - Seymour Tribune

ALICE SHIELDS REDMAN WAS MEMBER OF LARGE FAMILY

Taught School for Many Years In Jackson, Jennings and Bartholomew Counties

Alice Shields Redman was born near Vernon, Jennings county, February 18, 1850. Died April 15, 1916. She was the youngest of a family of nine children, of which Dr. J. T. Shields and Dr. J. M. Shields, Sr., were members. She was married to L. G. Redman, of Columbus, Ind., December 29, 1887. To this union was born one child who died infancy. Mr. Redman passed away November 1905.
Alice Shields Redman spent more than twenty years of her life teaching in the public schools of Jennings, Jackson and Bartholomew counties. She regarded her life as a part of the general whole. She considered herself a part of her community and to some extent, at least, responsible for its progress and well being. She was a woman of strong personality, and having the courage of her convictions, she lived up to these ideals as few persons do. She interested herself in the community life as well as the school work of every section in which her lot happened to be cast. The world is certainly better for Alice Shields Redman having lived in it.


April 20, 1916 - North Vernon Plain Dealer, Page 8

Mrs. Alice D. Redman, aged sixty-six died on Saturday at the home of her nephew, Mr. Bruce Shields, in Indianapolis. Funeral and burial took place on Monday at her Columbus home, where she had lived for a number of years. Mrs. Redman was the youngest daughter of Col. James Shields, a pioneer of Jennings County. She was known to a large number of our citizens as Miss Diana Shields. She was a successful public school teacher for many years in Jennings, Jackson and Bartholomew Counties. She taught in the Vernon schools for seven consecutive years. She was a cultured lady and will be greatly missed by her only sister, Mrs. Sarah Jackson, a large circle of nephews and nieces and many friends. Mrs. Redman was an active member of the Tabernacle Church, and W.C.T.U and indentified for a number of years with the Culture Club of Columbus. Her husband died several years ago. Mrs. Sarah Jackson, of near Columbus, is an only sister. Find A Grave Link

---
GRANDCHILDREN OF COL. JAMES SHIELDS
---
Sarah Jane (Shields) Hutton & her husband William H. Hutton
From files of Edwin Kellar.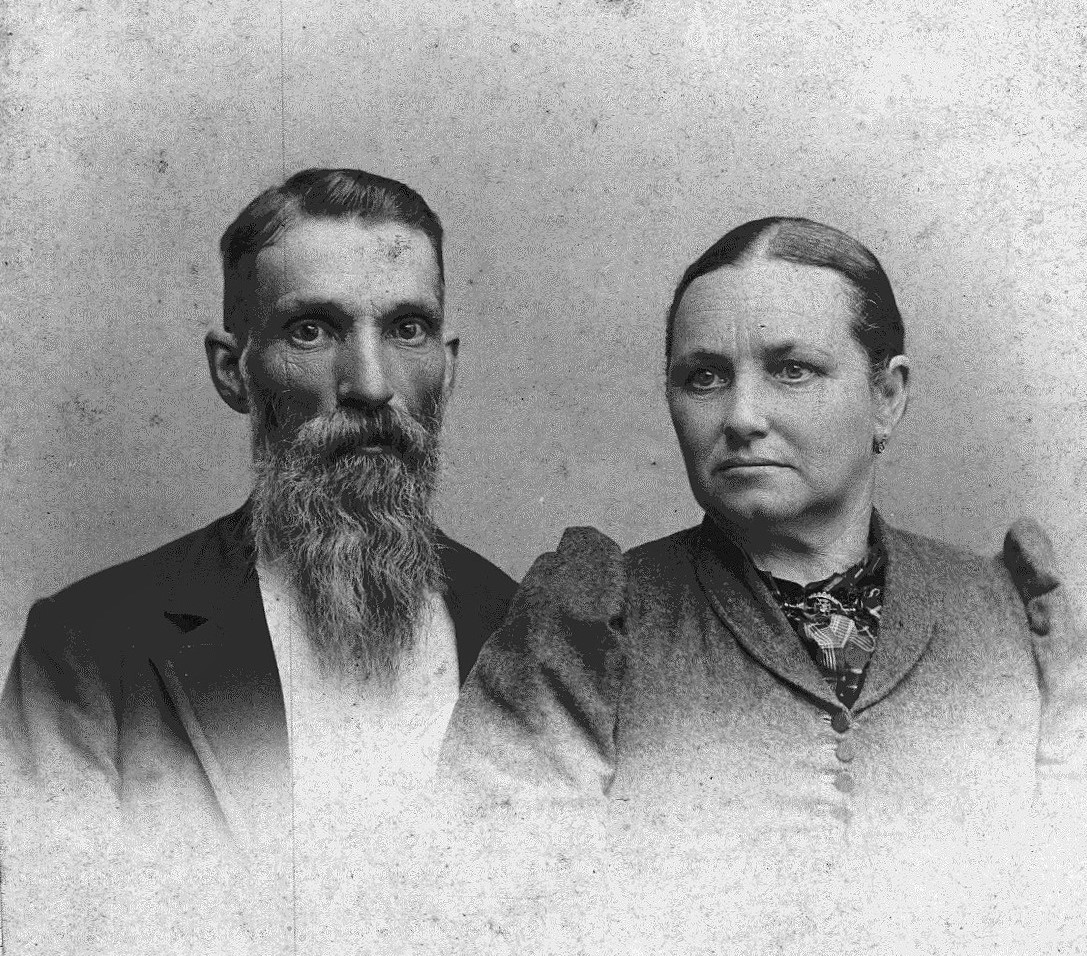 July 8, 1920 - North Vernon Plain Dealer, Page 6

OBITUARY

Sarah Jane, daughter of William Preston and Elizabeth Shields was born in the Cherry Valley neighborhood, just south of Butlerville, Indiana, on March 13, 1843. When a child she was baptized in the Presbyterian Church in Vernon, Ind. On September dd, 1864 she was united in holy wedlock to William H. Hutton and to this union was born one daughter, Mrs. Anna Stewart, of Hope Dale, Ill., she also raised a foster daughter, Edith Clarkson, now Edith Ross of Indianapolis, Ind.
On July 1st, 1920 the summons came and she passed quietly and peacefully to her reward after a lingering illness of nearly five years caused from an injury. In all of this time she was a constant and yet a patient sufferer, requiring the least possible attention from those who so willingly served her. She was aged 77 years 3 months and 28 days.
She spent her entire life here in Jennings County and most of her early life in the Cherry Valley neighborhood. In 1873 she came with her family to live in Butlerville where she continued to live until the summons came.
She had a broad acquaintance of admiring friends for whom she lived and always took pleasure in serving. She was a lover of the truth which was one of her many virtures.
She leaves to mourn her departure a devoted husband and companion of nearly 56 years, a loving and sympathetic daughter, an appreciative foster daughter, two grand-children, two brothers, one sister and many true and admiring relatives and friends.
Funeral services were conducted by Rev. Cole of the Vernon Presbyterian Church, in the Butlerville M. E. Church on Monday July 5th.

---
July 8, 1920 - North Vernon Plain Dealer, Page 7

Mrs. Jane Hutton, wife of William Hutton, aged 77 years died on Thursday morning, after an illness of almost five years from an injury. Funeral services at the M. E. Church on Monday morning conducted by Rev. Cole, of Vernon. Burial in the Butlerville cemetery. Those from a distance who attended the funeral were Mrs. Anna Stewart, Hopedale, Ill.; Mrs. A. J. Bailey, DeWitte, Ark.; Mea. Bessie Kenyon, Mt. Carroll, Ill; Mrs. Leona Hatfield and son, Mrs. Edith Ross and daughter Clara Mae, Oscar Hutton, of Indianapolis; Mr. and Mrs. J. T. Barnes, Mr. and Mrs. M. R. Connelley, Arthur Hutton, Mrs. Charles Weber, of North Vernon, Mr. and Mrs. William Wilson, of New Carlisle, Ohio, Judge Carney and sister, Miss Cora Carney, of Vernon; and Mrs. J. W. McClure and Miss Altre Stoddard, of Milan.



May 30, 1918 - North Vernon Plain Dealer

DEATHS

Boyd-Mrs. Agnes Boyd, aged 72 years, died at her home at Los Molinos, California, May 4th, after an illness of but one week. Mrs. Boyd who was formerly Agnes M. Shields, was born in Butlerville, and grew to womanhood in that place. Her husband, S. J. Boyd, died in 1894, and in 1905 she went to Mott, N. Dakota, to reside. In 1913, she went to Los Molinos, California, where she remained until her death. She is survived by five children: Jesse K. Boyd, of Port Orchard, Wash.; Mrs. Nina Kenyon, Mt. Carroll, Ill.: Captain S. J. Boyd, of Mott, N. D.; Leroy C. Boyd, Chicago, Ill.; Mrs. David Jones, Los Molinos, California.