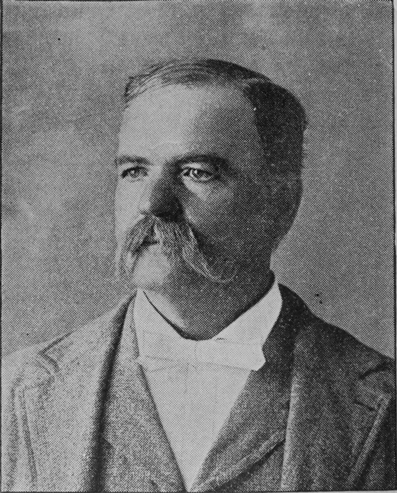 1897 North Vernon Business Directory
WALTER S. PRATHER
Member of a Well-known Firm of Pension Attorneys.
Walter Scott Prather was born on his father's farm three milles southeast of North Vernon, January 9, 1847, in what is known as the old Prather homestead. He was educated at the county schools and at Asbury (now Depauw) University, Greencastle, Ind. When only fifteen years of age, young Prather (whose father was Lieutenant-Colonel of the Sixth Regiment, Indiana Volunteer Infantry) entered the army, being attached to his father's staff as orderly. Later he enlisted in Company B, 137th Indiana Regiment of Volunteers, and served with honor until discharged in 1864. Of the Prather family the father and seven sons fought in the ranks for the preservation of the Union.
At the age of twenty-two years he, together with Dr. A. C. Light, engaged in the retail drug trade in North Vernon, in which he gained and excellent knowledge of pharmacy and chemistry. At the expiration of six years he disposed of his interest in the drug business to his partner, Dr. Light, and accepted a position as clerk in the postoffice. Three years later (1878) he was appointed postmaster of North Vernon by President Grant, being the first presidential postmaster ever appointed in Jennings county. This office he filled most satisfactorily until 1885, a period of seven years, and made one of the best postmasters North Vernon ever had. In 1888 Mr. Prather was honored by his election to the chief magistracy of North Vernon, to which place he was elected for three successive terms, thus making a period of six years and four months that he served as mayor of the city. His policy during his administration was an aggressive one. Not content with things that has satisfied a former generation, Mr. Prather persistently sought the improvement of the city, and lent his energies to carrying out needed municipal reforms. That his work in this direction was made apparent by his long retention of the position of chief executive. Prior to his election as mayor, Mr. Prather served two terms as councilman, and in 1896 was a third time elected as a repressentative of his ward, and is at the present time a member of that body. He has lost none of his interest in the advancement of North Vernon's progress, believing that the day is not far distant when the city will develop into a large industrial and commercial center.
In matters pertaining to the prosecution of pension claims he is vigorous, extremely careful, and persevering; and many worthy old soldiers are today enjoying the benefits of a well earned pension through the able manner in which he has taken up and conducted their claims.
---
North Vernon Plain Dealer - January 8, 1904
SCOTT PRATHER DEAD.
W. S. Prather died at his home in this city shortly before noon yesterday, after only a few days illness, of erysipelas. At one time he was one of the most prominent men in this city. He served three terms as Mayor and a number of terms as a member of the Common Council. He was also a member of the firm of O'Connor & Prather, and was successful along that line of business. He was connected with the postoffice here for about ten years serving as postmaster for a period of seven years, being the first Presidential postmaster ever appointed in this county. He had an excellent army record. At the age of fifteen he joined the army, being attached to his father's staff as orderly. Later he enlisted in Company B, 137 th Indiana Regiment of Volunteers and served until discharged in '64. He was one of seven brothers who fought for the Union. Funeral services will be held from the M. E. church Sunday afternoon at 2 o'clock.
---
A Lithograph from the October 12, 1892 North Vernon Sun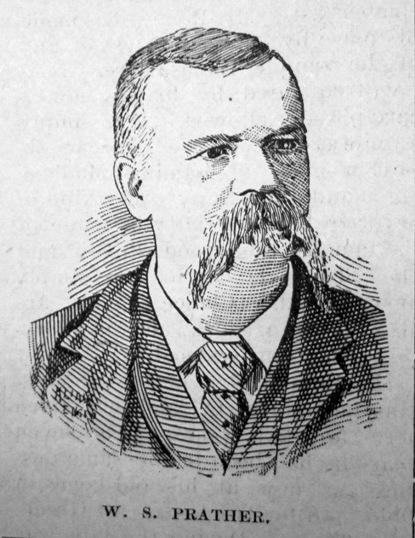 ---
You may use this material for your own personal research, however it may not be used for commercial publications without express written consent of the contributor, INGenWeb, and