Family of Walter C. Pearce
From file #599 at Jennings County Public Library submitted by Patricia J. Delks in 1994
Surnames connected to this family are Hess, Geisel, Simmons, Billau.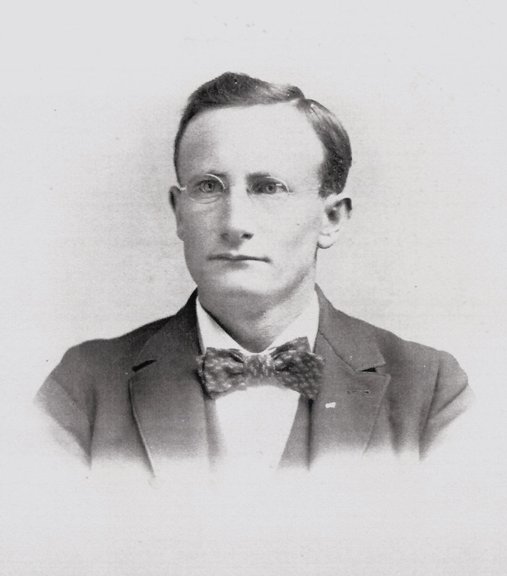 Walter C. Pearce
OBITUARY
January 28, 1937 - North Vernon Plain Dealer
Walter C. Pearce, son of Thomas and Katherine Pearce was born March 30, 1870 in Morgantown, Ind, and died January 16. 1937. He spent most of his life in the neighborhood where he died. He was a graduate of Vernon high school and Terre Haute State Normal. He taught school for ten years. At an early age he accepted Christ as his Savior. For more than twenty-five years he served as Deacon in the Freedom Baptist Church. On March 17, 1897 he was united in marriage to Miss Freda Hess. To this union was born one daughter, Emma. His only brother James preceded him in death about two years. He was a successful farmer a good neighbor, one who loved the Bible and religious music. He leaves a devoted wife and loving daughter.
For a number of years Walter C. Pearce kept a journal, a copy of which was submitted by Patrica Delks to the Jennings County Public Library and is available there. In explaining her donation Patricia writes "Walter C. Pearce married my great aunt, Freda Hess. Their farm was located off route 3 in Jennings Co., on land that was was taken over by the state. (Became part of Crosley Fish & Wildlife Area). Freda and Walter had one child Emma, who was named after my grandmother Emma Geisel nee Hess.
Walter kept this daily journal with some entries dating from 1917 until he died 16 January 1937. Emma kept entries for the next couple of years after that.
The journal depicts and is rich in the various aspects of daily farm life. It gives a true picture of the labor and skills required to be a full time farmer in southern Indiana. Walter was active in his church, they were grange members, good neighbors and family oriented. There was a steady flow of workmen, friends and family to and from the farm.
My mother Julia Caroline Delks nee' Geisel, was born in Jennings Co. and graduated from Ralph Waldo Emerson school in June of 1915. Her family had moved to Indianapolis. but the family ties in Jennings County meant that she and her siblings were visitors over the years.
I have many personal and fond memories of visits to the Pearce farm. It was not modernized and one of my first memories, when I was five, was of being flopped by a hen who had taken her chicks into the outhouse for the night. One of my jobs when visiting was to try and follow the Guinea hens to discover where they had hidden their nests. I learned to collect eggs, prime the water pump, pluck chickens, pick tomato worms, bring the cows up for milking and how to fish down at the creek that ran through the farm. All of this while enjoying fresh air, sunshine, good food, loving relatives and the peaceful quiet of the country side. My life has been truly richer for these experiences."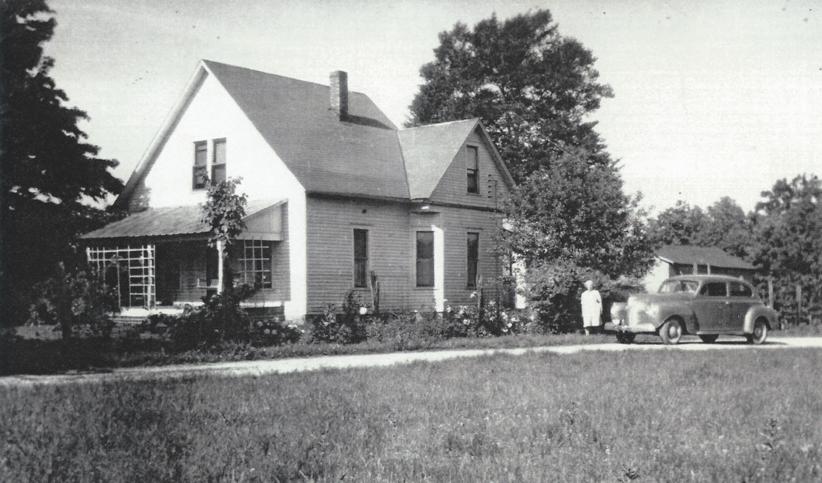 Pearce Farm House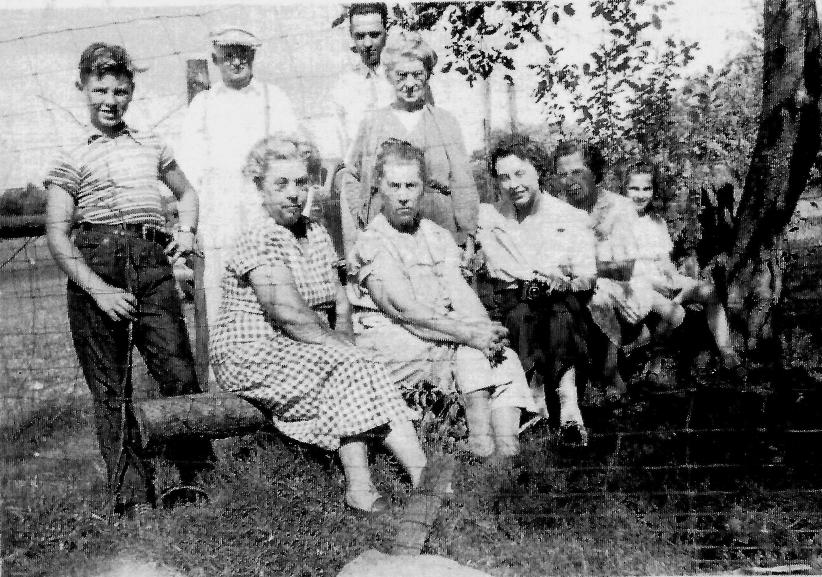 Standing left to right - Richard "Dick" Cotton - son of Orval Cotton & Betty (Geisel) Cotton. Clarence Kennedy - husband of Freda (Geisel) Kennedy, Orval Cotton husband of Betty (Geisel) Cotton, Lizzie nee Hess Hoffman/Deputy - sister of Freda and Emma Hess
Sitting left to right - Freda (Hess)Pearce wife of Walter, Emma (Hess) Geisel wife of Frank Geisel, Freda (Geisel) Kennedy wife of Clarence Kennedy, Betty (Geisel) Cotton wife of Orval Cotton, Betty Jean Cotton daughter of Orval and Betty (Geisel Cotton.
---
You may use this material for your own personal research, however it may not be used for commercial publications without express written consent of the contributor, INGenWeb, and