NORTH VERNON MARBLE WORKS
and some pictures of the owners family
1897 North Vernon Business Directory & Jennings County Public Library Archives
---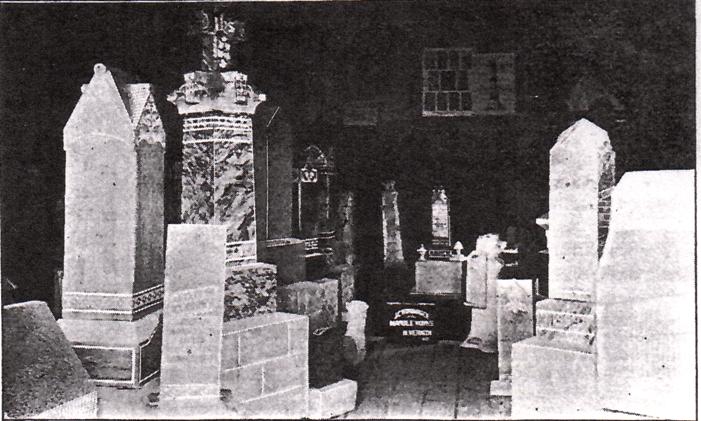 Interior of North Vernon Marble Works
Whose Proprietor, J.C. Vorburger, is a Master of Monumental Sculpture
Of the many men in the United States engaged in the manufacture of monuments and headstones, few, if any, ever entered the business endowed with such qualifications and abilities as are possessed by J.C. Vorburger, proprietor of the North Vernon Marble Works. His school has been the capitals of Europe, and his instructors some of the most noted sculptors of the old world, under who he studied and worked.
J.C. Vorburger was born in the Republic of Switzerland, on the Rhine, in 1858. At the end of his school days he went to Zurich, where he learned the trade of mortuary sculptor. He subsequently went to Basle in Switzerland, where he followed his trade as journeyman, later removing to Mulhousen in the Provence of Alsace. Later he went to Berlin, the capital of the German Empire, where he gained a valuable experience in archetectural sculpture, being employed for some time at the government gallery of paintings. His next move was to Paris, and in the French capital he continued to work and study, being employed for several years in monumental work intended for
Pere la Chaise
Cemetery, the most magnificent burial place in the world. Equipped with abilities of a high order as a sculptor, Mr. Vorburger came to the United States in April, 1883, and settled temporarily at Paris Crossing, in this country, where he was employed as contracting stone mason for the B.& O.S.W. Railway Company. Subsequently he came to North Vernon and purchased the North Vernon Marble Works, which he has since conducted with marked success, his reputation as a designer and manufacturer of monuments having extended to several counties in this section, and brought him a large business. The accompanying illustration, showing his marble works, conveys some idea of the versatility of Mr. Vorburger's genius as a sculptor, but, to properly appreciate the high characted of his work, a visit to the North Vernon Cemetery or some of those scattered throughout Jennings, Jefferson, Bartholomew, Scott and Clark counties, should be made. The demandsof modern civilization are not so easily satisfied as formerly with reference to marking the resting places of the dead, hence it is that the plain modest headstones of olden times has, in a large part, given place to artistic and beautiful creations of the sculptor's art in all our cemeteries. Mr. Vorburger has done much towards beautifying the burying grounds of this section by the skill of his artistic work. An excellent judge of material, he employs only the best qualities of granite and marble, and thus is enabled to give the most complete satisfaction to patrons. New York, Georgia, and Vermont furnish most of the marble he used, while the red, carnation, Scotch, Barre and Concord granites are chiefly employed in monumental work. These come to him direct from the quarries, which gives him a great advantage over competitors.
Mr. Vorburger was married in 1887 to Miss Lottie Humphrey, with whom he lives happily in his own home, and attractive and comfortable cottage situated on State Street. His business is increasing from year to year, and as a citizen he enjoys the esteem and respect of his fellow townsmen.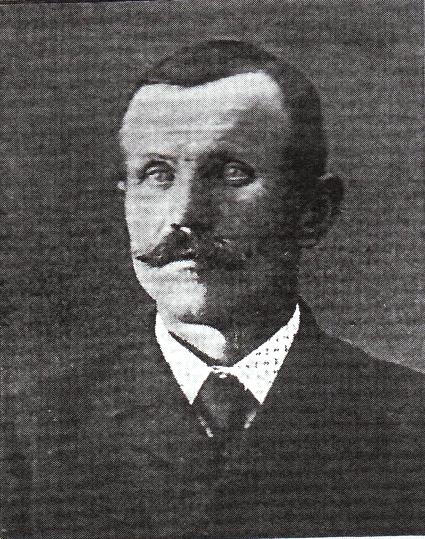 ---
VORBURGER FAMILY PICTURES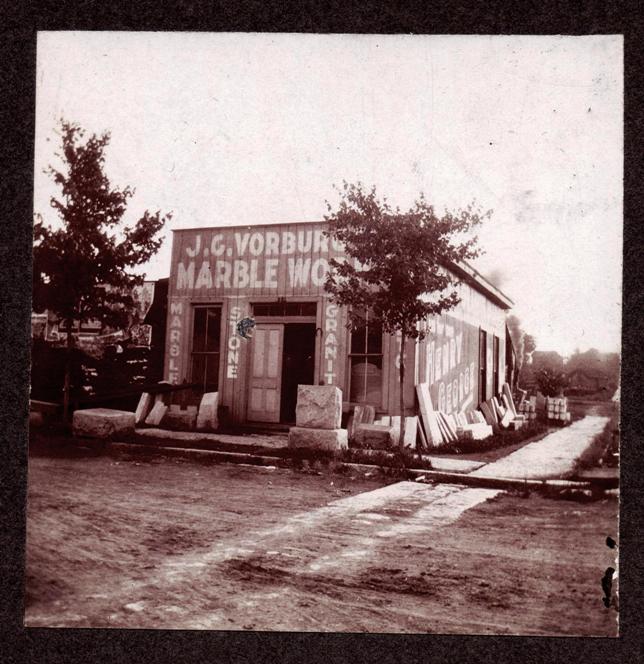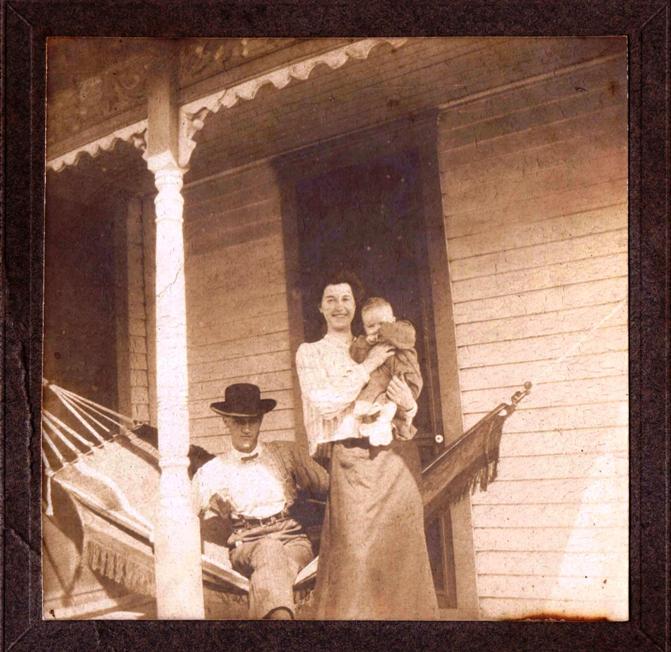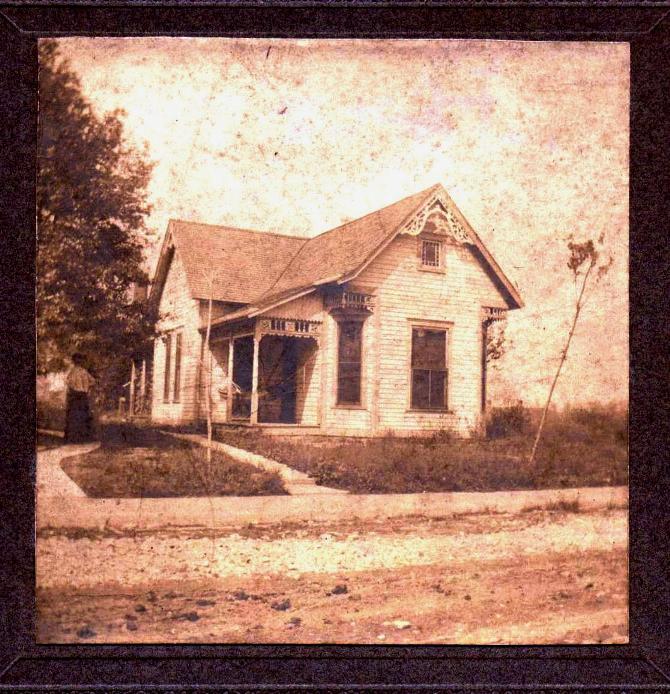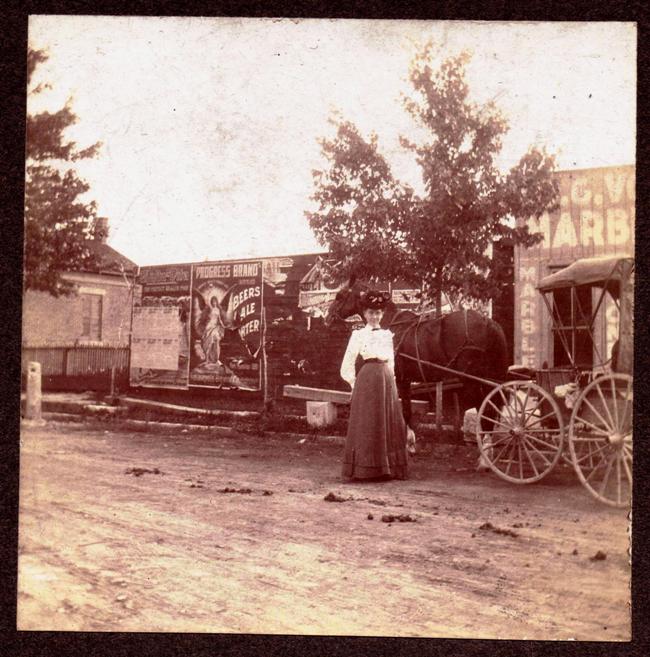 ---
You may use this material for your own personal research, however it may not be used for commercial publications without express written consent of the contributor, INGenWeb, and