MRS J. R. ROBINSON COMPANY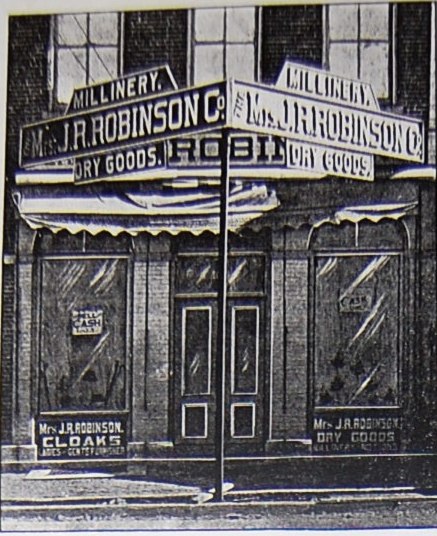 Millinary, Dry Goods, Dress Goods,
Finishing Goods, Cloaks,
Wraps and Carpets
The residents of Jennings County are certainly be congratulated upon having in their midst an establishment such as that conducted by the Mrs. J.R. Robinson Co. By reason of its location here, the citizens are enabled to get everything in the millinary line in the market, and at prices even lower than those of the large city houses. This house carries a full line of millinary dry goods, gents furnishing goods, carpets, notions, cloaks and wraps. Mr. Jas. R. Robinson, who has charge of the business, while not a young man, is active and alert and has more than kept pace with the times, evidenced by the fact that this store, the creation of his thrift and enterprise, ranks as one of the best of its kind in Southern Indiana. Mr. Robinson realizes the advantages to his customers of doing business on a strickly cash basis, as by selling for cash and paying cash for all that he buys, and also taking advantage of discounts, he is enabled to undersell competitors. In speaking of this Mr. Robinson said: "What other houses pay to book-keepers, collectors and for postage. I give to my customers in increased values, and thus, while a little trade by not crediting, I gain much by being able to sell the best goods for the least money." As will be seen by the interior view of the store which is here presented, the stock is large and neatly kept, and, although the store room is one of the largest in the city, being 30 x 90 feet, it is none too large to accomodate the immense trade carried on. Mr. Robinson has grown up in this business, and is thoroughly versed in every detail. By long experience he has learned where and how to buy to the best advantage. The major part of his stock is shipped from the East, and he thus keeps in the van of the constantly changing styles. In the store he is assisted by Misses Clara Firsich, Dora Becker and Clara Loscent, a trio of young ladies, courteous and accomodating, who lend much to the popularity of the establishment. In addition to these Mr. Robinson always employs during the opening season one of the more experienced trimmers from the large cities.
This business is one of the oldest in North Vernon having been started in 1858 by the gentleman who now has charge of its affairs, together with his father Mark Robinson, in a small room at the site of the "Big Four" depot. The business, while more varied in the branches carried then than now, was comparatively smaller, and when in 1861, a call was made for volunteers to fight for the cause of the Union, father and son responded. The store was left in charge of Mr. Robinson's wife, who conducted it during her husbands enforced absence. It will thus be seen that this business house has for nearly forty years been catering to the needs of the people of this vicinity. Jas. R. Robinson was born in Philidelphia, Penn. and was educated in Cincinnati to which place his parents moved when he was a small child. At the age of sixteen he left Woodward College to come with his parents to Jennings County, where he worked on a farm within a mile of this town, although at that time there was not a vestige of the now thrifty city. In 1858 he moved to Tipton, a small trading point, and as stated above launched into business, having in the meantime wedded to Miss Hannah Jane Roudebush. He joined the army in 1861 as a member of the Fifty-sixth Indiana Volunteers. At the close of the war he returned to his home, and, together with G. Kerchner entered into the contracting and stone business. This enterprise proved a success and there are standing to-day many monuments of the work of this firm, among them the United States arsenal at Indianapolis, and the foundation of the State House. After seven years in this business he took active charge of the establishment conducted by his wife. The business was then located in a small house a few doors west of the present location, but under his management it grew until 1894 it was found necessary to move, and the quarters now occupied were selected. Both floors are utilized. The wife of Mr. Robinson died March 26, 1896, leaving one son who is grown. On July 7, 1897, he married Miss Mary L. Meeds of Pittsburg, Penn. with whom he lives happily in a elegant and attractive home of his own at the corner of Main and State Streets. Mr. Robinson is a member of the K. of H. K. and L. of H., and G.A.R and is the oldest living member in the county of the sons of veterans.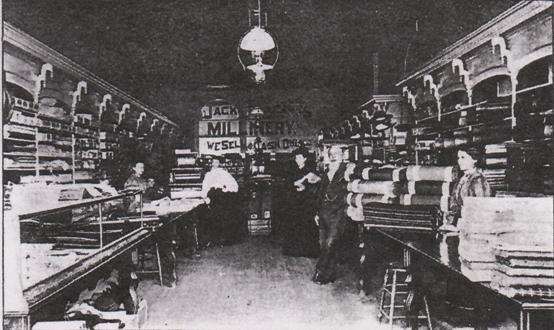 ---
Robinson Family notes by Sheila Kell
Obituary from the North Vernon Plain Dealer - April 20, 1905
James R. Robinson
A Prominent Figure Passes from Our Midst
Universal sorrow is expressed over the death of Col. James R. Robinson, who passed away at 6:15 o'clock last evening at his residence, 314 Poplar street, after several weeks illness of pneumonia. Mr. Robinson was born in Philadelphia, and would have been sixty-eight years of age next month. He leaves a widow, Mary L. Robinson, whose maiden name was Meeds. He also leaves one son, Daniel R. Robinson, manager of the Robinson Amusement Company, who arrived in the city last night, an hour after his father's death bringing with him Dr. Hanley, a noted physician and specialist of Cincinnati. An only brother, Charles W. Robinson, a capitalist of New Orleans, is now on his way to be present at the funeral services, which will take place at the residence at one o'clock Saturday afternoon. Miss Alice Meeds sister of Mrs. Robinson, is also expected from Pittsburg. The remains will be taken on the 2:15 train tomorrow afternoon to North Vernon, where the interment will take place. The deceased operated a stone quarry prior to leaving Philadelphia, and was engaged in the milliners business here and at North Vernon. He was a member of the 56th Indiana regiment and served in various capacities of usefulness during the Civil War, earning the title of Captain. The honorary title of Colonel came through his connection with the Grand Army of the Republic. He was an enthusiastic member of Alois O. Bachman Post of this city, and was on the staff of the State Commander as Inspector General. He was a member of the Order of Knights of Honor and the Knights and Ladies of Honor. He was a broad minded, whole-souled, honorable gentleman, and a patriotic, public-spirited citizen. He was a charitable man, peculiar in his views and outspoken on all the questions and topics of the times, politically was an ardent Republican. Genial in disposition, charitable in benevolence, upright in that which goes to make up a noble manhood, energetic in his business relations, his life in our midst has been one of usefulness. Taken all in all, we shall not soon look upon his like again. Peace to his ashes and rest to his soul. - Madison Courier
Col. J.R. Robinson lived at North Vernon for many years, moving to Madison a few years ago. He had many friends here who were grieved to learn of his death. The remains were brought here from Madison Saturday afternoon at three o'clock accompanied by a large number of members of the Madison G.A.R. Post and many other friends and relatives. The funeral party had a special coach. They were met at the station here by a number of friends. The remains were taken from the station to the city cemetery where he was laid to rest in the family lot. The floral offering were beautiful and numerous.
Obituary from the North Vernon Sun - April 21, 1905
COL. J.R. ROBINSON
Former Resident of This City Passes Away at Madison
For many years a prominent business man of North Vernon but for the last few years a resident of Madison, died Thursday evening of pneumonia at that place. The Madison Democrat of Saturday contained the following account of the deceased:
"Col. J.R. Robinson, one of Madison's prominent business men, the well known milliner, passed away at his home on South Poplar street at 6:15 o'clock yesterday evening, after an extended sickness of several weeks, suffering with pneumonia.
Col. Robinson, one of our most genial citizens, was in his 68th year of his age, and would have reached that age had he lived until the 10th of May. He was born in Philadelphia coming west with his parents when a small boy. When fourteen years of age he located in North Vernon, and has since been a resident of that city, until six years ago, when he moved to this city, entering into the millinery business, a business he conducted in North Vernon. He still operated the North Vernon store at the time of his death. Col. Robinson was an enthusiastic ex-soldier, as he was enthusiastic in whatever he entered into. He served at Lieutenant and as Quartermaster in the 56th and 57th Ind. Vol. consolidated. He was a member of the North Vernon Post G.A.R changing his membership to A. O. Bachman Post on his removal here. He was Junior Vice Commander of that Post, also Department Inspector of the State at the time of his death.
Deceased leaves a bereaved widow and one son, D.R. Robinson, proprietor of the Robinson Carnival Co., to mourn their loss.
Col. Robinson was the main spirit in securing the meeting of the G.A.R. Encampment in our city this spring, and up to the time of his sickness, was one of the most spirited movers in getting the city ready to entertain the soldier guests.
The following accompanied the remains to its last resting place Saturday afternoon: Messrs. Wm. Watlington, John H. Hammell, George E. Grace, W.B. Ray, Chas. M. Kell, John Lockridge, James E. Girard, M.A. Litterer, Albert Fllis, M.H. Heid, J.H. Jackson, Chas W. Stanley, D.G. Stewart, E. H. Graves, N.W. Vawter, J.E. McReynolds, Conrad Heart and Geo. A. Simpson."
The remains arrived here at 3:15 p.m. Saturday and were at once taken to the city cemetery where the G.A.R. Post conducted ritualistic services.
The Millinery business carried on by Mr. Robinson here and at Madison will be continued by the widow. The business here is one of the oldest establishments in the city.
James R. Robinson above was the son of Chaplain Mark Robinson a immigrant from Yorkshire, England.
Here is the Obituary of Mark Robinson from the North Vernon Plain Dealer, February 25, 1885.
Died
ROBINSON-At his residence in this place, at 15 minutes after 8 o'clock, on Monday evening, February 24, 1885, Mark Robinson, aged 76 years.
Few men will be so sadly missed from their accustomed places as Chaplain Mark Robinson. Always ready to extend a helping hand to need or distress, and in every other way being a useful and prominent member of our community, he has endeared himself to the hearts of all. He will long be remembered and revered by our citizens. The funeral sermon will be preached by Rev. E.L. Dolph, assisted by Revs. Northcott and Reed, in the M.E. church, at 2 o'clock Thursday, the 26th inst. The Masons will take charge of the remains a 1 p.m., and proceed to the church, and will have charge of the services at the grave. The G.A.R. will furnish an escort from the house to the church, and from there to the grave. The Post will attend the funeral in a body. The public schools are to be dismissed at noon tomorrow in order to permit the children to view the remains.
Mark Robinson married Maria Meeds on January 3, 1834 in Philadelphia, Pennsylvania. The family also lived near Cincinnati, Ohio prior to their move to Jennings County. Rev. Mark Robinson did have a sister who also immigrated to America another English immigrant Francis Little Sr. came back to England and married her her. They were the parents of one of our more famous attorney's who was also an excellent poet. I have only been able to trace two of Mark & Maria Robinson's children James R. & Charles W. who both became successful business men. James R. spent most of his life here in Jennings County, and ran a number of different businesses. His first wife was Hannah Jane "Jennie" Roudebush the daughter of William Roudebush and Mary Ann Rust. Hanna Jane is the one who successfully ran the business while James R. Robinson served in the Civil War. After her death in 1896 he married a relative of his mothers Maria Meeds who was thirty years his his junior and she survived him by many years, dying in California in 1951. Charles W. Robinson was also involved in the local businesses but ended up moving to Marietta,Georgia and subsequently to New Orleans Louisiana, he was a prominent business man where ever he lived being involved in railroads and banking. In 1893 he began Robinson Lumber Company in New Orleans and the company still exists in the hands of fourth generation Robinsons.
---
You may use this material for your own personal research, however it may not be used for commercial publications without express written consent of the contributor, INGenWeb, and