McGANNON FAMILY RE-UNION
By Fred C. Lockwood
Written in 1910
---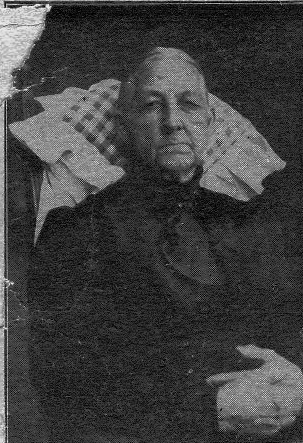 JANE (McGANNON) STOTT
1825 - 1912
---
The seventh annual reunion of the McGannon family was held Sunday at the home of Aunt Jane Stott, when relatives galore assembled to pay their respects and a fitting tribute to "Vernon's Grand Old Lady," who in her 85th year still finds life the same glad, pleasant story. The day chosen for this event was an ideal one. As early as 8 o'clock people began to assemble and when the noon hour dawned 94 guests were on hand and prepared to eat a delecious meal amid the scent of fragrant flowers and the oder of well prepared delicacies.
After dinner the guests, together with the hostess went to the courtyard where Otto White, the photograper, took a picture of the entire group. (I want a copy of that picture!)
Born January 25th, 1825, Aunt Jane is the only surviving member of a family of 13 children. Her parents were Mr. and Mrs. Thomas McGannon. Her education was attained at a rural school located near the home of her birth and at the age of 17 years she married Allen Stott and to this union 10 children were born, four of whom are living. With the exception of a few years she has resided in Vernon since here marriage. Mr. Stott having died 15 years ago.
It is not necessary for one to write a lengthly article upon the exemplary life of Mrs. Stott, because all who know her are familiar with her career filled to overflowing with beautiful, kind and loving deeds of charity, kindness and love. Though time has gently wrinkled face, silvered her hair and made her slightly deaf, she still retains the beauties of age, exempt from its disfigurements. Today Aunt Jane could look back along the dim vista of years to the sunny morning's of her life and of all the experiences of that view but few have contained more happiness than the joys made possible by these re-unions, where she saw relatives and friends and greeted them in that hospitable way that is so characteristic of her.
Those present were:
Grant Stott, St. Louis; Mrs. M. Rose, E'town; Edward James and family, Ind'pls; John Wiley, Lebanon; George Wiley, Lebanon; Mary Palmer, son, Dupont; Sarah Holman, Clay City, Ill; Allen Shepherd and wife, Commiskey; A. James and family, Lawrenceburg; P.E. Wills and wife, E-town; J.B. Payne, Franklin; D.C. Stott, Madison; Albert McGannon, Melvin McGannon, Paris; J.A. Palmer and family, Dupont; Thos. King, Clairmont; W.L. McGannon, Paris; Leora DeWitt, Sharpsville; Mrs. Richard Stott, Columbus, Kan; Sallie Fewell, T.L. Thomas and family, Pearl VanWye, Jesse Rowan, E.J. Welker and family, Jesse Baker and wife, P.W. Randall, Mollie Torbet, Ollie Hilton, Henry Hinchman, Mary Ward, Jane Stott, Vernon; T.A. Pearce and wife, Faye Pearce, Kokomo; W.U. Reed and wife, Lovett; Lucy Hinchman, Winfield, Kan; W.J. Mitchell and family, Loyd Reed and family, North Vernon; Susan Newsom and daughter, Azalia; Penelope Wagner, Ind'pls; Ida Wood, Liberty; Levina McKay, Ann Arbor, Mich; Mrs. Dr. Baxter, Sharpsville; W.D. Sharps, Kansas City, Mo; Mabel Terrill, Mary and Ruth Terrill, Seattle, Wash; Jemima Johnson, Vernon; Garfield Reed and family, North Vernon; Samuel Reed and wife, Grayford; Mrs. C. Durland, Ft'wh; Elizabeth McGannon, Mary Dixon, Thos. McGannon, Nellie and Amy McGannon, Paris; Mrs. A.B. Pitzer, Tipton; Albert McGannon, Clairmont; Hillerman Vandergrift, E'town; Jos. James and wife, Vernon.
---
You may use this material for your own personal research, however it may not be used for commercial publications without express written consent of the contributor, INGenWeb, and