Spencer, McCurry, Marsh Reunion
August 24, 1915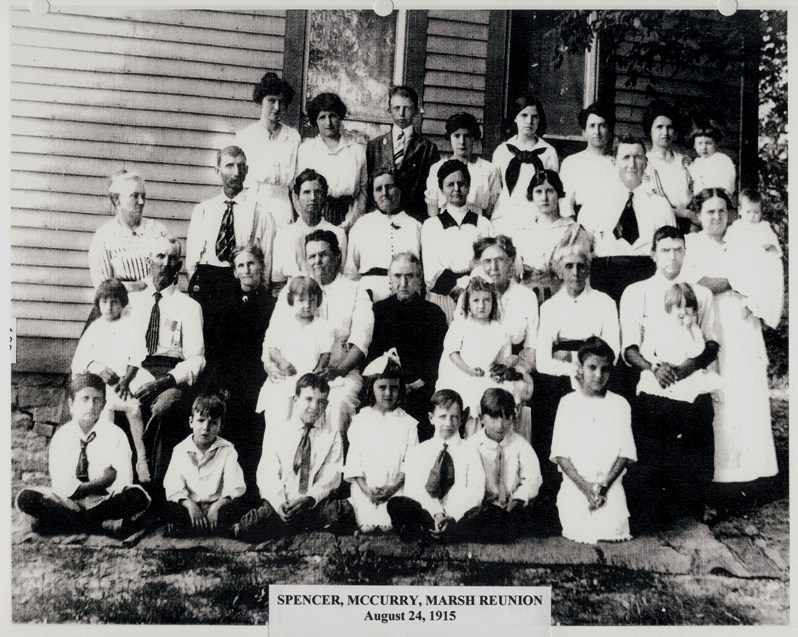 Row. 1 (
back
)- Helen Marsh Breeden, Dau. of Chas. & Mattie Marsh, Ethel Sullivan Hillerman, Dau. of Alzora S. Beryl Beatty, son of Ed & Mabel Beatty, Doris Lattimore, dau. of Forrest & Grace Lattimore, Helen Beatty, Dau. Edward & Mabel Beatty, Daphne Sullivan Meek/wife Dessie/dau. alzora Edna Sullivan Porther, Dau of Alzora, holding son Miles Porter.
Row. 2 (
center
)- Sarah Jane Woodward Marsh, wife/James G. Marsh, James Harvey Trapp, Sr. and wife Jemima Lattimore Trapp, Emma D. Stewart Euler/ Mrs. Geo. Euler/Stepdaughter of Zerelda Spencer Gibbs Stewart, Who is sitting in front of Emma., Mabel West Beatty/wife of Ed. Beatty/Dau. Alzora Irene Beatty, daughter of Ed and Mabel Dessie Fletcher Meek/husband Daphne Sullivan, Grace Evans Lattimore, wife of Forrect L., holding Elsie Merle Porter dau. of Edna P.
Row. 3 (
front
)- James Garrett Marsh, holding Elizabeth Trapp, Martha (Mattie) Sullivan Marsh/wife Charles Marsh, Louisa McCurry Lattimore, holding G-Dau. Anna Corinna Trapp, Zerelda Spencer Gibbs Stewart (sister of Eliz. Spencer McCurry Marsh) is sitting behind her grandaughter Mary Alice Bertram, Zerelda was the second wife of William Stewart. Alzora McCurry West Lattimore Sullivan, holding Sarah Edna Meek her grandaughter. Jemima Lattimore Johnson, (Aunt of Jemima Trapp) who lived with James H. Trapp, Sr. Family. Forest Lattimore, son of Alzora is holding Phyllis Marjorie Meek Dau. of Dessa & Daphne Meek.
---
You may use this material for your own personal research, however it may not be used for commercial publications without express written consent of the contributor, INGenWeb, and