Dan Patch, Greyhound, Worthy Boy. The list goes on with names of harness horses in Indiana. The above names were the Michael Jordans of their day, their speed the talk of the local sports discussions in every town around Indiana. The local fairs all had racing as the centerpiece of the event and this was where everyone wanted to be.
What is harness racing? What is a Standardbred? What was North Vernon's role in this industry? All race horses are felt to have descended from Messenger, a thoroughbred from Europe brought to the US in the late 1700's. There was much cross breeding with Morgans and Arabians to produce the Standardbred of which all trotters and pacers are today. Hambletonian, a grandson of Messenger sired over 1300 foals and virtually all Standardbreds racing today come from four of his sons.
Harness racing consists of two gaits, trotting and pacing. In trotting two legs on one side come together while those on the other side go apart. In pacing the legs move together as a unit. Each race has horses of only one gait. Pacers are faster but trotters are considered the "purest" as this was the gait from the buggy days. In harness racing a cart (sulky) is used along with the harness attachments. The driver (not called a jockey here) sits on the cart and in contrast to jockeys, weight is not a major factor since the horses start on the run behind a car specially equipped with wide arms that the horses put their heads next to. The distance raced is usually a mile and all records are at this distance and thereby standardized (hence Standardbred).
Horse racing dates back to around 4000 BC in central Asia and was popular in Europe after the crusades as the Arabian line was brought in. Harness racing is an American institution and grew out of racing on country roads in the horse and buggy days. This was then formalized at county fairs and harness racing was the centerpiece of thousands of country fairs throughout the Midwest, East, for the best horses over the next century. With the advent of the automobile the sport died down and did not surge back till the late 30's and particularly when Roosevelt Raceway in New York City opened and had pari-mutual betting. Its popularity then soared. Greyhound was Horse of the Year in 1937 (The same era as Seabiscuit), establishing a trotting record of 1:55 1/4 for a mile at the Indianapolis Fairgrounds, a record that stood for over 35 years. Dan Patch was then foaled in Indiana and became a nationwide celebrity, traveling the country in his own railway car and setting records (1:55) that stood for over 30 years. He was truly the most celebrated athlete of his time.
Indiana was at the epicenter of the industry yet never was able to reap the benefits of the sports popularity because of the lack of pari-mutual betting in the state. Every state on our borders had this and huge industries and breeding farms sprang up there because the monies from pari mutual supported the tracks and farms with their sires stakes. Vast sums of money went out of Indiana to those neighboring states and horsemen here tried for years to change this but were unsuccessful. By the time this was changed the sport was in decline which continues to this day. This began with the movement of the major race in harness racing, the Hambletonian, from its historic site in Duquoin, Illinois to the Meadowlands, a mega track in New Jersey that offered purses far exceeding what other tracks could keep up with and this money helped to fuel the decline, now virtual absence, of county fair racing as well as a slow death of the major tracks. Casino and off track betting also helped fuel this decline. The only means of resurgence are where slots and casinos have been allowed at the tracks. Paradoxically, Indiana has had a dramatic rise in money in its sires stakes purses due to the casinos, albeit too late. The love of the sport for its beauty and spirit, from racing your neighbor down a country lane to the county fair is gone. The love of the beauty and athleticism of horses is but a memory, and economically it is not viable to those thousands of small owners and drivers who have been the life blood of the sport for years.
The History of the Harness Industry in North Vernon
The history of the harness industry in North Vernon is centered around the Russell family, namely Curt Russell. The Russell's came here in 1821 and had harness horses at that time. They subsequently built their training track in 1870 (the same plans were subsequently used to build the old track at the city park). Curt, clearly the focal point for the local development of harness racing, probably first began racing around 1899 at local fairs and raced his last race in 1962 at the age of 80. Curt and his family were the springboard for many to come here to live, raise, and race horses. Bo Anthers got into the horse business just so he could woo Curt's daughter Ann. It worked, they got married and Bo continued with horses throughout his life.
My father Dr. Louis Calli, Sr. was in the Army at Fort Knox and happened to buy a horse. When he got out he was driving back to New York and went through North Vernon. He asked if they had a doctor here and Dr. Green was getting older at the time and Dad thought this looked like a good place to raise horses and practice medicine so he stayed, bought the house on State Street and a small farm in Commiskey and his career began. The presence of Curt here was a clear influence on his staying. Our stable along with others was housed at the city park where the race track was well laid out with banked turns and stalls for 30 horses. When the town decided to do away with racing and the fair moved out of town, the track was taken down and Dad bought the farm on highway 50 and built our own track. That farm and track are now plowed and farmed with no sign of the hundreds of horses that roamed the fields.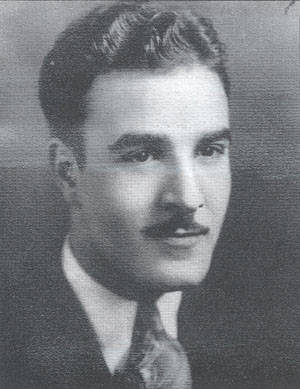 Dr. Louis J. Calli,Sr. as a young man
There were many others as Jennings County was a hotbed of the sport. Russell VanBlaricum had a stable and one of his early workers was a young woman named Carol Hukill. She worked with Russell and became very successful, driving in races at major tracks, one of the few women drivers in the country. I remember being at the fair when Carol was driving. I was about eight. She was in a wreck and her foot got caught in the sulky and she was dragged all around the track. It scared me as this horse was running wild and I jumped up in the truck. She was OK and continued to drive later.
Another main stay of local racing was Dave Howard who worked with Russel VanBlaricum and then built his own track on his farm near the state school. Dave was the last harness horse man in town and has only recently retired. Dave was a true horseman who raised, broke, trained, shoed, and was the vet for all his own horses. The Hill family from Bloomington who loaned much of the memorabilia we have here tonight, were major players in the state industry. My brother Sam Calli drove in his first race at 16 and continued driving the rest of his life. He would cover most of the Indiana fair circuit, all through Ohio and Pennsylvania and raced through most major tracks in North America from Winnipeg, Manitoba to New York City. Dad and Sam bought a stud Mahlon Hanover who had been the top two year old in the country and was an early favorite for the Hambletonian, but then went blind. Most of the horses in the stable were home bred but Dad was always trading and buying and at one point we had over 150 horses. Dad would trade frequently with the Amish who prized harness horses for their buggies when they were too old to race.
Sam was well known throughout the tracks as "Singing Sam". He loved to sing and croon, a la Dean Martin and Frank Sinatra and did this at the bars which were after race venues for the drivers. When the race announcer would call horses at the head of the stretch he would yell. "…and here comes Singing Sam on the move".
Every horseman was always waiting for the "big one", the horse that would win them the envy of other horsemen, and race and beat the best. Very few ever won much money but whether it was a $100 claimer or a Hambletonian winner, the real sport was the competition. My fondest memories are of standing at the fence with Dad at our farm, which is now the Violet and Louis Calli Nature Preserve, and watching the new young colts out in the field every year. With the same belief and hope he would always point to one of the foals and say "Look at that gait, he's a natural trotter, that's going to be the one!"
The Author
Dr. Jim Calli was born in Massena, New York in 1946
and moved to North Vernon in 1949.
He is a graduate of NVHS Class of
1964 and John Hopkins University 1972,
McGill University 1st year 1973,
Medical residency 1972,
1973-1982 Adult Medicine in North Vernon.
1982-1984 University of Utah Medical Center.
1984-1986 University to present: Invasive
Cardiologist.
Clinical Assistant Professor of Medicine-Indiana
University Medical School.
Primary Interests:
My patients
-specifically the management of heart failure and Arrhythmia.
Medical Students
-I try to spend more time in teaching and hope I can have an influence to let students see the special privilege medicine is.
Africa
-Ann Marie and I have founded Giving Back to Africa in 2003 and this occupies much of our time.
We fund and support an orphanage in Kinshasa, DRC and run a scholar's program for university students at the Protestant University of Congo.
Bicycling
-We are fortunate to be able to travel and enjoy mountain terrain riding around the world.
"My life was formed by North Vernon and being fortunate to grow up in an environment of support and wonderful friends. These relationships and my love and gratefulness to this community and my friends only grows with time. Being able to donate the Calli Nature Preserve has been one of my fondest moments. Seeing kids and families and their dogs playing and enjoying the trail give me a great continuing sense of connection with the land I love so much. There is nothing special about me donating it. I'm just lucky enough to have been able to. There was never any question this land should be preserved for people to enjoy it as much as I did."