GUY L. TRIPP & SON
1897 North Vernon Business Directory
Sheet Metal Workers, and Large Dealers in Stoves, Tinware, Etc.
---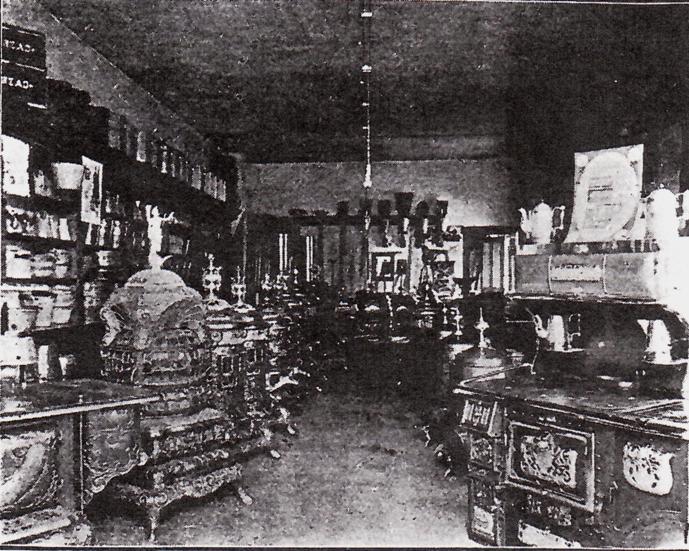 Guy L. Tripp & Son - Showroon 1897
In the metal working establishment and stove emporium of Guy L. Tripp & Son, North Vernon possesses a valuable auxillary to its industries. Founded in 1892, this business has in less than six years, jumped into a leading place among the mercantile and manufacturing resources of the city, its trade extending thoughout Jennings county, and its manfactured products being in constant demand among builders and contractors.
Guy L. Tripp is the oldest son of the late Col. Hagerman Tripp, the founder of the city of North Vernon. He was born in this city city December 25, 1849, and has resided here ever since. He has led an active and industrious life, and in his early years learned the trade of metal worker, and tin, iron and slate roofer, in which branch of manufacture he is an expert and experienced craftsman. Messrs. Tripp & Son opened the present place of business in the fall of 1892, and, as above stated, now command a flourishing trade, which requires the constant attention of both members of the firm. The store is located at the corner of Walnut and Jackson streets, one of the best situations for a business of this kind in the city. The front portion of the building is used as a repository and salesroom, and is under the immediate charge of F.H. Tripp, whose knowledge of the stove trade is not excelled by that of anyone in Jennings County.
A reference to the illustration accompanying this article is all that is necessary to convince the trading public of the facilities possessed by this firm, to cater successfully to its requirements. The stock of stoven and ranges is an exceptionally fine one, embracing almost everything that is used for heating or cooking purposes. The firm's leaders in heating stoves are the "Garlands," which combine the very latest improvements of the stove manufacturer's art, being strong, durable, ornamental, simple in construction, and are splendid heaters. Without doubt "Garland" stoves and ranges are away up in the front rank, their popularity with the public being attested by the enormous number that are sold annually. In cooking stoves the "Peninsular Planished Steel Range" takes the lead, and of all the cooking appparatus manufactured, this finished product knows no superior. The outside body of the range is made of what is known as "planished" steel, which, being highly polished by a seecret process, will always retain its luster without the aid of black Japan or other preparations. It burns either coal or wood, is a quick baker, a superior cooker, and is warranted by a guarantee of the manufacturer to be exactly as represented, every purchaser receiving a numbered guarantee bond. Besides stoves, ranges, furnaces, refrigerators and cooking apparatus, Tripp & Son carry a large stock of iron, granite, tin and nickle-plated are, embracing everything in this line needed by the housekeeper. In the manufacturing and metal working department Mr. Tripp and his assistants are always busy. A large business is done in the manufacturiing of all kinds of sheet metal work, inclusive of guttering and spouting, and tin, iron and slate roofing. Many of North Vernon's most substantial and elegant buildings bear the marks of Mr. Tripp's skilled handwork in these important parts of their construction.
Mr. Tripp is one of the city's most active business men. He has been a member of the city council for three years, his record in that body being a highly creditable one. He is chairman of the Waterworks Committee and Committee on Public Property and officiates as superintendent of the works. He is a considerable owner of real estate in the vicinity, and a large taxpayer. Mr. Tripp was married February 2, 1874, to Miss Lucinda Tate of this city. He has two children, Fred, already spoken of, and Miss Hazel.
F.H. Tripp, the junior member of the firm, was born in this city, November 25, 1874. He is popular, active and energetic and has had much to do with the success of this firm. October 19, 1895, he was happily married to Miss Nannette Robinson, of this city.
A fitting conclusion to this article, as showing what an excellent trade this firm commands, is the statement that since September 1st of this year, upwards of seventy stoves have been disposed of in this store.
---
| | |
| --- | --- |
| Guy L. Tripp | Fred H. Tripp |
---
You may use this material for your own personal research, however it may not be used for commercial publications without express written consent of the contributor, INGenWeb, and