GALLOWAY AND BROGAN'S GENERAL STORE
From a September 1897 supplement to the North Vernon Plain Dealer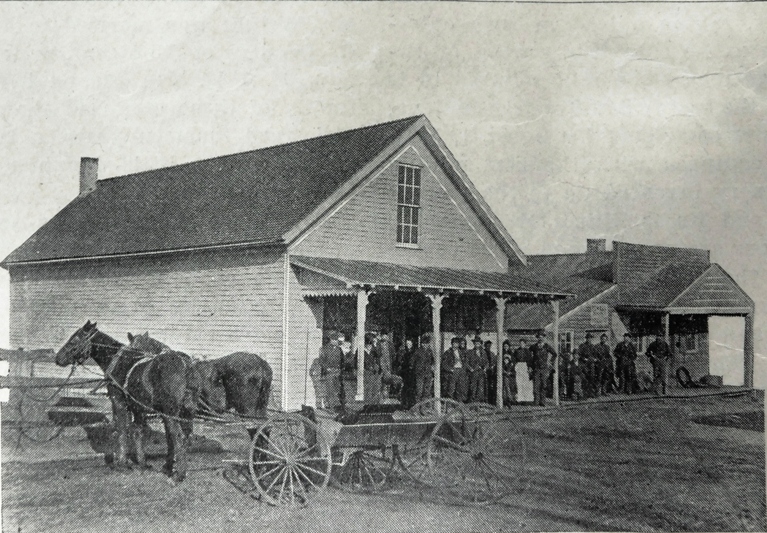 GALLOWAY & BROGAN
The Progressive and Hustling General Merchants of Zenas
Up-to-date methods, hard work, and progressive ideas, have brought the firm of Galloway & Brogan, of Zenas, into the front rank of Jennings county's mercantile houses, and the same causes keep them there when slower and less enterprising merchants are lagging in the rear. This business was established at its present location, November 14, 1891, by Lincoln Galloway and Martin W. Brogan, under the name above given. Neither of the partners had had much experience in mercantile life prior to that time, but they brought into the business such aptitude and energy that they soon found themselves possessed of a trade which brought them into prominence, and to-day, there is no general store in the county that can lay calim to a finer patronage. In the business there is invested $8,000 and $10,000, and the volume of trade exceeds $25,000 annually. The stocks are comprehensive and embrace dry goods, groceries, clothing, boots and shoes, hats and caps, agricultural implements, hardware, gueensware, tinware, buggies, and in fact every article for which there is likely to be any demand. The firm are the largest buyers of country produce in the county, taking grain, seeds, stock, and other commodities, in any quantities offered, and paying the highest market prices for the same. In connection with the business a huckster wagon is run which makes regular trips into the surrounding country. This was formerly in charge of John W. Brogan, a brother of Martin W., but is now driven by Oscar Rayburn, a trusted employee.
Mr. Galloway, the senior member of this enterprising firm, was born December 26, 1858, in Columbia township, on his father's farm, and received his education in the county schools. He followed farming for several years, and for eighteen months ran a huckster wagon. He was married in February, 1886, to Miss Missouri Brogan, his partner's sister. Five children have been born of the union, four girls and a boy.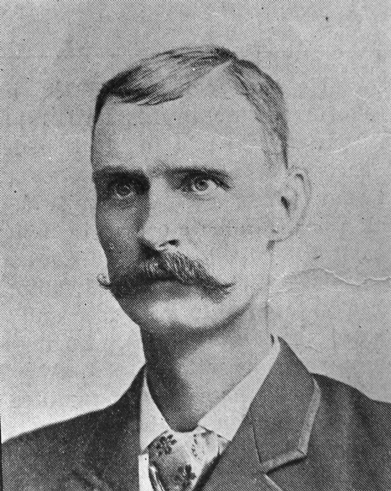 Lincoln Galloway
Mr. Brogan, the junior member, is also a native of Columbia township, born June 7, 1862. He was reared and educated in his native place and, like Mr. Galloway, spent many years in farm pursuits. He was married April 12, 1894, to Miss Ida Oliver, of Zenas, who has borne him one child, a daughter.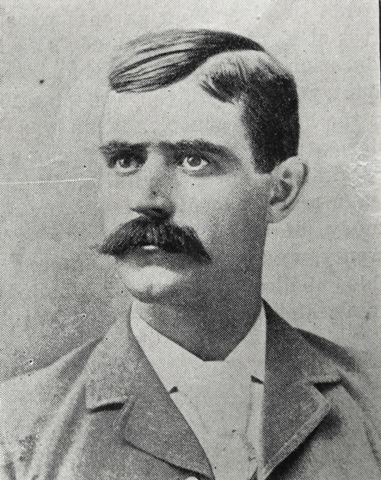 Martin W. Brogan
Both partners own attractive homes near their place of business. They are well known and very popular throughout the entire surrounding country.
---
Other News Clippings on the families
North Vernon Plain Dealer - August 25, 1886

Zenas Letter
Barney Brogan is entertaining a number of Relatives from Cincinnati.
__________

North Vernon Plain Dealer - August 1, 1888

Zenas Letter
Barney Brogan has a number of relatives from Cincinnati visiting him.
__________

North Vernon Plain Dealer - July 10, 1889

Zenas Letter
Barney Brogan has visitors from Cincinnati.
__________

North Vernon Plain Dealer - August 20, 1890

Zenas Letter
Barmey Brogran and his sister are visiting relatives here.
_______

North Vernon Plain Dealer - March 20, 1889

Zenas Letter
Martin Brogan is clerking in Woods Store.
_______

North Vernon Banner Plain Dealer - November 11, 1891

Zenas - November 10, 1891
Mr. Thomas Woods, who has been in business at this place for the past fifteen years, has sold his entire stock of goods to Galloway & Brogan. While in business here Mr. Woods has made many friends by the gentlemanly manner which has characterized all business transactions. His successors are thoroughly known to our people as clever gentlemen. They have resided in this community for years, and are entitled to the success which will surely follow them in their new enterprise.
_______

North Vernon Plain Dealer - March 28, 1894

Real Estate Transfers
Thomas Woods to Martin W. Brogan Lot #8 Zenas for $575.00

_______

North Vernon Plain Dealer - May 23, 1894

Zenas Letter
M. W. Brogan has his new house nearly ready for occupancy.
_______

North Vernon Plain Dealer - March 4, 1904

Butlerville Column
I have sold my store to Martin W. Brogan formerly of Zenas. I thank the people kindly for their loyalty to me and desire to recommend them to my successor. He will give the trade good service. Very truly, Lester J. Neill
_______

North Vernon Plain Dealer - March 4, 1904

Store Changed Hands
Lester J. Neill has sold his store at Butlerville to Martin Brogan of Zenas, Mr. Neill has been in business at Butlerville for a number of years, and is one of the solid businessmen of this county. He also sold his residence to Mr. Brogan and the general supposition is he will go to California. In that event Butlerville will lose a good citizen but has gained a good one in Mr. Brogan who is also a well known business man, having been in business at Zenas for several years. Mr. Neill will remain in the store for a time to give the new proprietor a start in the right direction.
_______

North Vernon Plain Dealer - March 25, 1904

Martin Brogan has moved his family here from Zenas
_______

North Vernon Plain Dealer - April 16, 1914

Anniversary Celebrated
Mr. and Mrs. M. W. Brogan, who reside on Pierce Street, celebrated the twentieth anniversary of their wedding, Sunday, April 12th, with an elegant twelve o'clock dinner, at which the following guests were present: Mike Brogan and wife, John Brogan, Raymond Wood, Mable Wood, and Arnold Galloway, of Indianapolis: Link Galloway and wife, Greensburg, J. A. Brogan, wife and son John; and Harry Bailer, wife and little daughter, of Latonia, Ky; Dora Neel and wife, Harry Dorrell and wife, Ernest Baker and sons, Oliver and Ernest, and M. Low and wife, of Zenas, Miss Ida Dorrell of Bloomington, John Denton and wife, Jos Firsich, wife and daughter Kathryn, and Misses Bessie and Jennie Hester, of this city.

_______

Greensburg Daily News - September 25, 1926

FARMER DIES WEST OF TOWN

Lincoln Galloway, 68, Leaves Widow and Six Children - Funeral Monday a.m.

Lincoln Galloway, 88 years old, a well known farmer living seven miles west of tow n, passed away in the Memorial hospital Friday evening at 7 o'clock. He had been, in poor health since early in the summer, when he had an attack of influenza which was followed by a kidney disorder. He was taken to the hospital Tuesday. The, end came suddenly and was unexpected. The deceased was a son of William and Elizabeth (Parker) Galloway and was born in Jennings county, Dec. 16, 1857, and married Missouri Brogan in 1886. They lived in Jennings county until 1904, when they moved to Decatur county.
Mr. Galloway was an industrious and successful farmer who bore the respect of all and was widely known. He leaves a widow and six children: Mrs. Chesley Boicourt, of Greensburg; Vetha Galloway Arnold, of Indianapolis; Mrs. Joe Alhofer, Libertyville, Ill., and Mary and Helen at home. Also a brother Harvey, in the West and three sisters, Mrs. Mary Spears and Amanda Galloway at Alert and Mrs. Zelph Allen of this city.
The funeral services will be held in the St. Mary's Catholic church here Monday morning at 9 o'clock, the Rev. Father Dixon of North Vernon officiating.
________

Greensburg Daily News - December 2, 1975

Edith Wolfe
Mrs. Edith H. Wolfe, 88, died Monday about 7 p.m. in the Decatur County Memorial Hospital. Mrs. Wolfe, a former resident of R. R. 7, had been in the Dreyerhaus Nursing Home in Batesville for about two years prior to entering the hospital.
Mrs. Wolfe was born Dec. 16, 1886 in Zenas and her parents were Lincoln Galloway and Missouri Brogan Galloway. She was married to Chesley Boicourt in 1909 and he died in 1940. Her second marriage was to Carl Wolfe in 1948 and he died in 1955.
She was a member of St. Mary's Catholic Church in Greensburg. Mrs. Wolfe is survived by two daughters, Mrs. Carl (Mary) Rethlake, Greensburg, and Mrs. Eugene (Ruth Ann) Kennedy, Aptos, Calif.; two sisters, Mrs. Joe (Ruth) Alkofer, Decatur, 111., and Mrs. Carl (Cecilia) Rouse, Houston, Tex.; six grandchildren and six great - grandchildren. She was preceded in death by one son, Paul Boicourt, who died in 1961, two sisters and one brother.
Funeral services will be Thursday at 10:30 a.m. in St. Mary's Catholic Church here and burial will be in St. Mary's Cemetery. Visitation will be from 4 to 9 Wednesday at J. H. Porter & Sons Funeral Home where a rosary service will be held at 6:45 p.m. Wednesday.


---
You may use this material for your own personal research, however it may not be used for commercial publications without express written consent of the contributor, INGenWeb, and