F. X. GOTTWALLES
From a September 1897 supplement to the North Vernon Plain Dealer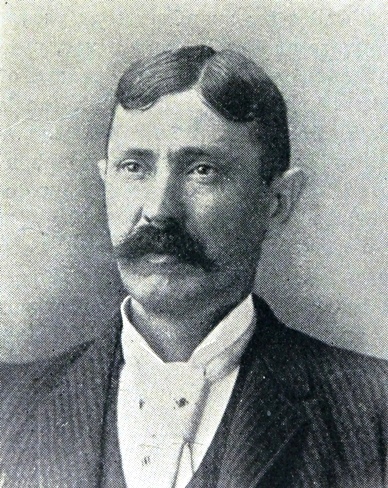 One of North Vernon's Leading Grocers
Among the citizens and business men of North Vernon who have risen solely trhough their own efforts to prominence and prosperity in the mercantile world, no one is better known than F. X. Gottwalles. Born in Dearborn county, Indiana, November 30, 1856, he came with his father Francis Gottwalles, when in his childhood, to Jennings county, and until the year 1881 was engaged in farming pursuits. In that year Gottwalles, the younger, removed to North Vernon, and began business in a small way at the corner of Hoosier and Fifth streets. A hard worker, honest in his dealings with the public, and trained in economical habits, Mr. Gottwalles was not long in building up a substantial trade. In 1892, he built the handsome and comodioous premises he now occupies at 116 W. Hoosier street, a fine brick structure with an iron front of two stories, 25 x 52 feet. In keeping with the size and character of the building, Mr. Gottwalles laid in a stock of grocery goods and provisions without a superior in this city, and since that time has maintained a reputation for being one of the most up-to-date and enterprising merchants in Jennings county. In addition to handling a complete line of groceries and grocers' sudries at retail he is a large dealer and jobber in salt and potatoes, the former being shipped to him direct from the mines and stored in a salt house here, the latter coming in car-lots from Michigan, Wisconsin, Minnesota and other potato producing states. Mr. Gottwalles in enabled to supply dealers and county merchants in all parts of the state with these commodities, in any quantities, at the lowest market quotations. He also deals largely in seeds in bulk, which form an important auxiliary to his business. Buying as he does for cash he is enabled at all times to take advantage of favorable market fluctuations, and to give his retail customers the lowest prices consistent with good goods. The interior of Mr. Gottwalles' storeis the embodiment of neatness, good order and good taste. It is splendedly arranged, well lighted and possesses every modern improvement. A free delivery wagon makes prompt deliveries to all parts of the city and suburbs. Here is also located the long distance telephone, of which he is the local manager.
Mr. Gottwalles was married November 15, 1888, to Miss Katie Riehl, by whom he has had three children, two daughters and a son. In politics he is a staunch Democrat, and has four times represented his ward in the common council. He is a member of the volunteer fire department and was its chief for five years. In addition to his store building he owns other city property, and is considered one of the city's most substantial business men. He is a member of the Catholic Benevolent Society. Mr. Gottwalles is assisted in his business by Joseph H. Riehl, a brother-in-law.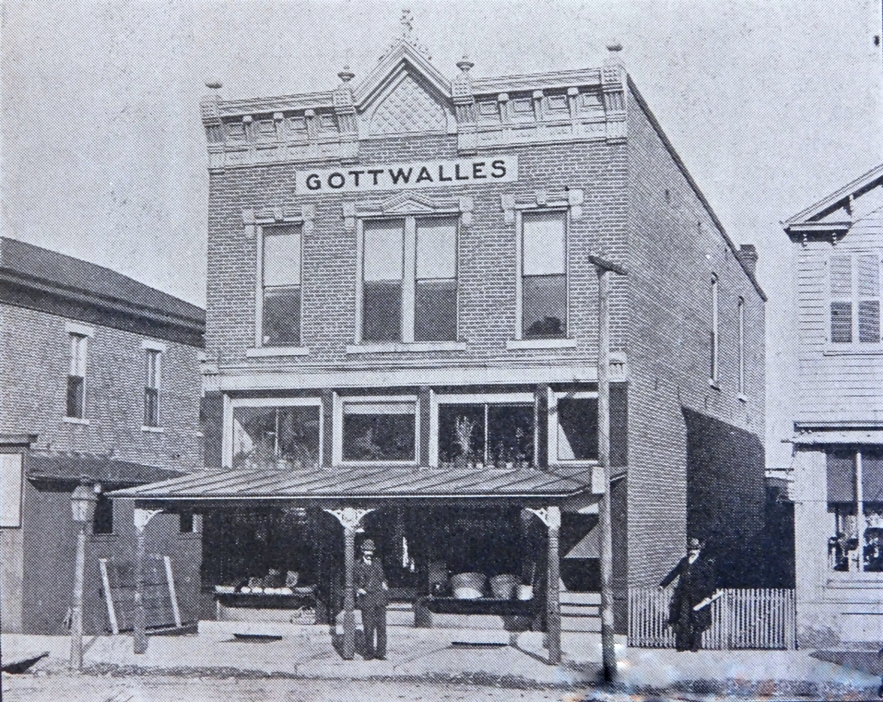 Gottwalles Grocery 1897
---
The Gottwalles building is still standing in North Vernon.
---
You may use this material for your own personal research, however it may not be used for commercial publications without express written consent of the contributor, INGenWeb, and