EBERTS & BRO.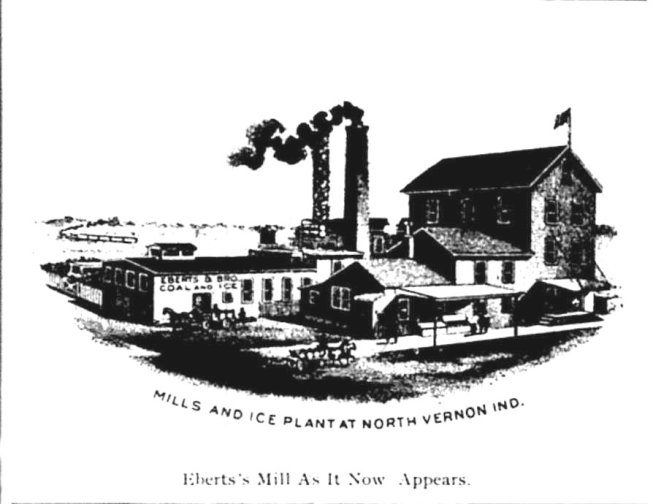 Flour, Feed, Ice, Coal
April 30, 1909 - North Vernon Sun
Formerly called Tripton Mills
---
This business was established nearly sixty years ago and fourteen years ago was purchased by the present owners, and incorporated in 1907, the officers being Jacob Eberts, president and Conrad Eberts, secretary-treasurer, the present owners. As will be seen by the cuts of the mill at the time of purchase. It was a primitive affair and a small business, but during the past seven years many improvements have been made, the interior having been entirely remodeled and equipped, the office handsomely furnished, etc., and now the mill is a modern one in every particular.
The mill is of full roller process, operated by steam and has a daily capicity of one hundred and twenty barrels of flour and fifty barrels of white corn goods. They make numerous grades of flour, their leader being known as "Diamond," a winter wheat flour which is well known to the frugal housewife throughout this part of the country as a flour without peer. They also manufacture feed and do custom milling. In connection with the milling business they are large jobbers of feed over southern Indiana, which business is increasing rapidly, as well as agents for and jobbers of "Pillsbury's Best" flour in this section.
Eberts & Bro. are also manufacturers of ice and have one of the best and most modern ice plants in Indiana, the water being distilled and filtered so that it is absolutely germ proof. The capacity of the ice plant is eighteen tons a day. They also conduct a large retail coal business, carrying only the best grades of antharacite and bithuminous coal, and some idea can be gained of the magnitude of this branch of their business when it is stated that they have storage capacity for over three thousand tons of coal. The mill, ice plant and other buildings, with the grounds for side tracks, etc., cover over one and one-half acres and switches enable them to load and unload cars without any unneccessary handling. A new barn recently completed, and modern in every respect, will accommodate the horses used in the business. They operate their own electric light plant, which furnishes light for all the buildings.
In addition to the mill here they have one at Jeffersonville, Ind., and an elevator at Charlestown, Ind., and an elevator at Henryville, Ind.
H. L. McNaughton is manager of the business here, coming to North Vernon seven years ago from Chicago. Under his management many improvements have been made.
---
You may use this material for your own personal research, however it may not be used for commercial publications without express written consent of the contributor, INGenWeb, and