FRANK HOWARD COUCHMAN
Jennings County Businessman
From a 1956 Article in the North Vernon Sun
---
A boyhood pursuit led to a lifetime of profitable and enjoyable work for Howard Couchman of North Vernon, who held a nation-wide reputation in the fur business.
Back when he was in his early teens, he and a number of kids his age, including Ernest Klingner, Art Siener, Aaron Euler, Herbert Lindley, Frank Casin and others used to do a lot of trapping along the streams and wood paths of Jennings county.
The rest of his companions eventually turned to other vocations. But Couchman found the lure of furs almost irresistible, and in time, what was just a hobby with him soon turned into a vocation.
When he was only 8, he started tanning his own furs. A short time later he went to Milwaukee, where he worked for a year with a firm there, learning not only all he could about the fur business, but also about the art of taxidermy.
After this year away, he returned to North Vernon, where for a time he did his fur work on the side, while having other fulltime employment. Finally, in 1911, he took a gamble, which many said would fail, and opened up his own business on O & M Avenue at the same place as he is presently located.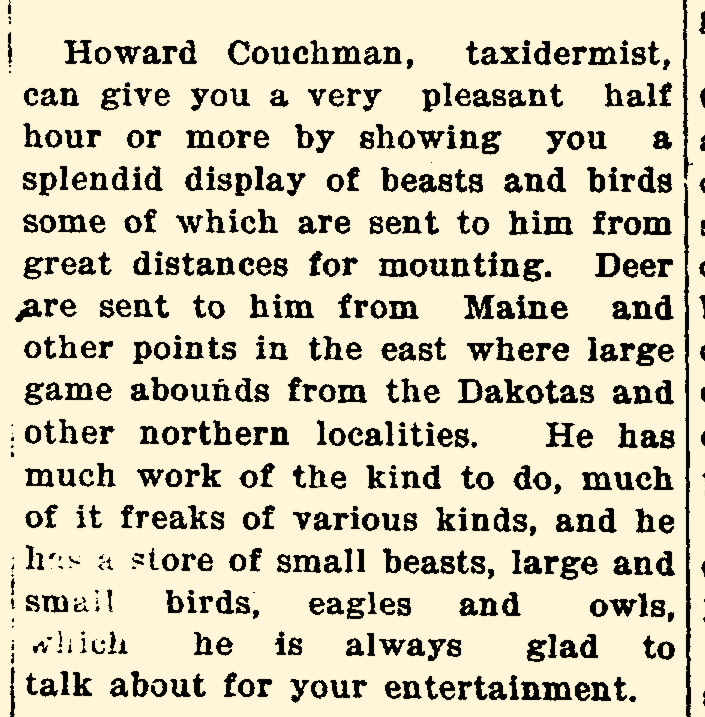 1915
The only difference was that back then he had only half the space he has now. And then he was a newcomer, instead of the experienced and highly-reputable furrier he became.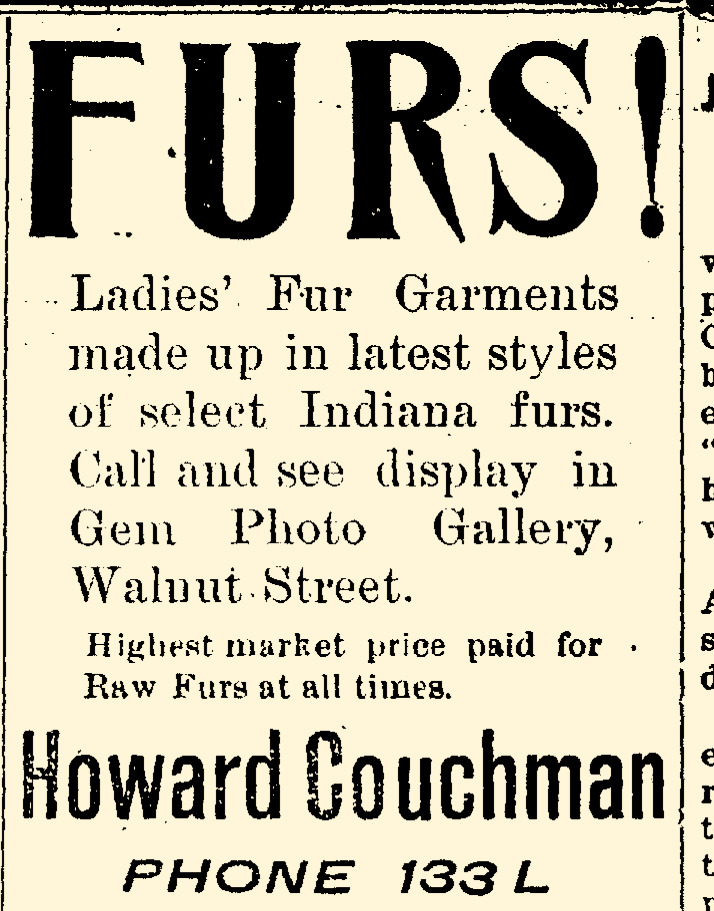 1917
One woman, who worked in her own home, was all the help he had at the start. He then increased to three helping him, his wife, Mrs. Couchman (first wife Della May Auerswald - married 1917, second wife Audra Gertrude Herr - married 1942), Mrs. Edna Leeds and Margaret Earl. However in the peak of his business activities, there were as many as 13 women in his store, busily engaged in cutting out furs and sewing the various garments the firm was making.
It wasn't long after that opening in 1922, that even those who were loudest in saying that it would fail, had to admit the business was successful. In fact, there was one time in Jennings County history, where the fur business here, and that meant Mr. Couchman, was responsible for more cash income than the county's corn crop.
Of course, in the early days, things were much different than they are today in the fur business. Back then, one big item was the exporting of pelts to Europe. This has died down to almost nothing now, and about the only items Couchman exports today are a few fur coats.
In those peak years, it wasn't unusual for him to pay out $5,000 a day for raw furs. And he had this part of Indiana, as well as most of Kentucky blanketed with men who were buying furs for the North Vernon firm.
Now he does all the buying himself, with a great majority of his common furs coming from right here in Jennings County. Naturally, the uncommon furs still pour into his place from all over the world.
Turning back to those days, the ladies of that time wore far different looking coats than the smartly-groomed lady of today would choose. They were fuller for one thing, and far bulkier. Maybe it was colder back then, or more likely, women of that age were more often out in the weather than they are in this day of heated cars and little if any walking.
More elaborate scarfs were the style in the day then too. And no woman who considered herself to be stylish would dare venture outdoors without a muff in the winter time.
In the roaring 1920's, there were two things a boy going off to college needed if he was going to make that select group of "Big Man on Campus" - one a hip flask and two a raccoon coat. Couchman made a number of such coats in the 1920's. Retail price on them was around $200. About 20 racoons would be called upon to make the supreme sacrifice in order to make college life a success for the undergraduate aspiring to "B.M.O.C." status.
Racoon coats have long since been assigned to the attic, and a man's fur coat is a rarity these days.
But women, God Bless them, still have a partiality for furs, with the pelt from that little animal, the mink, still the most popular. These days, thanks to modern breeding practices, a wide and rich variety of different kind of mink are available. If you are interested you can buy one for as little as $1250, with a full length one costing you up to $3000. Adjusted for inflation, $3,000.00 in 1956 is equal to $28,765.75 in 2020.
It takes 80 mink to make one coat. When you consider that the price for a raw mink fur in a pastel color is around $48 per, its easy to see why the completed garment runs into thousands of dollars.
Making a coat, is an art, and not an uncomplicated one, and one that takes time. A day is required to cut out the furs for one coat, another day to properly block them, and quite a bit more time to sew and completely finish up the garment.
Couchman long ago gave up doing professional taxidermic work, primarily because he does not have the time. He, however, will still work on a few animals, and right now one of his projects is turning a black bear, who looks as if he were a most ferocious thing when he was alive, into a bear rug.
Just as an example of how world-wide Couchman's reputation is, he not only has customers in every state in the Union, but at the time of Queen Elizabeth's coronation he had the honor of making some mink scarfs for some Italian royalty who were honored guests at the regal event.
Couchman says that the fur trapping in Jennings county isn't by any means what it used to be. Even so, he reports that there are trappers in the county who realize around $500 a year from getting pelts just as a sideline. Most of the furs here are mink and muskrat. Back seven or eight years ago, skunks, whose pelts are far more valued than their odors, were a popular trapping item, but some disease hit the skunk and they have almost become extinct in our county.
At any rate, Mr. Couchman's history and experience is not only a success story, but an example that if you want to do something bad enough the only thing holding you back from succeeding will be yourself.
---
April 11, 1973 - Columbus Republic
NV Furrier Couchman Dies Tuesday
North Vernon-Howard Couchman, 86, of 39 West Walnut in North Vernon died at 12:50 p.m. Tuesday at the Bartholomew County hospital, where he had been a patient four weeks.
Mr. Couchman was a furrier in North Vernon for the past 65 years and owned and operated Couchman farms in Jennings County.
Funeral services will be conducted at 2 p.m. Thursday at the Dove funeral home at North Vernon by the Rev. Boyd Nelson. Burial will be at the Vernon cemetery. Personas may call at the funeral home.
Mr. Couchman was born Sept. 18, 1886, at North Vernon to Richard and Ruth Hinchman Couchman. He married Audra Herr, who survives. He was a member of the North Vernon United Methodist church.
Surviving with his wife are six children, Ruth Olmstead, Donald, John, Charles, Larry and Ronnie Couchman, all of North Vernon; 17 grandchildren; and three great-grandchildren.
---
You may use this material for your own personal research, however it may not be used for commercial publications without express written consent of the contributor, INGenWeb, and