THE BULLOCK -BASNETT - BATCHLOR FAMILIES
From documents donated to Susan Hall Heitzman by John Sanford Todd a descendant of these families. Susan then donated copies to the Jennings County Public Library.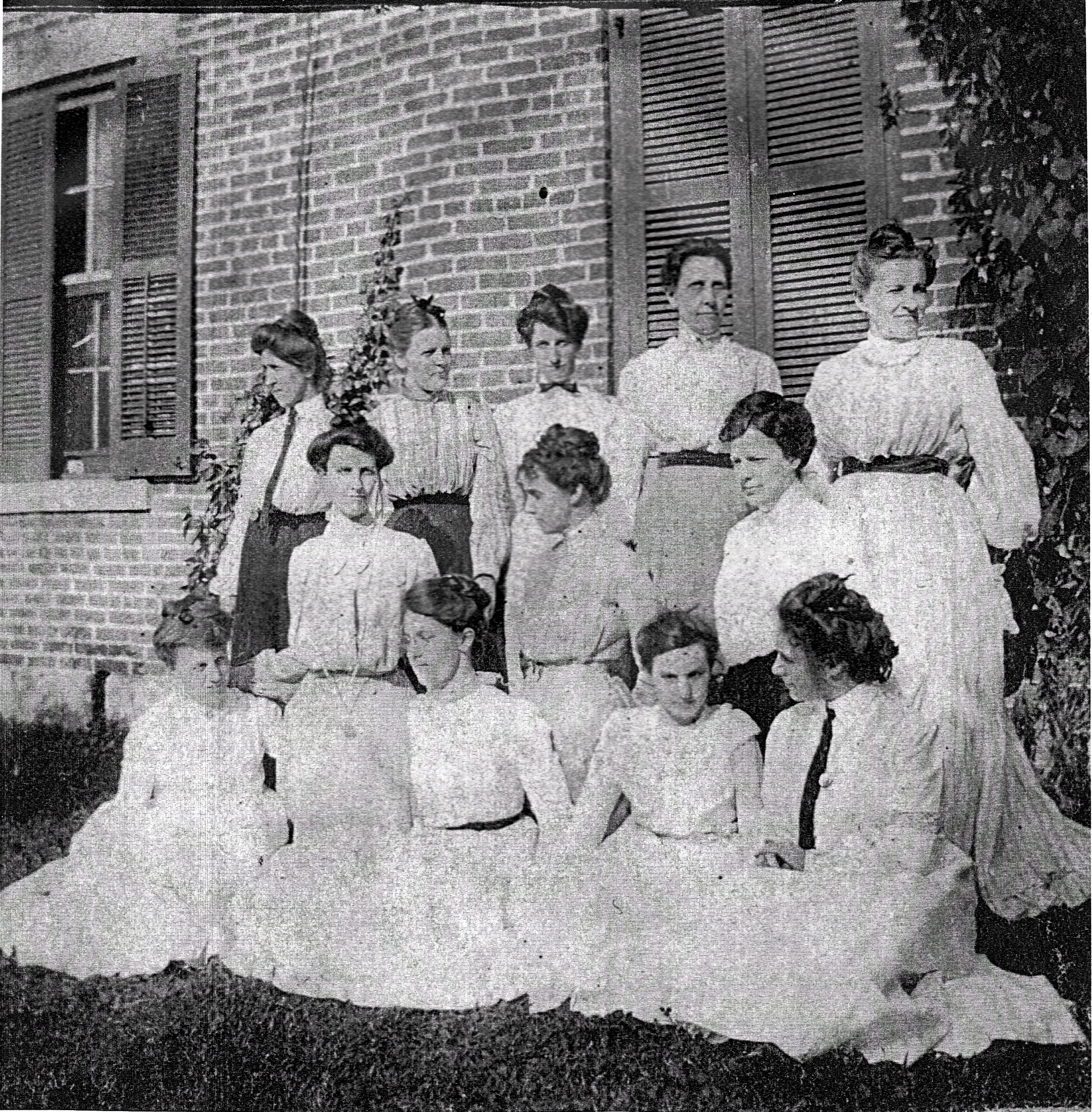 "SEWING CIRCLE"
Picture taken at the Batchelor home in Vernon
seated in front left to right; Mary Batchelor, Annette "Nettie" Batchelor, Helen Batchelor, Izella Wagner.
middle row; Gertrude Batchelor, _____________, Kate Harmon.
standing in back; Stella Fetter, Almeda Welker, Anna Wagner, Mattie Hand, Myrtle Thomas.
WILLIAM AVERY BULLOCK,an early settler in Vernon, was born in Guilford, Vermont, 09/27/1792, and died on Vernon's courthouse steps 05/24/1867. After serving in the War of 1812, he graduated from Williams College, Massachusetts, the state to which his ancestor, Richard Bullock, had emigrated from England in 1635. He studied law in Rome, New York, was admitted to the Bar, and in 1818 started his law practice in Vernon. Subsequently, he was elected to the Bench and to the State Legislature.
In 1820 he married LOIS SANFORD, sister of Major William Sanford, owner of Vernon's trading post and tavern. Judge Bullock built their first home on the corner of Pike and Brown and their second home, a two-story brick on Brown, "The Judge Bullock House." A cyclone in the 1930's destroyed the first house and sheared off the second story of the Bullock homestead. Judge Bullock prospered and played a major role in building and expanding the town where his descendants would live for over 150 years.
On 04/08/1822 William and Lois Bullock had a daughter Emily, the first child baptized in Vernon, the baptism taking place in a frame schoolhouse used for worship. One of Emily's earliest memories was seeing her father on horseback, leaving to attend the Legislature in Corydon. In her early girlhood, the first railroad in Indiana, "The Madison," was opened and Emily rode on the initial run.
In 1840 EMILY BULLOCK married a young Welchman. JOHN BASNETT, who, in his travels as a salesman, arrived in Vernon and remained until his death in 1893. Judge Bullock built "The Basnett House," on the corner of Brown and Montgomery for the young couple, completing it in 1844 and deeding it over to John and Emily in 1857.
John Basnett had the first dry goods store in Vernon, and with Emily was active in civic affairs and the Methodist Episcopal Church. During the Civil War, Emily and her three young daughters fled to the caves when Morgan, the Confederate raider, camped outside Vernon, threatening to sack the town.
Emily died 07/17/1910 at the age of 88, one of the last to remember Indians trading with her Uncle William Sanford and the dense woods surrounding Vernon where bears, wolves, panthers, and deer lived.
John and Emily Basnett had seven children: Charles died in infancy; John died at 17 of wounds received in the Battle of Pea Ridge, New Orleans: Arthur, Civil War veteran and attorney, moved to New York City; Emma married Chris Mykrantz and moved to Ohio; Caroline (Carrie) and William (Bill), both unmarried, lived in the Basnett home until their deaths; and Elanora (Nora), a teacher in Bryan, Ohio, and in Vernon until her marriage.
In 1870 ELANORA BASNETT married THOMAS CHURCHILL BATCHELOR, son of James Batchelor and Sarah Cogswell, who emigrated from England in 1830. Thomas was born 01/01/1836 in Columbiana County, Ohio, but was raised in Jennings County, taught school there, and graduated from Franklin College. While still a student, he enlisted with the 79th Indiana Volunteer Infantry; but was medically discharged in 1863 when he received a gunshot wound disabling his arem. Overcoming this disability, he completed his undergraduate degree, took a law degree at Michigan University, and in 1866 began to practice law in Vernon.
After their marriage, Thomas and Elanora moved into a brick house built by William Vawter in 1840 on the corner of Gaines and Montgomery, "The Batchelor House." In 1888 Thomas was elected judge of the 6th Judicial Circuit, serving six years; he was then appointed to the Federal Court as Referee in Bankruptcy, a position he held until his death in 1909. Though he had arrived in Vernon a poor young man, he prospered. His reputation for generosity, fairness, and honesty was so wide-spread that attorneys and judges from other districts often consulted him on decisions. In all the years of his legal practice, he lost only one case; and when he served as Judge, only one of his decisions was reversed, and that on a technicality. Judge Batchelor believed firmly in education and gave his eight children a college (or equal) education sending those who wished to graduate schools.
Elanora, an active Vernon citizen and member of the M.E. Church, wrote poetry, gave dramatic readings, and usually accompanied by her mother, Emily Basnett, sang hymns outside of saloons. Elanora campaigned hard for women's rights, participating in conventions and rallies though she did not live to see women get the vote. She died 04/27/1907. Thomas and Elanora had eight children: George, a lawyer in Indianapolis; Arthur (Dade) a M.E. clergyman in Indiana, Montana, and New York; Ch Chester. a lawyer and Judge of Superior Court in Seattle; Gertrude, college teacher; Annette, a teacher married to Joseph Coryell; Helen, a teacher, married to John Todd, Professor at UCLA; Mary, a legal secretary in NYC, died at age 27; Isabelle, a normal-school teacher in Ohio and high school teacher in Vernon, married William Dawson of Vernon.
The Dawsons had two daughters who lived with their mother in the Basnett home. Margaret married William Hart in 1948 and lived in Maryland; Muriel died in 1951. Thus, Isabelle Batchelor Dawson, great grandaughter of Judge William Bullock and Lois Sanford, was the last of their descendants to live in Vernon. She died in 1980 at the age of 97.
---
The following newspaper clippings were donated to the Jennings County InGenWeb site and "Our Heritage" the Jennings County Historical Society by Tom & Pat Todd, of San Francisco, CA. Thank You so much these valuable pieces of local history!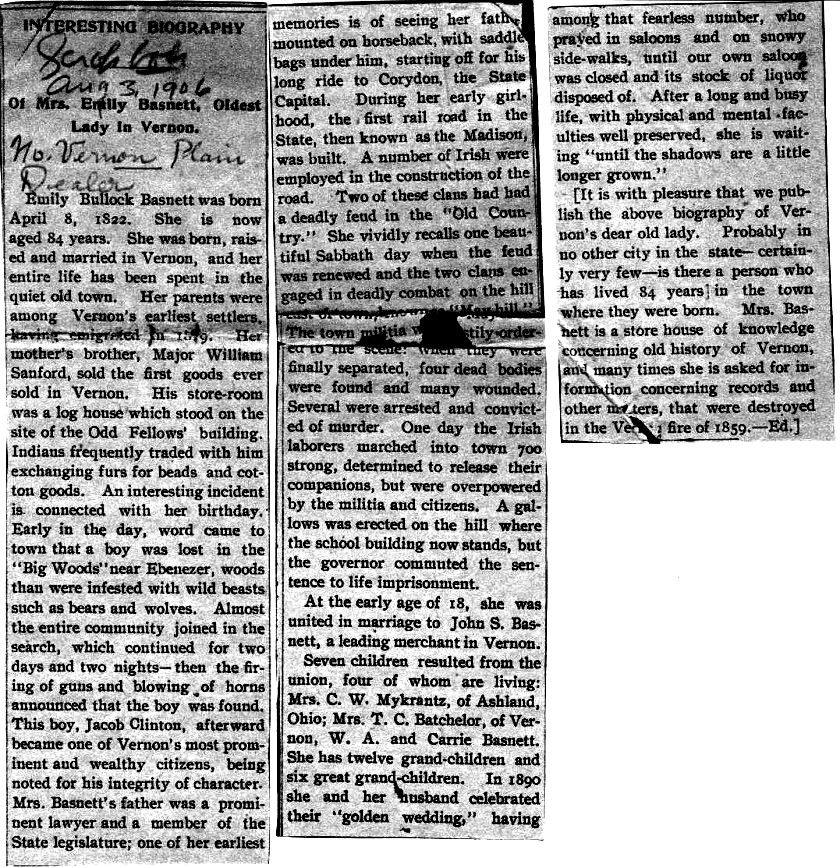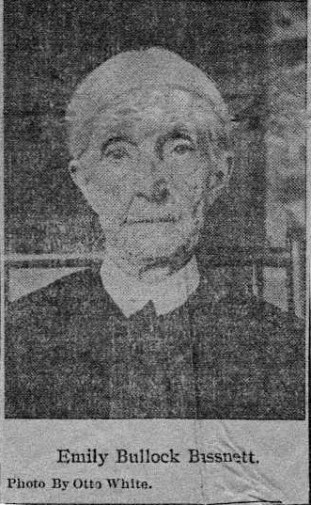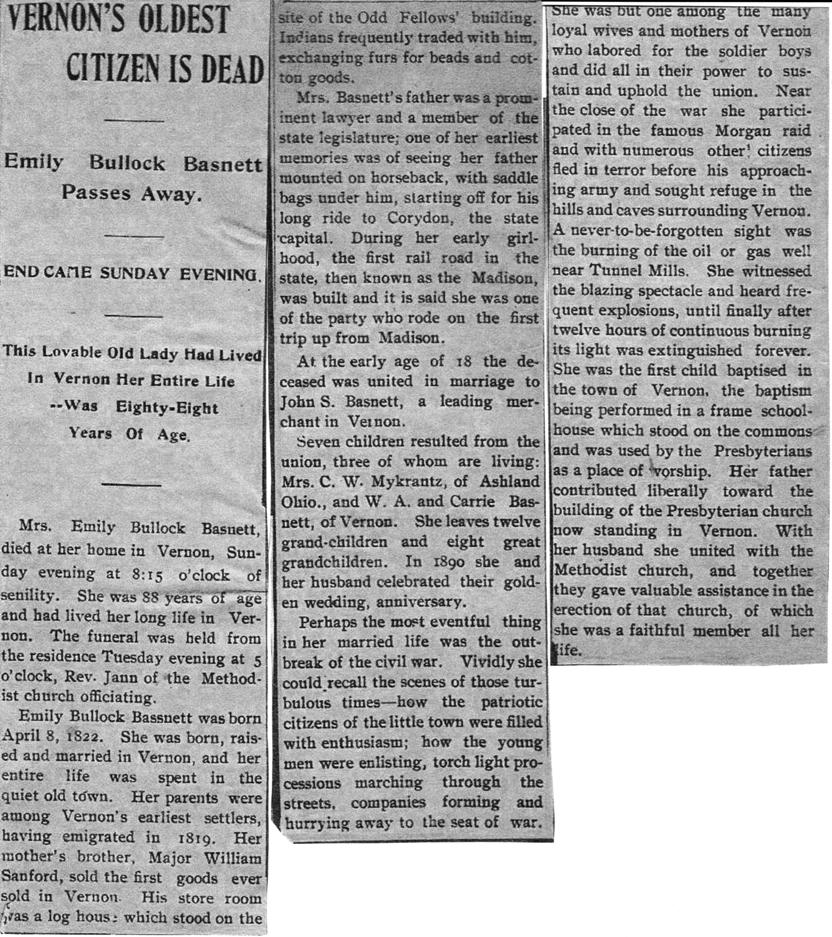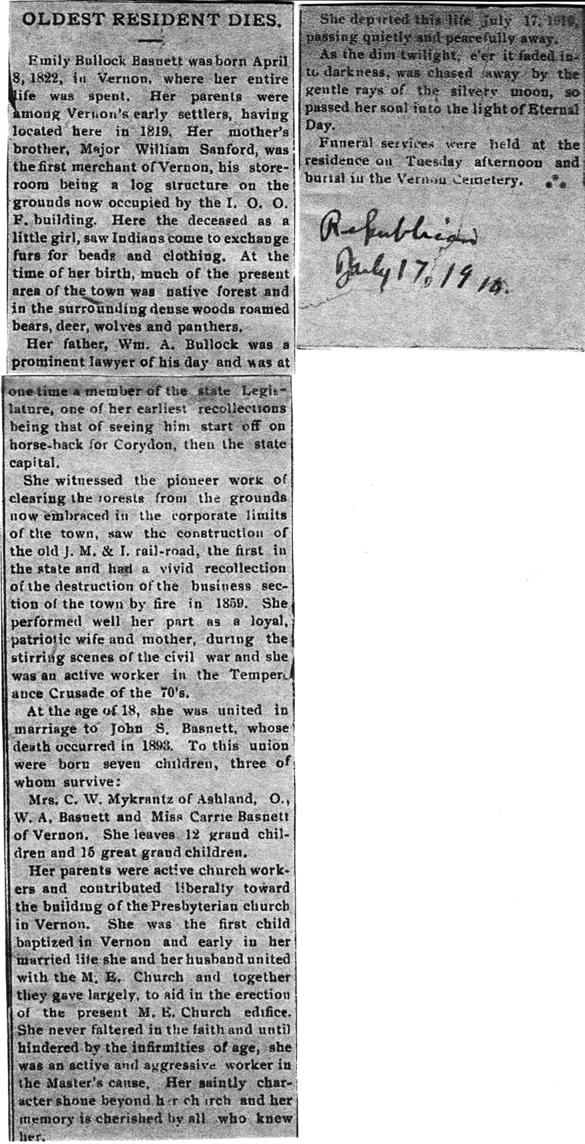 ---
You may use this material for your own personal research, however it may not be used for commercial publications without express written consent of the contributor, INGenWeb, and