The Family
Of
Alban & Elizabeth Adams

Many thanks to
Sarah Hitson
for contributing this information to the Jennings County web site.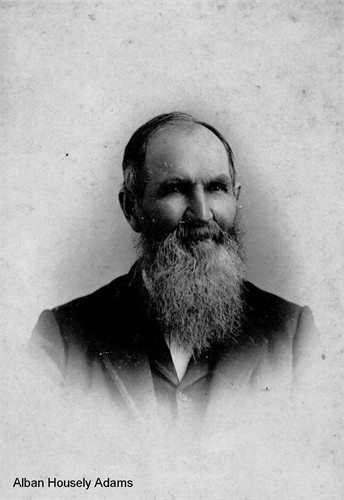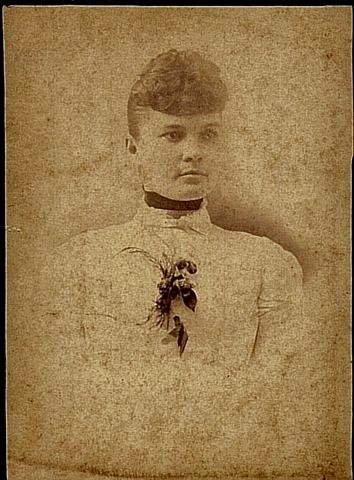 Alban Housely Adams 1823-1902.
Elizabeth Strange Thomas Adams
Elizabeth and Alban had three sons John Ottis Adams born July 8, 1851, Charles Emerson Adams born Sept. 12, 1858, and the grandfather of the contributor of these great pictures, Harry Morton Adams born Jan. 11, 1863.
| | |
| --- | --- |
| | |
Alban Housley Adams was the son of John and Margaret Burnett Adams, he was the oldest of two sons. His mother was the daughter of Robert Burnett and Mary Coppage. His father was the son of Jane Harbinson and Elisha Hall Adams.
Elizabeth Strange Thomas Adams 1825-1911, was the daughter of Isaac and Sarah "Sally" Fitzgerald Thomas.


Marriage record of Isaac Thomas and Sarah "Sally" Fitzgerald from Record Book 1, page 19, Jennings County Records the oldest record book for the County.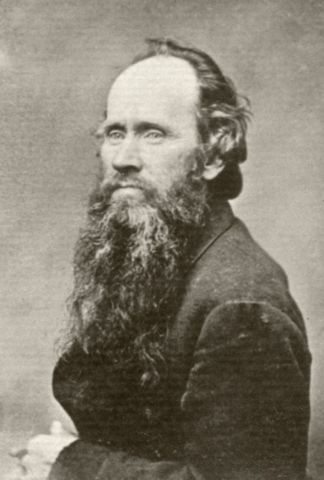 Isaac Thomas
Father of Elizabeth Strange Thomas Adams, their marriage record in Jennings County is pictured above. Elizabeth and Alban Adams are shown in the 1850 census with Daniel and Jane Thomas two of her siblings living with them. Elizabeth grew up in the hotel/boarding house trade with her parents. Isaac and Sarah operated a Hotel between 1850 and 1870 because they are shown in the 1870 census as moving to Morgan County, Indiana and Isaac is listed as a retired Hotel keeper, they still have quite a few people other than family living with them.
In the 1880 census Alban and Elizabeth had moved to Washington County, Indiana and Alban is listed as a horticulturist. Alban was an inventor and when they moved to Ft. Meade Florida between 1880 and 1885 (known because they are listed in the 1885 Florida State Census) he was granted a patent in Ft. Meade on Nov. 7, 1893 for improvements to a hoop cutting machine that was used in the citrus packing houses. Alban and Elizabeth went on to build and run a hotel in Ft. Meade, called Adams House, which they kept until they could no longer take care of it due to health issues.
Their son, Harry Morton Adams ran a commissary store for the phosphate mines in Ft. Meade and also had a general store in West Palm Beach Florida. Harry married Lillah Rebecca Dishong, daughter of Edward Dudley and Martha Virginia Gillispe Dishong. Edward is creditied with building the first school in Ft. Meade Florida. Harry and Lillah had a total of 10 children, 5 girls and 5 boys and ironically their son Lawrence, my grandfather had 5 girls and 5 boys also.
MORE FAMILY PHOTOS
| | |
| --- | --- |
| | |
| Elizabeth Strange Thomas Adams | Florida Family Picnic |
| | |
| Elizabeth Strange Thomas Adams in 1911 | Adams House Hotel, Ft. Meade, Florida |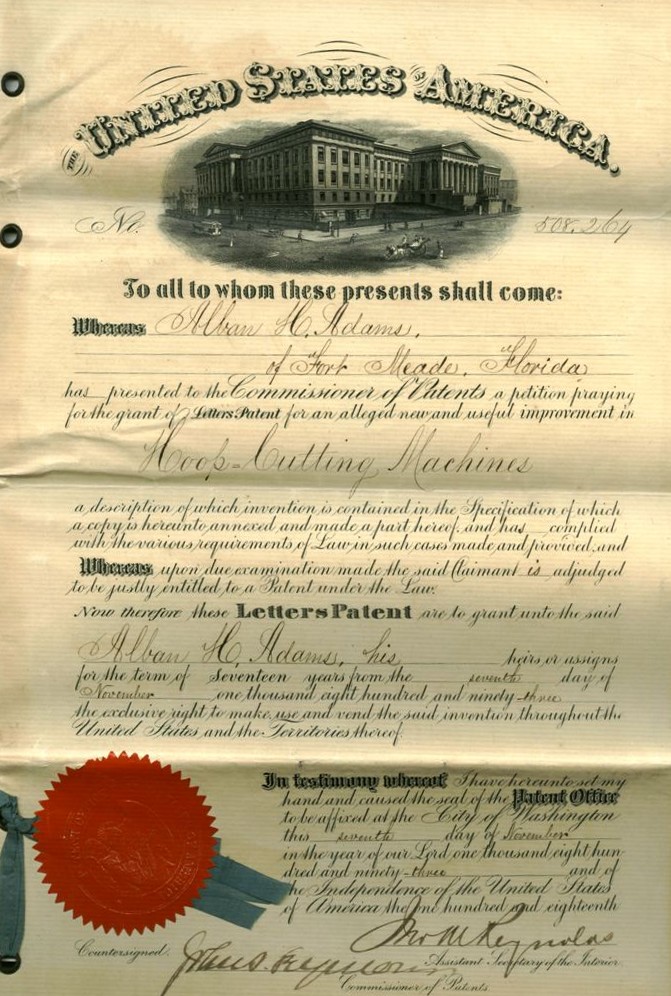 Alban Adams Patent Paper
---
Alban and Elizabeth Adams son John Ottis Adams was born on July 8, 1851. in Amity, Johnson County, Indiana. He was a member of the renowned "Hoosier Group" of artists that reached their zenith during the period of 1890 through 1915. Adams studied for two years at Wabash Collage before leaving for London to study at South Kensington Art School in London. He returned to the United States a few years later and opened a Studio in Muncie. After four years he returned to Europe and studied at the Royal Academy in Munich, Germany. After seven years abroad, he returned to Muncie and opened another sudio and taught art classes. He married his former art student, Winifred Brady, on October 1, 1898 at her parents' home on East Charles Street, in Muncie. Winfred's sister Elizabeth was the wife of Frank Ball, co-founder of the Ball Brothers Manufacturing Company. John Ottis Adams died on January 28, 1897. He and Winifred are buried in Beech Grove Cemetery in Muncie.
Adams specialized in painting the rural landscapes of Indiana. He also painted portraits and copies of the masters in the National Gallery in London.
The paintings below are ones done by John Otis Adams during his career.
---
You may use this material for your own personal research, however it may not be used for commercial publications without express written consent of the contributor, INGenWeb, and