RUBY MARTIN
AND THE
HOOSIER JOURNAL OF ANCESTRY
---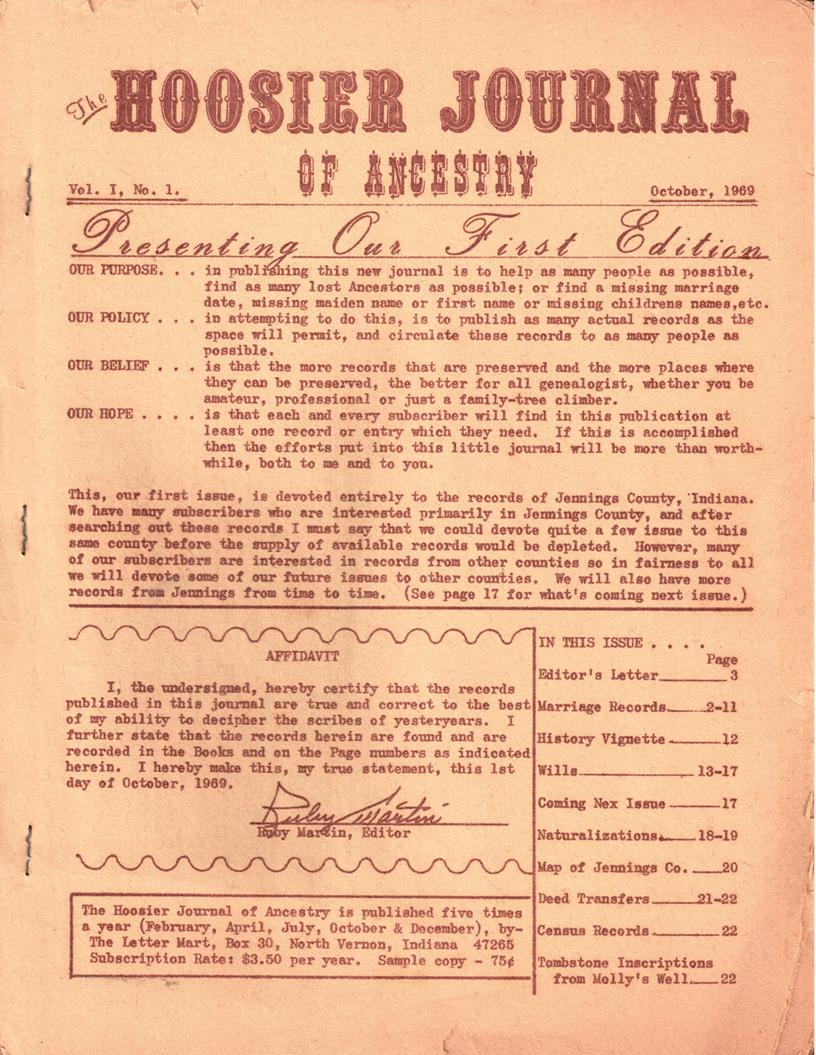 Introduction
By Sheila Kell
Back in 2012 while going through some of the items in our locked cabinet at the Jennings County Public Library, I came across a stack of Mimeographed pages. Those who are old enough will remember the distinctive red/purple ink documents that were produced on a mimeograph machine. I began working on my family history in 1977 while living in California and one of the things many of us who were doing long distance research of their family in Southern Indiana back then was the THE HOOSIER JOURNAL OF ANCESTRY. I was a subscriber, and sought out copies of this publication at every opportunity because it was made up of careful transcriptions of so many things we could not find from a distance. Cemetery transcriptions, Court documents, Family Bible records. Through it I learned what courthouse to contact for records on my family. I was startled at the time to find these old mimeo documents were very early copies of the THE HOOSIER JOURNAL OF ANCESTRY starting back in 1969. Wow, what were these, why were they locked away in our red cabinet at the Library? I was also surprised to find them signed "Ruby Martin" editor, with an address of "The Letter Mart," North Vernon, Indiana. As I looked through them I found the issue for April of 1972 which was noted as "unfinished."
One of my first projects at the library was to be sure we had all copies ever published of the THE HOOSIER JOURNAL OF ANCESTRY. With the help of Bonita Welch our dedicated long time volunteer and Naomi Keith Sexton
we did just that and have the full set of these publications. What I did not realize at the time was it had its origin here in Jennings County. I had corresponded with Naomi Keith Sexton the editor of the THE HOOSIER JOURNAL OF ANCESTRY after my move to Indiana and did not realize (because my research began later) its origin.
I told myself then I wanted to tell this story, using information I have found since then, this is my attempt to do so.
---
Ruby Martin - June 1, 1974, North Vernon Plain Dealer
Clerk Ruby Martin dies
Miss Ruby Martin, clerk-treasurer of the city of North Vernon, died at 1:50 p.m. Wednesday at the Seymour hospital. She had been a patient for just over one week when her death occurred.
She was elected to the office of clerk-treasurer in 1971 and assumed her duties on January 1, 1972. She was elected on the Republican ticket.
Funeral services will be held Saturday at ten o'clock in the morning at the Dove Funeral home. Rev. Marvin Jewell, pastor of the Wesleyan church, will conduct the services. Burial will be in the Vernon Cemetery.
Miss Martin was born December 18, 1921, in North Vernon to Emmits and Ella Craven Martin and has been a lifelong resident of Jennings county.
Her political career began on October 18, 1965, when she was appointed deputy clerk of the Jennings circuit court by Charles M. Lane, who was serving as clerk. She served as deputy clerk until 1970.
She ran for the post of clerk on the Republican ticket in 1970 but was defeated by the present Democrat clerk, John Booher. Her next try for a political office came in 1971 when she ran successfully for the office of North Vernon clerk-treasurer. She was in the second year of her tenure at the time of her death.
Along with her career in public service, Miss Martin also owned her own printing business, "The Letter Mart" on East Walnut Street, and was publisher of a national magazine known as "Hoosier Journal of Ancestry." She also operated a successful income tax business in Jennings county.
A graduate of North Vernon high school, Miss Martin was employed in New Albany with the Federal Housing Administration after high school. Moving back to Jennings county from New Albany she served as a clerk of the Selective Service Board for the county.
She was employed for a number of years at the Union Bank and Trust Company and began her printing business in her home.
Miss Martin was a well known photographer and was particularly interested in wedding assignments. She had her own dark room and made her own prints.
Miss Martin's magazine numbered many famous subscribers including Jessamyn West, noted author, who writes many of her novels and short stories about Jennings county. Miss West commended Miss Martin on the high quality of the publication and told her how very much she enjoyed being a subscriber.
Miss Martin was an affiliate member of the Wesleyan Church of North Vernon.
She is survived by three sisters, Marie Day, North Vernon; Mabel Benjamin, Anderson, Indiana and Fay Wire, Columbus, Indiana. She is also survived by a number of nieces and nephews including Donald Wire of North Vernon and Martin D. Benjamin, Anderson.
A tribute to Miss Martin appears on Page Eight.
---
Page 8
By Mary Lee Cull
A SPECIAL PERSON
To Ruby Girl

Someone very special to Jennings county went away Wednesday.
Before she slipped into eternal rest, her last thoughts were of others. She wanted her sisters to get some rest because they looked so tired. This would pretty well sum up the life of Ruby Martin-always concerned for others; never wanting to bother anyone.
To have known Ruby was a joy which will be remembered by her long list of friends and acquaintances.
She was a particular friend of the young. They talked to her-she always had time to listen. Offering sage advice if they should ask. Ruby was one in whom they could confide. She was their friend, and they knew it. Not many adults hold such an honor with the young.
A woman of great and varied interests, she seemed to be able to put material things in their proper place, and truly enjoy all of God's blessings.
A deep faith and trust in the Almighty was a side of Ruby which would occasionally shine through in a conversation. Knowing the Bible and understanding its message, Ruby would often interject a bit of scripture as she talked to emphasize her point. Her deeply religious beliefs were not a general topic of conversation, but they were there and she held fast to them.
The numerous legal notices, laws and business papers which passed over her desk at the clerk's office were easily understood and taken care of.
She loved the history of Jennings county and through the national magazine which she published on Hoosier ancestry, Ruby was known in the surrounding counties as the fact-seeker. Perhaps she held more knowledge of Jennings residents and its past in her mind than any other person. Many of these tales were carefully recorded in small booklets of the county's history and its people.
Words do not come easy when one tries to recall the many colorful things about Ruby Martin. She would most probably not want any of them said, as Ruby was a private person.
For those who knew her, now there is a deep feeling of grief. As time goes on the feeling will turn into a pride. Pride that they had known her.
"Ruby girl," as her mother called her-was truly a very special person.
---
In the first issue she published Volume 4, Issue #1, Naomi Keith Sexton explained her taking over the Hoosier Journal of Ancestry.
"In October of 1969, Miss Ruby Martin of North Vernon, Indiana, started publication of THE HOOSIER JOURNAL OF ANCESTRY. Due to ill health that followed, she became behind in publication, and some issues were not put together until after her death on May 29, 1974.
I believe Miss Martin had an excellent idea for a much needed publication, and therefore decided to continue what she had started. With the help of her sister, I have tried to contact all former subscribers. I'm sure there were many who were never aware of Ruby's battle with cancer, and her subsequent death. There are some former subscriber's that I have been unable to contact, for various reasons. If you know of a former subscriber that has not been contacted, perhaps you could advise that subscriber of this new publication.
Many of you ordered magazines, that were never received. These are available to you, and by just writing to me, stating what you subscribed to, what you have, and what you didn't get, I will send them to you. We want everyone to have the copies to which they are entitled.
Our object is to print this magazine for you. In searching for my ancestors, I know how useful such material can be, and how time consuming and expensive it is to travel from county to county in search of such material, often times not sure where to look. I will continue records where Ruby left off, and new counties, and hopefully cover many more records. I plan to do death records and census records that Ruby had not as yet attempted. Let me know what you would like, and an attempt will be made to cover that material.
I will continue with family histories from time to time, and will be glad to print your history, and Bible records as I receive them from you, and other sources.
The Journal will also have a query section, as before, 'The Hoosier Quill', so let's get those queries coming. I will continue the church histories, cemetery records, and the history of the Eighty-Third Regiment -Indiana Volunteer Infantry, that Ruby had started.
I have heard from many of you. I have mailed out back issues of Ruby's Journal to many of you. I have received some of the nicest letters, and some very wonderful encouragement. Thanks to you, from me, and I hope to make this a worthwhile publication for you.
I dedicate this first issue to Miss Ruby Martin. I'm sure she would have wanted her Journal continued. She dearly loved it, loved Indiana history, and loved you.
THE HOOSIER JOURNAL OF ANCESTRY will be a little late this first issue, due to my last minute decision to off-set print instead of mimeo. I'm sure the better quality will compensate for being about two weeks later than planned.
Right now, when I should take this to Indianapolis to the printer, I am snowed in, so I just hope it will not be more than two weeks late. Naomi Keith Sexton."
---
Thank you to Ruby for having the idea to start the magazine and to Naomi for doing such a wonderful job in continuing it all those years.
---
You may use this material for your own personal research, however it may not be used for commercial publications without express written consent of the contributor, INGenWeb, and