THE KRENNING FAMILY
In Jennings County, Indiana
---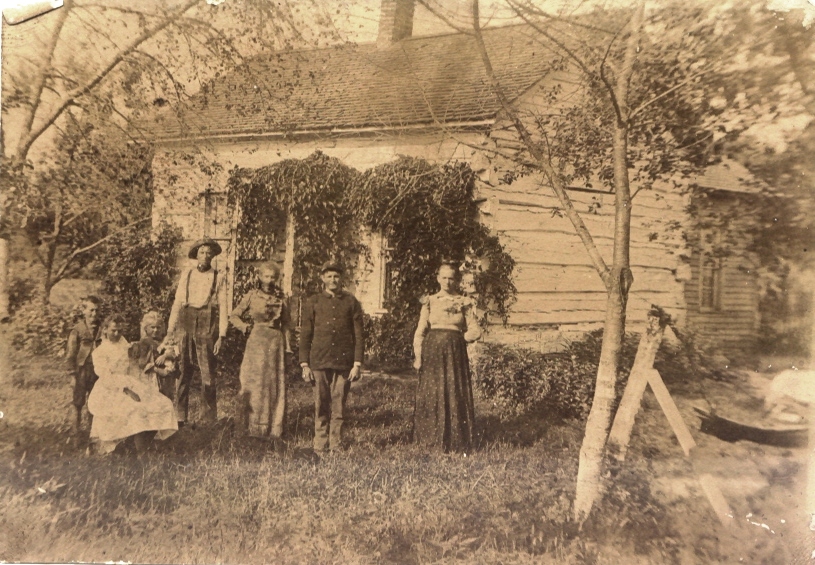 The Benjamin Krenning family at their home near Commiskey in Montgomery Township - around 1900
---
An excellent example of a hewn log cabin that had been built on to in the back, many early county homes have these cabins hidden behind later siding, such as the two still standing in Vernon.
Benjamin Krenning's Family moved to Jennings County when he was a small boy his mother must have died shortly before the move because his father who was known locally as "Barney" Krenning remarried here in Jennings County on April 2, 1858 to Elizabeth Harten. "Barney" Krenning died on April 25,1873 and is buried in the Old Coffee Creek Baptist Cemetery. He left as his heirs his wife Elizabeth and three children Benjamin, Anna & George. Young Benjamin married Florence Amelia Rector on January 11, 1874 in Jefferson County. They lived their entire married life just outside of Commiskey.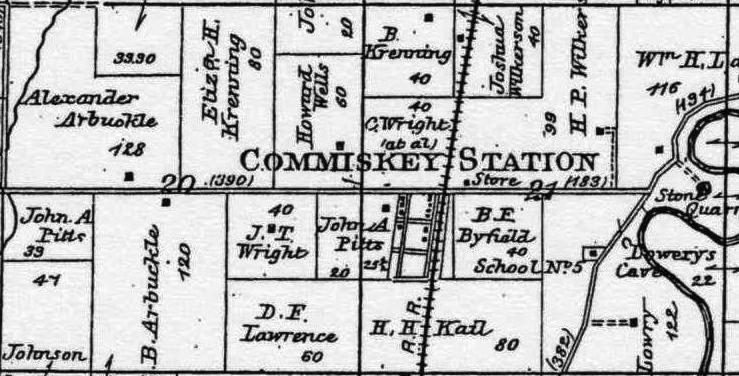 Typical of the early families the Krenning name was spelled in various ways both in newspapers and in local documents. Ben was a Jennings County Supervisor in the 1890's, all of his children were born here but the five girls moved to Cincinnati, Ohio, where they married and settled, making frequent visits home. Cincinnati had a large German population in 1887, many of them worked in meatpacking which was the second largest business in Cincinnati, behind only iron production. Meatpacking brought in more than 23.5 million dollars to the city's economy that year, just 3.5 million dollars behind the iron industry.
Ben died in Commiskey on July 17, 1912. He and his wife Florence, his father Barney, stepmother Elizabeth son Henry and his wife Edna (McClellan) Krenning are all buried in the old Coffee Creek Baptist Cemetery west of Paris Crossing.
North Vernon Plain Dealer - July 25, 1912
Commiskey Column
Benjamin Krenning aged about 63 years, died at 3 o'clock Wednesday afternoon, July 17th. He had been ailing for several years, but the last few weeks had suffered intense agony from stomach trouble. Before death he requested that an autopsy be held after his death, and it was found that he had a contraction of the stomach. The funeral services were held at the church here by Rev. Liston, and burial at the old grave-yard at Coffee Creek, on Friday afternoon. He leaves a wife and 7 children, three grand-children and a brother and sister. He was a member of the church here, and was a citizen here most of his life. He was born in Cincinnati but his parents moved here when Ben was a small boy. He was always a hard worker and a good neighbor. He will be very much missed in this community.
George Krenning of Jeffersonville, and his five sisters of Cincinnati, were all here last week to attend the funeral of their father, Ben Krenning. The latter's sister Mrs. Anna Utchman of Cincinnati, was also here and will visit friends a few days before returning home.
---
You may use this material for your own personal research, however it may not be used for commercial publications without express written consent of the contributor, INGenWeb, and