The Lessons of The Fourth
July 4, 1894 - North Vernon Plain Dealer
---
This is the one hundred and eighteenth anniversary of the adoption of the Declaration of Independence, an instrument that has been termed the Title Deed to civil liberty, and the American Magna Carta. It is a day of glorious memories and patriotic recollections; a day that John Adams said "should be celebrated with thanksgiving and festivity, with bonfires and illuminations, to the remotest generation." As the great Republic, whose origin dates from July 4th, 1776, has extended her territory and increased her glory and power among the nations of the earth, the wisdom and foresight of the authors of the Declaration have grown on the minds of men, and the broad statesmanship and political sagacity of our forefathers is recognized and appreciated by their descendants with universal accord.
With expanding territory and increasing population problems have arisen, and will continue to arise demanding the exercise of all the powers of patriotic statesmanship in their adjustment and settlement. But with full faith in the principles upon which our government is founded, and the exercise of that eternal vigilance that is the price of liberty, we have thus far succeeded, and will henceforth be able to succeed, in preserving intact the magnificent political establishment constructed by the genius of Washington and his great compatriots.
Temporary waves of selfishness and political demagoguery may from time to time drive us from the true course, and storms arising from conflicting sectional interests may occasionally befog us with the clouds of uncertainty and doubt; but when the bright sunlight of patriotism once more illuminates our pathway, the old ship of State will right herself, and speed along again under the glorious banner of the Union. When dangers assail the integrity of our institutions and clashing interests awaken hatred and animosity. American citizens should place their hands upon the Declaration of Independence and read in unison; "All men are created equal. They are endowed by their creator with certain inalienable rights; that among these are life, liberty and the pursuit of happiness; that to secure these rights, governments are instituted among men, deriving their just powers from the consent of the governed." This will remind us that the people are the source of all power in this country, and a Constitutional mode has been provided by which evils can be cured and grievances redressed, and relegating our troubles to the ballot box, we will settle them in the method provided by the constitution. All Americans on this great Independence anniversary should erect an altar in the name of patriotism, and consecrate themselves anew to the Constitution and the Union.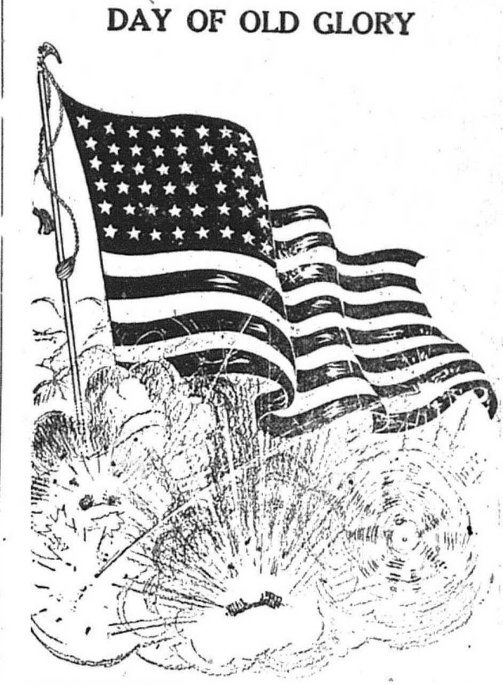 ---
You may use this material for your own personal research, however it may not be used for commercial publications without express written consent of the contributor, INGenWeb, and