Hengstler Hall
A Social Center - Pike Street, Vernon dates from around 1890 to 1932
---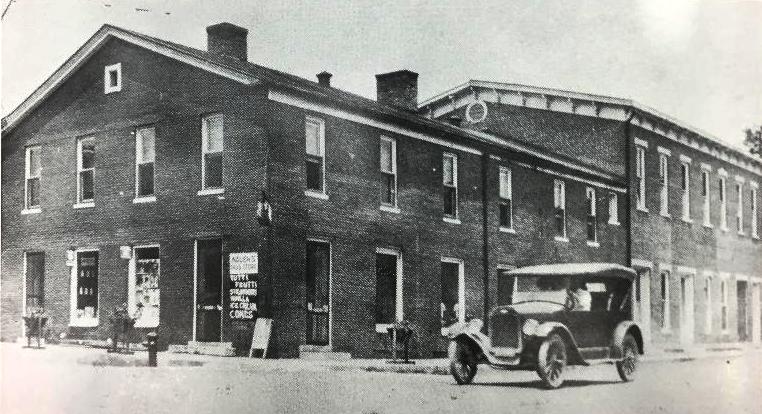 The taller of these two buildings was Hengstler Hall. It was also known as the Hengstler or Vernon Opera House, in 1907 a bowling alley was opened in the building by a Jim Huntington, it does not appear to have lasted long. This building was the scene of many political events, public meetings and dances mentioned in local papers. The corner building housed a number of different businesses but was the home of Nauer's drug store when both buildings were destroyed by a tornado in 1932.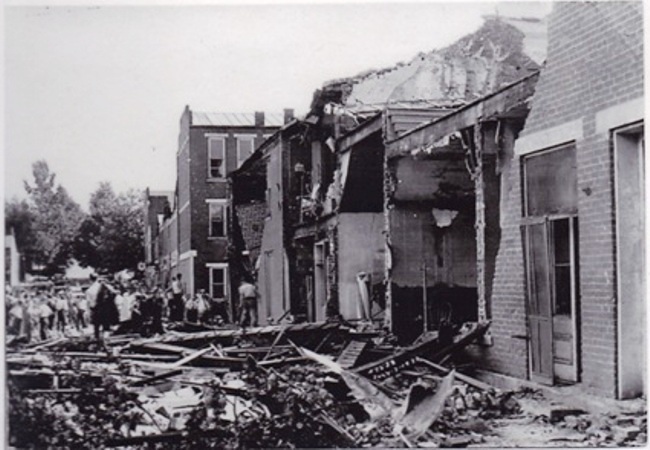 ---
Vernon Dramatic Club - Organized December 14, 1895
A group of young people got together in Vernon to organize a Dramatic Club, which planned to put on Plays and performances in Hengstler's Hall. The original members of the Club were, Harry Thicksten, Burt Nauer, Sebe Trapp, Clark Bolser, Ed Welker, Wellie Bolser, Henry Henninger, Harry Ryker, Ralph Hill, Elmore Johnson, Fred Rowley, Almeda O'Hair, Mattie Martin, Anna Wenzel, Susie Wohrer. Some who joined later were, Maude Hopkins, Jess Chaille, Will Johnson,Ted Dash, Jess Rowan, Clarence Harlow. There are numerous mentions in the following years of the plays and entertainment put on by them.
---
Holiday Dance at Vernon, Grand Success - January 4, 1912 - North Vernon Plain Dealer
The annual holiday dance given at the Hengstler Opera House, at Vernon, by Messers, Lockwood and Donnell last Friday night was a brilliant social affair. The guests, including spectators, numbered over fifty people. Out of town visitors from North Vernon and Hayden were present. On this occasion the hall was charmingly decorated with Christmas bells and festoons. The Columbus Orchestra furnished the music. The guests were: Misses Ova Donnell, Alice Thomas, Tressie Smith, Jessie Larabee, Lizzie Stewart, Lucille Richardson, Blanche Storey, Gllenna Thomas, Margie Hengstler, Katie Wenzel, Maude Larabee, Carol Wohrer, Lorena Richardson, and Helen Saupe; Messrs Wm. Storey, Roy Ryker, Hugh Stewart, J. Welker, Herbert Whitcomb, Burt Baker, Ernest Lang, Ed. Hinchman, Woodfred Stearns, and Roy Larabee; and Messers and Mesdames E. P. Trapp, Joe Stearns, George Jordan, Mark Baker and Vern Hudson.
---
North Vernon Group Entertained With Dance - November 2, 1928 - Columbus Republic
A number of local people were entertained with a Halloween masked dance at Hengstlers Hall at Vernon Thursday night by an appointed committee. A five piece orchestra from Columbus provided the music. At the close of the evening refreshments were seerved.
The guests included Mr. and Mrs. Thomas Jeffords, Mr. and Mrs. Earl Eaton, Mr. and Mrs. B. C. Fish, Mr. and Mrs. Robert Vance, Mr. and Mrs. H. H. D. Dowd, Mr. and Mrs. Frank Selmire, Mr. and Mrs. W. G. Young, Mr. and Mrs. James Purkhiser, Mr. and Mrs. Harry Purkhiser, Mr. and Mrs. N. R. Dodds, Mr. and Mrs. C. H. Engleheart, Mr. and Mrs. Edward Ketcham, Mr. and Mrs. Harry Gill, Mr. and Mrs. James Lynn, Mr. and Mrs. H. P. Clark, Mr. and Mrs. Walter Hill, Mr. and Mrs. Roy Hinchman, Mr. and Mrs. Roy Kline, Dr. and Mrs. Ray Richardson, Mr. and Mrs. Harry Beck, Mr. and Mrs. Charles Patton, Mr. and Mrs. Norval Vance, Mr. and Mrs. Charles Newvister and Mr. and Mrs. Charles Ulmer, Mr. and Mrs. Hubert Kerner, Mr. and Mrs. Homer Matthews, Mr. and Mrs. Mose Bertman, Mr. and Mrs. Bert Hudson, Mrs. Arthur Hutton, Myrtle Gregory, Mrs. Edward James, Misses Mary Alice Bacon, Katherine Wasson, Doris Powell, Emma Wetzel, Ruby Utterback, and Charles Hicks, Walter Lattimore, Herschel Newmister, North Neal, Richard Bacon and Hallie Corya.
Prizes were awarded Miss Mary Alice Bacon and Norval Vance.
---
You may use this material for your own personal research, however it may not be used for commercial publications without express written consent of the contributor, INGenWeb, and