Harvey M. Bradford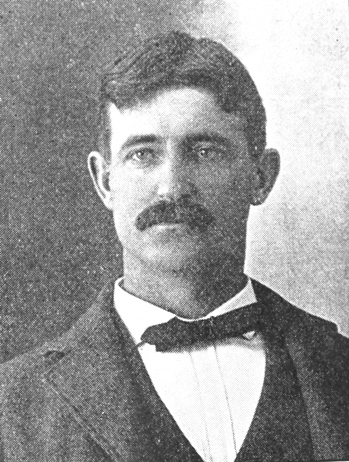 From a 1897 Supplement to the North Vernon Plain Dealer
---
Sheriff of Jennings County
Jennings county has yet to have in the office of sheriff a more popular more efficient official than Harvey M. Bradford, the present incumbent, now serving his second term. Mr. Bradford is a native of this county, born in Geneva township, near Hege. Reared on a farm, he has been accustomed, since leaving school, to depend upon the exertions of his hands and brain, with the result he has developed into a fine specimen of the American citizen, physically and mentally.
Mr. Bradford was first elected sheriff of Jennings county in 1894, and so faithfully and well did he perform his duties that at the expiration of his term he was re-elected to succeed himself in 1896. Alert in enforcing the law, prompt in the execution of his official duties-knowing no such thing as fear-withal courteous, large-hearted and genial in disposition, he made a host of friends throughout the county among the law abiding citizens, but has the name of a terror to law breakers and evil-doers.
Mr. Bradford is a man of magnificent physique, considerable over six feet in height and of proportional build. He is, in politics, a Republican and has ever been active as a worker in the ranks and generous-handed in pecuniary contributions to the party's expense fund. He is happily married and has an interesting family of eight children.
---
You may use this material for your own personal research, however it may not be used for commercial publications without express written consent of the contributor, INGenWeb, and