COFFEE CREEK CHRISTIAN CHURCH
Paris Crossing, Montgomery Township, Jennings County Indiana
Go right on 990 S off SR 250 at Y west of Paris Crossing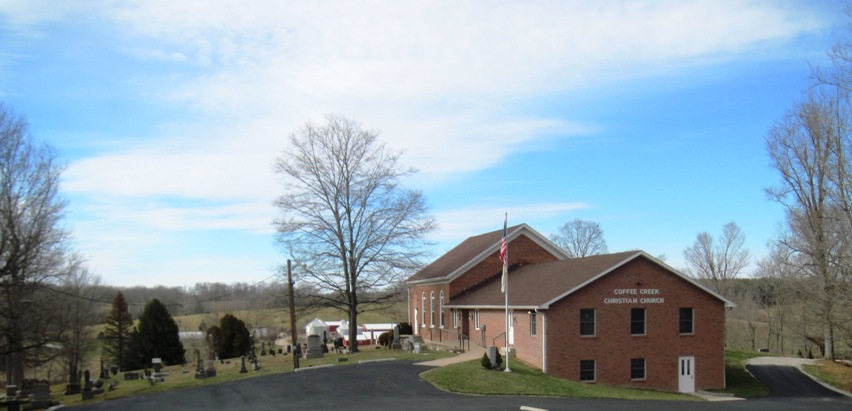 HISTORY OF THE
COFFEE CREEK CHRISTIAN CHURCH
FROM THE
SESQUCENTENNIAL CELEBRATION
September 29 - 30, 1984

John B. New of Vernon, Indiana organized the Coffee Creek Christian Church in 1834. Charter members were:
John Hopkins & wife, William Hudson & wife, John Bennett & wife, Thomas Davis, Absalom Hudson, Ben Randall, James Earl, Jessie Johnson & wife, James Hopkins. (Jesse Johnson, John Bennett & Absalom Hudson were married to sisters, according to Marie Bridges.)
Some of the early preachers who believed whole heartedly in the Restoration Movement were:
Hickman New, John Bramwell, Aaron Hubbard, Jacob Wright, John Wright
The church has services once a month and these pioneers served for a small salary and had to do other work such as cabinet making, farming, and working in timber. They organized churches in southern Indiana and later in central Indiana.
Since the charter members had come from the Baptist church there was much bitterness between the two groups for several years. But about 1870 John Brazelton came from Vernon to serve the church for many years. It was during his ministry that he and Allen Hill, from the Baptist Church, held a union revival. After that there was a better feeling between the two groups. Both groups used the water from the spring in the valley between the two hills. This spring and narrow corridor of land is still church property.
About 1890 the great grandson of Jesse Johnson, Charles Hudson, decided to become a minister. He went to Butler College, Yale University School and Transylvania. While in school at Butler he preached in Johnson County. He later went to Transylvania and later became a minister in the First Christian Church at Frankfort, Kentucky.
Due to his influence we got some young ministerial students from this school. They had some to learn from the eminent Bible scholar, Dr. John McGarvey.
The young minister came into the community by train. They got plenty of experience but on a small salary. Two of them later served big churches churches in the south.
Charles Hudson later went to Pomona, California where he became an outstanding Sunday School organizer in the state.
The church building had many problems. The original church burned, later a young tornado tore down the west wall and damaged some pews and furniture. Later a chimney fell in, but undaunted we carried on.
Most of the members were people of modest means, but oh how blessed we were with splendid leaders and today we are so blessed with devout young church officers.
In the 1920's and 30's we began to get our ministers from the Cincinnati Bible Seminary. Some of these early misisters were Bro. Bateman who had played the tuba with Sousa's band, Eric Dance, a brilliant English lad and Charles Crawford.
We rejoiced when another farm boy, Lawrence Layman, decided to answer a call to the ministry and go to the Bible seminary. He had an outgoing personality and was loved by all. After graduation he and his young wife, Eileen, served at Garrett, Indiana. Then later they went to serve on an Indian reservation in the Kiamichi Mountains. Their preacher sons are Mark, also a Vice President of Artesia Bible College in New Mexico and Gary and Hope Layman who minister in a small city in Oklahoma. The Layman's daughter is married to a minister.
Yes, and we don't forget another romance. Joy Arbuckle our excellent pianist married Fred McCoy, our minister. They later served in Decatur and Bartholomew Counties. Five preachers have come from the influence of Coffee Creek Christian Church. They are: Charles Hudson, Lawrence Layman, Gary Layman, Mark Layman, and David Dunson. We won't forget the six preacher's wives who have come from this congregation. They are: Joy Arbuckle McCoy, Dorothy McIntire Urbhans, Hope Bonesteel Layman, Louise Layman Dunson, Judy Luedeman Hillenburg, and Glenda Rose Farrell.
When we celebrated our 100th anniversary 46 descendants of the charter members came to the service. Some of the ministers of the program were: Eric Dance, William Mullendore, Floyd Hines, Fred Davies, Henry Davis, Lawrence Layman, and Harold Dunson. Over 500 members, former members and friends came to enjoy the services. We still had church twice a month and the church was still growing.
History Written by Miss Ethel Deputy
Paris Crossing, Indiana
September 1984
---
HISTORY OF THE COFFEE
CREEK CHRISTIAN CHURCH
FOR THE FIRST 145 YEARS
By Ethel Deputy & Arthur Buckles

The Church was organized in 1834 with the following charter members: John Hopkins & wife, Jessie Johnson & wife, William Hudson & wife, John Bennett & wife, Absalom Hudson, Thomas Davis, Ben Randall, James Earl, Sr., and James Hopkins.
The officers were the elders: Absalom Hudson Sr., John Bennett and Jessie Johnson Sr. The deacons were John Hopkins Sr., and Thomas Davis.
In years 1832 and 1833 the Coffee Creek Baptist Church erected a fine brick church for those times and Jessie Johnson and John Hopkins paid one fifth of the cost of this building.
At the time Alexander Campbell was making a great stir in the west.
John B. New, a Baptist preacher of Vernon, Indiana took up with Mr. Campbell's views and formed a small church from members of the Baptist Church of Vernon. Mr. New preached regularly at Coffee Creek Baptist Chruch. As soon as he had organized the Reformed Chuch at Vernon several members of the Coffee Creek Church treated him coldly.
Jessie Johnson and John Hopkins differed from the rest and insisted that Bro. New should have an opportunity to vindicate the course he had taken by explaining it to the Congregation.
In 1834, Jessie Johnson arose before the congregation was dismissed and announced that on the next Lord's day
Bro. New would preach after Bro. Thomas Hill, Jr. had finished his sermon. At the next meeting Bro. New made a great many fine remarks. Dissention followed and at the next meeting Jessie Johnson was excluded much against the wishes of several members. John Hopkins, the Hudsons, and Bennetts asked for their letters from the Church. They organized themselves into a Church very soon. This building was erected on the hill north of the one from which they had been members and was clearly in view. However, in later years friendlier relations existed and the two churches have even held union revival services.
In the early years this building burned but was rebuilt.
At the 50th Anniversary of the Church the following Charter members were present; Mr. & Mrs. John Hopkins, Sr., Mr. & Mrs. Jessie Johnson, Mr. & Mrs. William Hudson, Mr. & Mrs. John Bennett, Absalom Hudson, Thomas Davies, Ben Randall, James Earl, Sr., and James Hopkins.
The ministers who had served the congregation included the following names: John B. New, organizer, Marty A. Hudson Sr., James Hopkins, N. Short, Hickman New, P. Vawter, J. Bramwell, J. Wright, Jared Wright, N. Hartley, D. Thompson, A. Hubbard, B. Jayne, T. Jayne, M. Butler and J. Brazellton.
Officers who served in later years included the following elders: J. Hopkins, A. Hudson, P. Coryea, W. Short, L. Robinson, J. Hudson, F. Carlock, D. Parks, J. Shaw, J. Bogie, F. Layman, C. Simmons, H. Buckles, H. Bolton and C. Bonesteel.
Deacons are F. Carlock, J. Davis, L. Robinson, W. Arbuckle, G. Owens, J. Shaw, W. Deputy, J. Hermbaugh, D. Robinson, C. Simmons, V. Shaw, A. Peacock, C. Buckles, H. Wilson, H. Bolton, F. Layman, W. Blasdel and H. Buckles.
Trustees: J. Davis, A. Hudson, O. Gaddy, A. Deputy, H. Bolton, P. Coyrea, T. Hudson, J. Read, and M. Hudson.
Clerks: S. Deputy, A. Deputy, C. Bonesteel, H. Bolton, E. Arbuckle, F. Turner, L. Young Shaw, W. Blasdel and A. Buckles.
Ministers and Evangelists: Straus, Manker, Hawkins, Brazelton, Rioch, Front, Kendall, DeVoe, Folp, Fillmore, Mullindore, Robinson, Small, C. Hudson, J. Bare, Hadfield, Burnsworth, Vawter, Law, Henry, Stevens, Scott, Dawson, and Hines.
In 1924 there were 114 members of the Church. During the 100 years more than 400 members have been added.
The officer serving longest in active service was O. C. Buckles who served as deacon for a period of nearly 50 years. His wife during most of that time prepared the grape juice and baked communion bread for services. Communion and church services were held for a long time just once a month. Because of transportation it was possible for our minister to attend only once a month since they came by train.
In May 1934 the church building suffered much damage when a chimney fell through the ceiling, breaking much of it, and some of the floor. The repairs were made possible by the donation of both time and money by the people who were interested.
On September 29th and 30th a Centenial Celebration was held. Much effort and planning went into preparation for this event. Committees were formed for Food and Table, History, Publicity, portation, and Registration.
The elders and deacons at that time were Charlie Simmons (who was still living at the time this was written he was 98), Herman Buckles, Frank Layman, Frank Carlock, George Owens, Harry Bolton, Vernie Shaw, Jerome Heinbaugh, David Robinson, and Walter Deputy (living). All other are deceased.
The number of descendants of the charter members present were as follows: John Hopkins Sr. - 2,
Jessie Johnson, Sr. - 8, John Bennett - none, Thomas Davis - 17, Absalom Hudson - none, William Hudson - 2, James Earl - none, James Hopkins - 1, and Benjamin Randall - 18
Also present at the 100th Anniversary who were present at the 50th Anniversary were: Emma Arbuckle, H. C. Buckles, Lillie Deputy, Mollie Hudson, Pearl Hudson, J. E. Hudson and M. B. Hudson.
Five Hundred twenty people attended the Centenial, it was a day of great fellowship and spiritual renewal.
The elders in 1979 were Charlie Simmons (honorary), Arthur Buckles, Walter Luedeman, Les Covey, Gary Applegate
and Walter Deputy who has been a deacon since 1916.
The trustees are Walter Luedeman, Arthur Buckles and James Schuler.
---
You may use this material for your own personal research, however it may not be used for commercial publications without express written consent of the contributor, INGenWeb, and