History of the Bethel Baptist Church
From The
Forty-Fourth Anniversary
Of The
MADISON BAPTIST ASSOCIATION
September 6th, 7th and 8th 1876
---
The Bethel Baptist Church was organized on the fourth Saturday in August 1828 in a log house four and one-half miles west of New Marion on the Vernon & Versailles road. This church was organized with seventeen members, to-wit: Br'n Joseph Clark, William M. Johnson, Zachariah Wiley, Joel Kirby, Eli Steel, Lawson Stephenson; and Sisters Elizabeth Clark, Lucy Clark, Frances Collins, Elizabeth Young, Susannah Holton, Lavisa McLasha, Mary Kirby, Frances Kirby, Elizabeth Stephenson, Jane Merrel and Catharine Reed-three of whom are still living.
The church continued to meet once a month in the old house until 1857 when they erected the present house of worship.
PASTORS
Bro. Lawson Stephenson was licensed to preach on the fourth Saturday in August 1818. Bro. John B. New served the church one or more years as pastor. In August 1835, Elder William T. Stott became pastor of the church and continued until 1839. In May 1839, Elder Isaac Christy received a call from the church, and continued his labors until 1843. At this time, Bro. Andrew Baker became pastor of the church, and labored until April eighteen forty-four. At this time, Bro. A. Neill received a call from the church and served one year as pastor. In September eighteen forty-five, Bro. Jacob Cox took charge of the church, and served as pastor until April eighteen forty-six, when Elder Isaac Christy once more took charge until April 1848, when Bro Jacob Cox once more became pastor, and labored with the church until November eighteen forty-eight, when Bro. Robert Wilson took charge as pastor and labored with the church for four years. In April 1856, Bro. John Alley took charge, and served the church for one year, when Bro. Robert Wilson once more took charge. In June eighteen sixty-nine, Elder T D George commenced his labor with the church and served but a short time, when from impaired health, he was induced to give up the care of the church. Bro. Francis M. Huckleberry accepted a call of the church in December eighteen sixty-nine, and labored acceptably for the space of two years. In January eighteen seventy-two, Eder Nelson Johnson commenced his labors with the church and labored until March eighteen seventy-four. In December eighteen seventy-four, Elder James Stepehenson took charge of the church, which position he still fills.
DEACONS
Bro. Joseph Clark was chosen first deacon of the church on the fourth Saturday in October eighteen twenty-eight. Bro. Joel Kirby was elected eighteen thirty-seven. Bro. Francis Holton was set apart as deacon in eighteen thirty-nine; In May eighteen forty-one Benjamin Richards was chosen deacon. In September eighteen forty-six, Bro James East was chosen deacon, and released in eighteen forty-seven; and Bro Thomas Shelton was chosen in his place, and released in eighteen forty-eight; and Bro John Kirby was then chosen in his place, and released in August eighteen forty-nine. In November eighteen fifty, Bro. Barnet P Johnson deacon an I served until eighteen fifty-four, when he removed his membership. In April eighteen fifty-six, Bro. Jared Vancleave was chosen deacon and served until his death in eighteen sixty-one, when Bro Henry Waddle was chosen to fill the vacancy. In July eighteen sixty-four, Bro William H. Holton was chosen deacon, which position he still occupies. Bro Richard Kelly was set apart to the office of deacon in October eighteen fifty-seven and released in Ausust eighteen sity-four, when Bro Francis Merrel was chosen in his place and released in March eighteen seventy-six. In eighteen sixty-five we received Bro John Perkins, bearing a letter from West Fork church, and he , being a deacon of that church, was retained as deacon here in which position he still remains.
MISCELANEOUS
Since the first constitution of the church, there have been received by baptism, three hundred and twenty-four; by letter, one hundred and thirteen; by relation, sixty-six; total number received, five hundred and three. Dismissed by letter, two hundred and thirty-five; excluded, eighty-four; died, eighty-nine; leaving as shown by our statistics, ninety-five members at present.
---
Bethel Church
Excerpt From
Come Visit - People Who Lived on the Land of The Jefferson Proving Ground
By
Jean Sauer McClellan
It was an afternoon in August 1928 that Mr. William Wilson, called "Uncle Will" by many in the community, stopped at our house to invite us to the centennial celebration for Bethel Church. Mr. Wilson said that he had ordered a large three layer cake from the Osgood bakery and told them it would have to be big enough around to hold one hundred candles on top. The bakery said they could easily do that by baking the layers in washtubs. Mr. Wilson's enthusiasm was contagious because I could hardly wait for Sunday to see that big cake that was baked in washtubs.
Actually this church building hadn't been built for one hundred years, but a group of fourteen Baptists had organized a church congregation and built a log church in August of 1828 back on the road that led to the Cemetery Overlook above Big Graham Creek. The little log church was straight across the road from the cemetery. Among the early pioneers who were moving into this Ripley County settlement around Bethel were Birthright Quakers, who soon were participating in the operation of the Underground Railroad along the Bethel road and in neighboring areas.
It wasn't until 1857 that the Bethel congregation was able to build the red brick church out on the main road. The building was low, with a low-pitched roof. There were two front doors. The women went in the west door and the men entered through the east door. Further, they sat on their separate sides after entering. Some of the Quaker Society descendants had joined the Bethel congregation and possibly may have had some influence on the entering and seating arrangements.
The church had been remodeled before our family moved here, with a vestibule and just one double door. Even so, most of the older couples still sat on their separate sides. I had never heard anybody mention this Bethel Church tradition but I was well aware of it. The first time my young cousin came from Madison to visit, we went to Sunday night church, and she walked in and started to sit in a row right in the middle of where the older men sat. I yanked her arm and told her she couldn't sit there because that was the men's side. She had never heard of such a thing and asked me if this was a Quaker church. I told her "No, this is just how we sit." Then we walked over and sat with my parents, who always sat near some other younger couples at the back of the women's side.
Bethel Baptist Church had been remodeled in many other ways beside adding a vestibule and a new front door. The brick walls had been built up higher, and the new slate roof was high pitched. There was a chimney on each side of the roof for each of the big heating stoves. The church's very high ceiling was covered with a beautiful light blue decorative tile. Gaslights hung from the ceiling on long chains. Long windows, with large panes of frosted glass, had replaced the original small-paned ones.
The Last Days of Bethel Church
Years had rolled by rather quickly, and we were into the beautiful autumn weather of 1940. Leaves had changed colors and most had fallen. The Sunday School had studied the Thanksgiving lesson and was planning for the sacred celebration of Christmas. No one knew that day like these were to be again at Bethel Church.
News of the government's purchase of 55,000 acres of land in Jefferson, Ripley, and Jennings Counties was announced on an early weekday, December 6, 1940. This would include most of the land of Ripley County's Shelby Township, which included the Bethel Church and cemetery. People were in a state of shock and disbelief, and life was at a standstill in this normally busy community.
The following Sunday, the congregation came to church with hollow eyes and drained, expressionless faces. Services were conducted as usual, but the singing was wavering and prayers were given by trembling lips and hearts. There were no announcements or and discussions of what that church would have to do to get ready for what was to come.
In the coming days, the community began to rally and to realize that there was not time to mope. With the government's decree that all of this land must be completely evacuated by March, everybody needed to be doing something to help their family and their church in this shared undertaking. First, the church got a committee together to select a plot for the re-location of the Bethel Cemetery. The decision was made to buy a plot right across the boundary of the proving ground's western boundary (in Jennings County). Now arrangements had to be put in place for the removal of the bodies from the present cemetery and their re-interment in the new location. This was perhaps the most difficult task of this entire land evacuation, and high gratitude was owed to those who saw it through.
Nothing could be done about a Sunday School Christmas program, but the Christmas treats were distributed and carols were sung. The deacons knew the church must plan for a closing day that would glorify God's work through Bethel church for so many generations. People would be moving away very soon, so the closing date was set for January 26, 1941. It would be an all day meeting, with a pitch-in dinner, and speakers and musicians were scheduled. Rev. Marshall Walker typed and mimeographed a bulletin for this closing service.
Sunday School was carried out as usual. Church services began at 10:30, with Psalm 100 read as the call to worship. "Make a joyful noise unto the Lord all ye lands….." A violin solo was played by Rev. J. H. Waugh Jr. of the Louisville Seminary. Mr. Will Barr, Indiana Baptist Convention president, spoke on "The Bethel Baptist Church and the Indiana Baptist Convention."
The first two addresses had told the history of Bethel Church in its affiliate organizations. The final speaker, Rev. T. J. Parsons, D. D., Executive Secretary of the Indiana Baptist Convention, delivered a sermon of inspiration, dealing with "Things Seen and Things Abiding." Brief closing remarks were made by Rev. G. C. Mitchell, the Convention's Director of Evangelism and Rural Work. A traditional congregational hymn was sung, and a benediction was given for the last time at Bethel Church.
Rev. Marshall Walker left his last messages on the bulletin he had created. "Now as we part to go to every community, we wish to thank everyone participating in the program of today, and ask that you pray that we may be true witnesses of Jesus Christ wherever we might go." On the back of the bulletin was the poem that follows.
In The Morning
I met God in the morning,
When the day was at it's best,
And His presence came like sunrise,
Like glory in my breast.

All day long His presence lingered;
All day long he stayed with me;
And we sailed with perfect calmness
O'er a troubled sea.

So I think I know the secret,
Gathered from a troubled way;
You must seek Him in the morning
If you want Him through the day.
Only the initials "L. S." were signed to this poem.


It seemed as if Rev. Marshall Walker was having a very difficult time letting go of Bethel Church, and he wanted to leave his congregation with every strength he could give them. Another bulletin note from this youthful pastor read: "May God bless each family. May Christ be yours in an ever-present way wherever you go is my prayer." The last sentence on the last bulletin of the Bethel Baptist Church was: "In all way acknowledge Him and He shall direct thy paths. Proverbs 3:6." The people left Bethel Church that cold and bleak January Day with faith and hope for the challenges they faced.
(Special appreciation to Evelyn Dudley Comer for saving this last Bethel Church bulletin.)
After Bethel Baptist Church closed, the records were placed in a safe at Franklin College and may be reviewed there. Bethel's chair rows with the double interlocking B's at each end are still in use at the New Marion Baptist Church. Some of the church's fixtures were given to Graham Baptist Church, and many Bethel members who were still on their own land took their Membership there.
The Pictures below are sections of a "Panoramic" picture donated to the Jennings County Public Library by Roger Yeager.
I had to cut it down into 3 sections to get it on the web site. The left side picture, taken by Leslie O. White, is the dated January 26, 1941 so it was taken on the day of the closing of the church.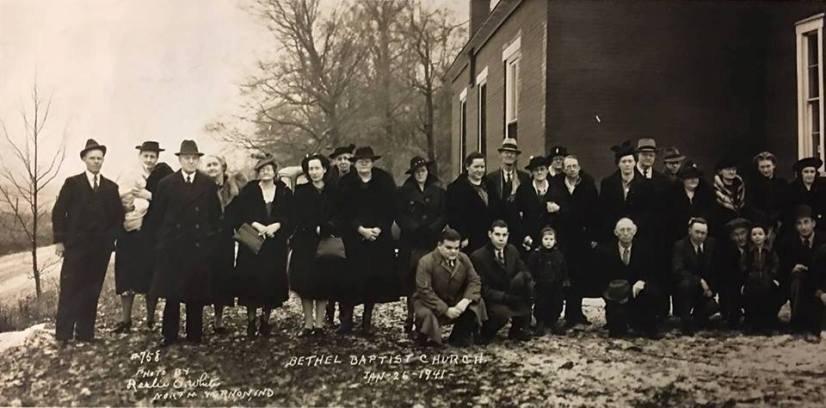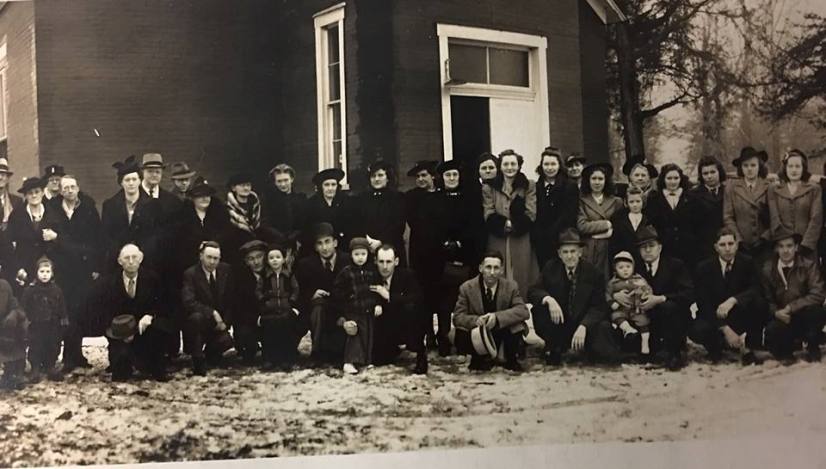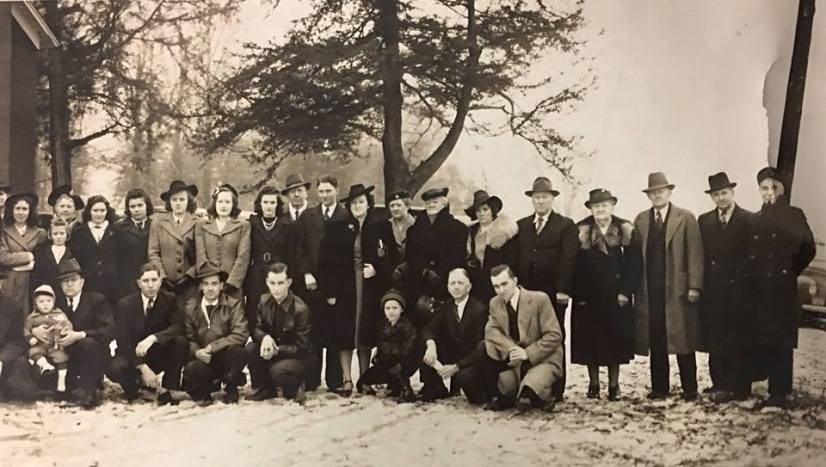 I contacted Franklin College and they have sent me copies of the membership records of the church which they have. I hope over time to add them here but if you want me to check and see if any of your ancestors are listed in what they had I will be happy to check.
Sheila
---
You may use this material for your own personal research, however it may not be used for commercial publications without express written consent of the contributor, INGenWeb, and