WILSONS MILL CEMETERY
AKA
READ/REED CEMETERY
---
In Vernon Township, on the bank of Otter Creek, about 5 miles from Vernon, 2 miles from Highway 50-this is a combination of about 4 different transcriptions done around 1973--updated 5-15-09 Thank you! Rev. Donald L. Morris of the Vernon Baptist Church for the pictures at the bottom of the page added 5-17-09
---
Gary J. Blankenship-Son of J. & M. A. Blankenship died August 1, 1854 age 3 weeks
John M. Blankenship-Son of J. & M. A. Blakenship died October 31, 1849 age 3 years 11 days
John Boyd-born January 17, 1820 died November 27, 1863
Rachel,A. Boyd-born Jun. 4, 1837 died August 15, 1861
B.R.A. foot stone probably of a Boyd grave
Elza Ellen Butler-Daughter of John M. and Tamer died August 16, 1845 aged 3 yrs. 6 mo. 17 days
Phoebe S. Butler-Consort of J. H. died September 3, 1854 aged 36 yrs.
Gerelder McCalister-Daughter of W. & P. W. McCalister born December 11, 1841 died November 15, 1819
Levi B. McCalister-Son of W. & P. M. McCalister born September 15, 1845 died November 15, 1849
Anny Campbell born August 15, 1799 died November 24, 1872
Eliza Campbell-wife of C. D. died June 8, 1860 aged 47 yrs. 11 mo. 8 days
Isaac, Campbell died March 12, 1862 aged 15 yr. 10 mo. 2 days
Sally J. Clinton-Daughter of D. and J. born October 9, 1831 died July 25, 1833
William I. Clinton-Son of D. and J. born October 3, 1835 died November 22, 1861
Hannah, Griffith-Consort of Thomas Griffith died October 22, 1861 aged 77 yr. 9 mo. 29 days
Jane Jelf-Consort of Thomas Jelf deceased departed this life June 10, 1830 age 34 years 8 months- notes state stone erected by her sons & daughters
Asa Maddox died July 17, 1855
Dan Maddox died January 24, 1823 aged 67 years
Nancy (Willis) Maddox-Consort of Dan died February 6, 1855 aged 81 years
Mary A. McCalfrey 1814-1904
Elder Caleb Moncrief born September 11, 1791 deceased January 6, 1870
Jane Moncrief-wife of Elder Caleb Moncrief born March 22, 1788 died July 25, 1871
This monument erected by T.C. Stratton their daughter
Mary Ann Stott-Consort of William H. died August 2, 1843 aged 62 yrs
Rev. Wm. T. Stott died 14 April 1877 aged 88 yrs 9 mos 25 days
Wm. T. Stott Jr. died April 13, 1850 aged 28 yrs. 2 mo. 28 days (in memory of)
Charles T. Trickey born December 18, 1836 died April 5, 1858
Thomas C. Trickey born November 27, 1832 died November 15, 1858
G.O. (Gideon) Trickey which has a Civil War stone stating; G.O. Trickey, 6th Indiana Infantry, Co. G
Bowen C. Heath born 1824 died March 24, 1877 - North Vernon Plain Dealer March 29, 1877
DIED
Mr. Bowen C. Heath of this township, at his residence on last Saturday morning March 24th, 1877 after a short illness. His disease was typhoid pneumonia. Mr. Heath was an old citizen, a member of the M. E. church, and was highly esteemed and respected by all who knew him. A large circle of relatives and friends is lfet to mourn his loss. His christian life was an example well worthy of our imitation, and should be a source of great consolation to those loved ones whose sorrows can only be mitigated by him who "tempers the winds to the shorn lamb." The remains were interred in a family burying-ground on the old Neil farm.
Mrs. Sarah (Neal) Heath born 1825 died September 1885 - North Veron Sun September 29, 1885
Butlerville Items
Mrs. Sarah Heath, spoken of in this correspondence two weeks ago, as being sick, had almost recovered when she took a relapse and died and was buried on Wednesday last in the Neel cemetery. She was an old settler and lived here over sixty years and was highly esteemed by all.
Also Phelps & Raymonds possibly buried under a fallen tree not verifiable
---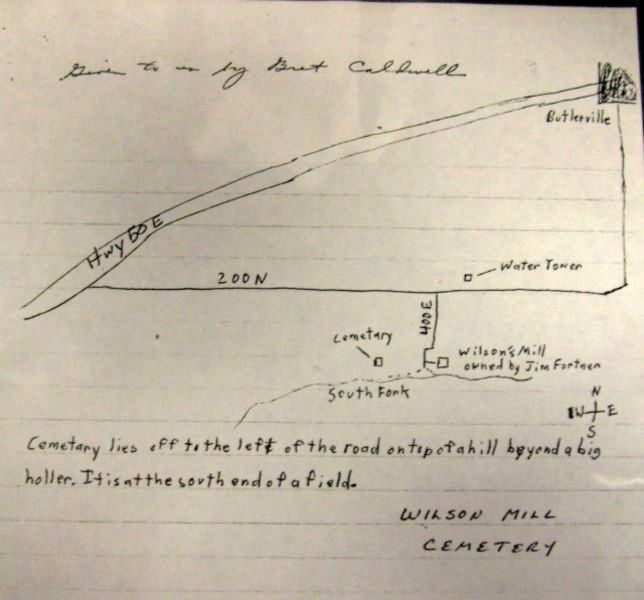 ---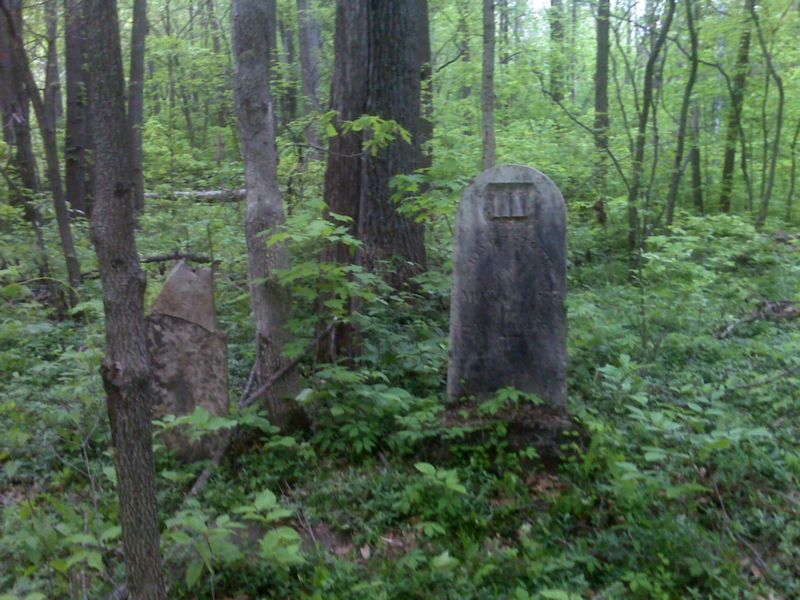 ---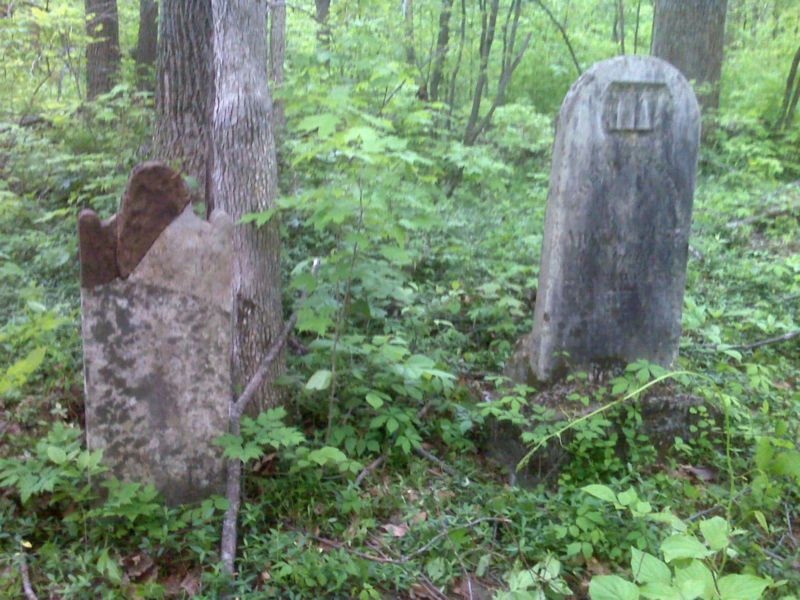 Rev. Morris pieced Mary Ann Stotts stone together to take some of these pictures.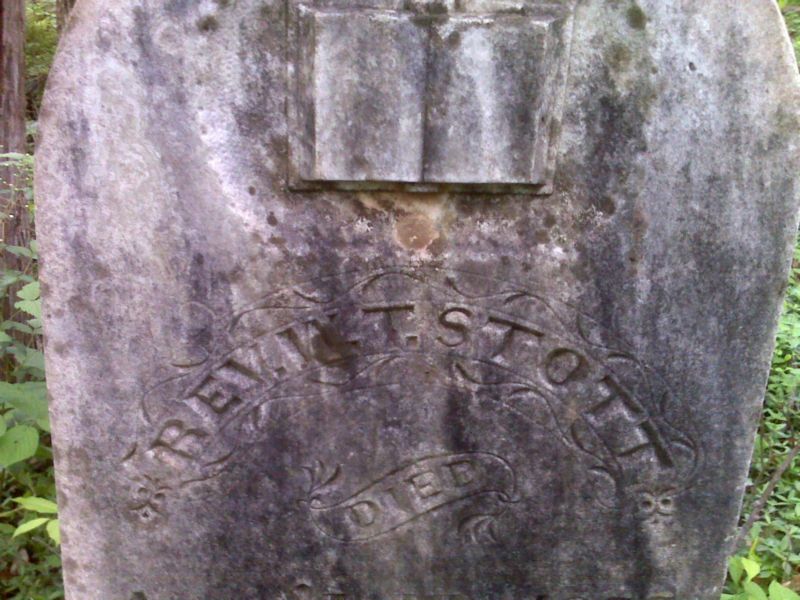 ---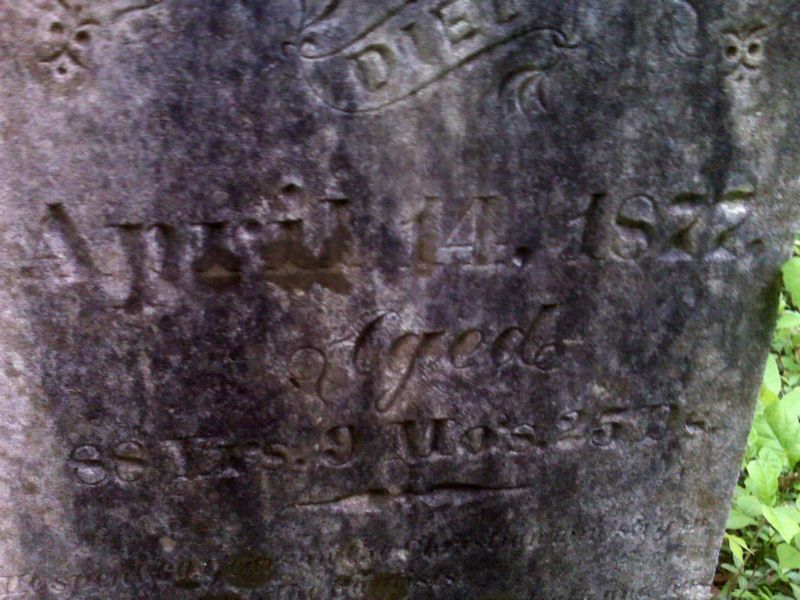 ---
You may use this material for your own personal research, however it may not be used for commercial publications without express written consent of the contributor, INGenWeb, and