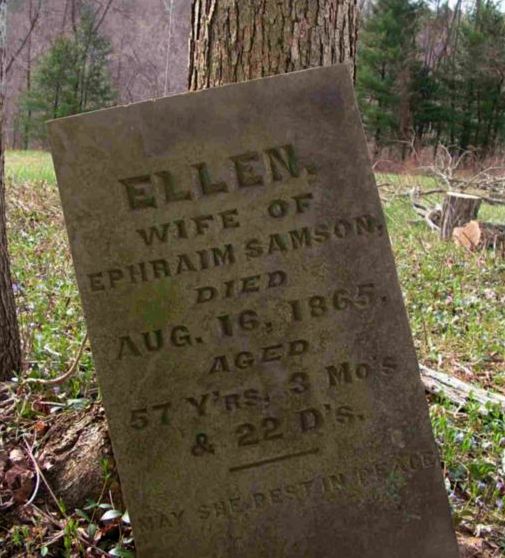 Ellen Sampson
wife of Ephraim Sampson
died Aug 16, 1865
aged
57 yr's 3 mo's & 22 d's
may she rest in peace
Four additonal plain stone markers
T.W. J.W. Thomas Walley Margaret Walley (Thomas and Margaret are the children of James & Ellen.)
Ellen Sampson was the second wife of Ephraim Sampson (married July 20, 1857) who with his first wife Martha came to Jennings County in the early 1820's, Ephraim & Martha had at least 7 children. It does not appear thus far that Ephraim and Ellen had any children. Ephriam Sampson's third and last wife was Jane J. Dinwiddie who was first married to Charles K. Laird. The James Walley near which Ellen is buried was her first husband, they are listed in the 1850 census in Montgomery Township, Jennings County, with their son Thomas age 21 as all having been born in England. This would also explain the marker near theirs with T.W. on it.
---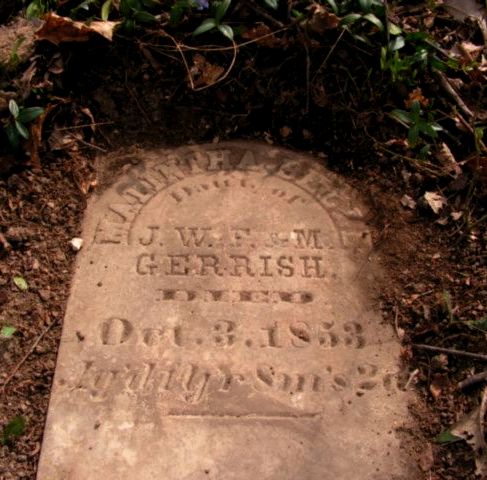 Malintha Belle
Daughter of J.W. & M Gerrish
died Oct. 3, 1853
1 yr 8 mo's 2 d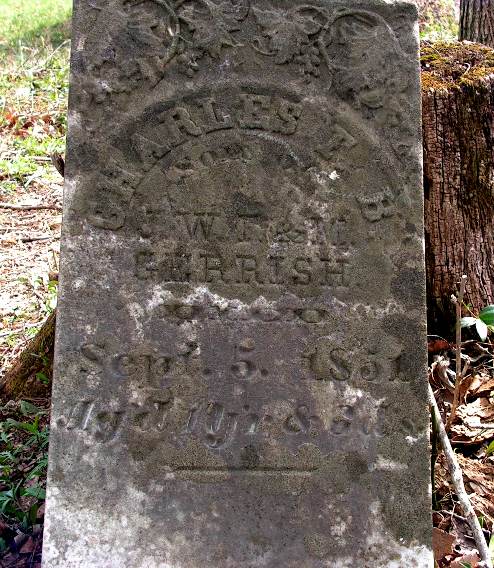 Charles F. B.
son of J.W.F. & M Gerrish
aged 1 year & 6 days
Charles F. B. and Malinthia Belle Gerrish were the children of James W. F. Gerrish and his wife Maria, James was born in Maine, Maria in Pennsylvania. James was the son of Ansel Gerrish who was born in 1804 in Maine and who is known to have purchased property in Jennings County in 1859 from Joseph Ayers. JamesW.F.'s mother was Pheobe Beal and she was living with him and Maria during the 1870 census when they lived in Seymour, Jackson County, Indiana. Both Ansel and James were Physicians. The family of James W.F. Gerrish is well documented back to their immigrant ancestor William Gerrish born August 20, 1617 in Bristol, England.
Thank's
to
Edward Gerrish Mair
a premier researcher on the Gerrish family who supplied me with information on James ancestors. Rev. Ansel Gerrish was born 25 Feb 1804 in Durham, Androscoggin, Maine. Ansel died 19 Aug 1859 in Portland, Cumberland, Maine, at the age of 55. He married Phebe Beale 12 May 1829. She was born 29 Aug 1804, the daughter of William and Mary (Tracy) Beale. They had 1 child:Dr. James William Gerrish. Rev. Ansel Gerrish had 9 brothers and sisters. He is the son of James and Susanna (Roberts) Gerrish of Durham, Maine. Contributed by another Gerrish researcher.
Jackson County Death Records
GERRISH, ANSEL E, JACKSON 1899/02/10 SEYMOUR CH1 070 born 1861
GERRISH, EMMA B, JACKSON 1903/03/17 SEYMOUR H22 003
GERRISH, EMMA B, JACKSON 1903/03/17 SEYMOUR CH1 101
GERRISH, JAMES W F, JACKSON 1883/08/04 SEYMOUR CH1 013, born 1831
GERRISH, MILLARD F, JACKSON 1919/12/16 SEYMOUR CH3 018
GERRISH, MORTIMER, JACKSON 1905/09/06 SEYMOUR H24 014

---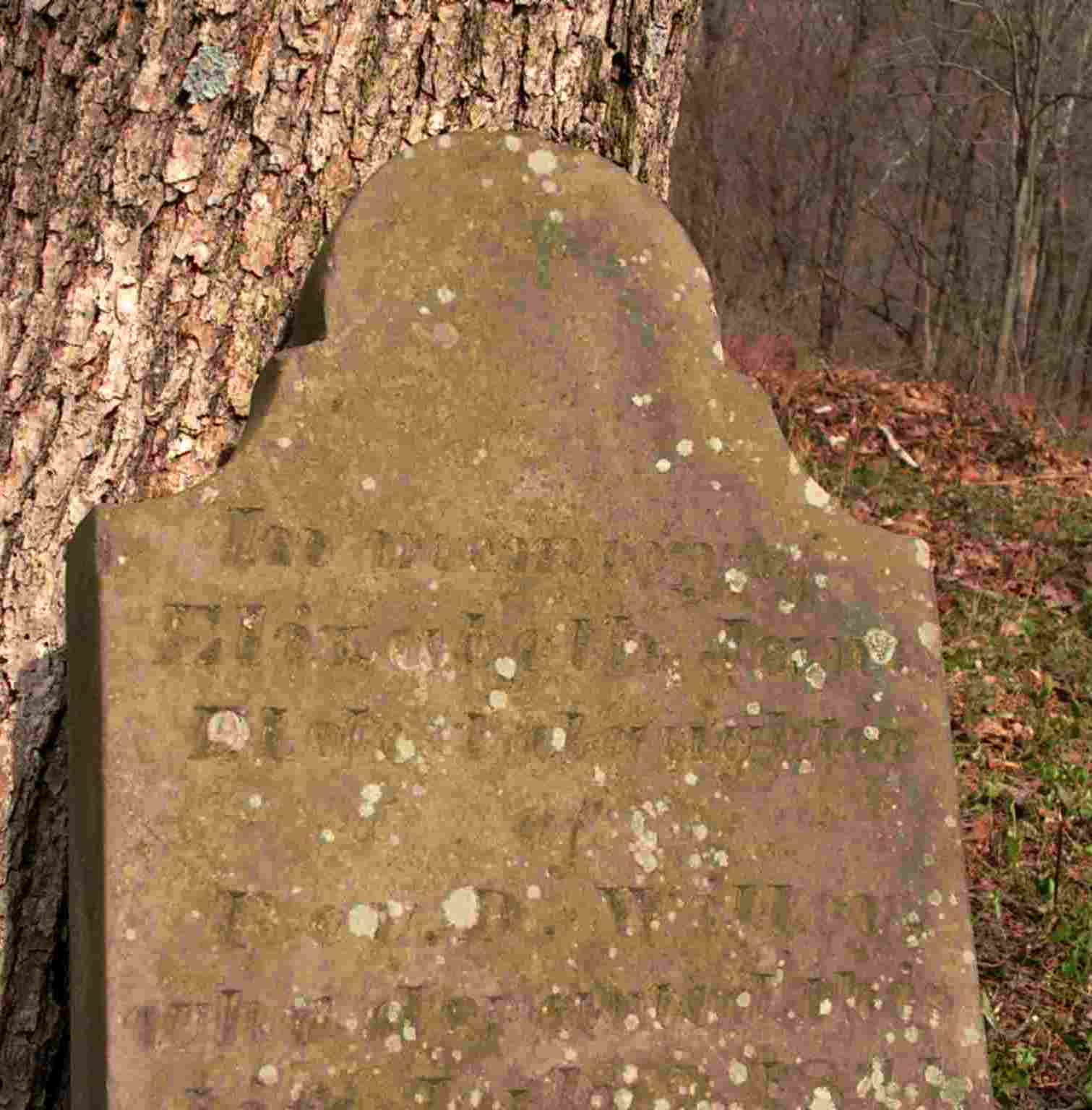 Elizabeth Jane Willey, is a daughter of Reverend Dennis Willey who was Pastor of the Paris, Methodist Episcopal Church. He is listed in the 1850 Jennings County Census with wife Lydia, children Adison, Margaret, Dennis W., Olive, Lawson, Martha, Sarah & Lyman. Reverend Willey was born in New York in Oneida County, July 2, 1797. Lydia was his second wife, he was also married in July 13, 1826 to Margaret Gassaway who was born in 1803 in Clark County, Indiana. Ancestry.com has he and Margaret's children as James Almond, Elizabeth Jane, Lysander, Addison Clark, Margaret Minerva and Dennis Watson. He and second wife Lydia Patterson Robinson had the following children Lydia Ann, Olive Keziah, Smith Lawson Robinson and Ellen Belle.
---
Traca also recorded but did not photograph the following headstone
Frank E
son of R.W.D. & Marg? (can't read) Holmes
aged 2 Mo's & 6 days
rest be thy reposed
I have not been able to find anything on little Frank E. Holmes, if anyone has information on his parents R.W.D. Holmes & Marg. please let us know. I have a feeling Marg. is Margaret Willey but have found no more on her.
---
You may use this material for your own personal research, however it may not be used for commercial publications without express written consent of the contributor, INGenWeb, and