SCIPIO CEMETERY
Early Cemetery Plot owners
In the Jennings County Public Library Cemetery Records the following items were found showing the 1850 plot ownership.
---
Item #1
- A hand written letter dated Saturday December 29, 1924 as follows.
Dear Ms. Chapman
Sorry this took so long - too much been going on.
Enclosed please find the original one acre lot layout of the Scipio Cemetery Recorded 5-3-1850 in Jennings Co. Ind.
I do hope this gives you a starting place, if I can be of further help please call or write.
I look forward to the readings you mentioned.
Resp.
Wallace H. Hines
Scipio Ind.
R.R. 1., Box 45, 47273
Item #2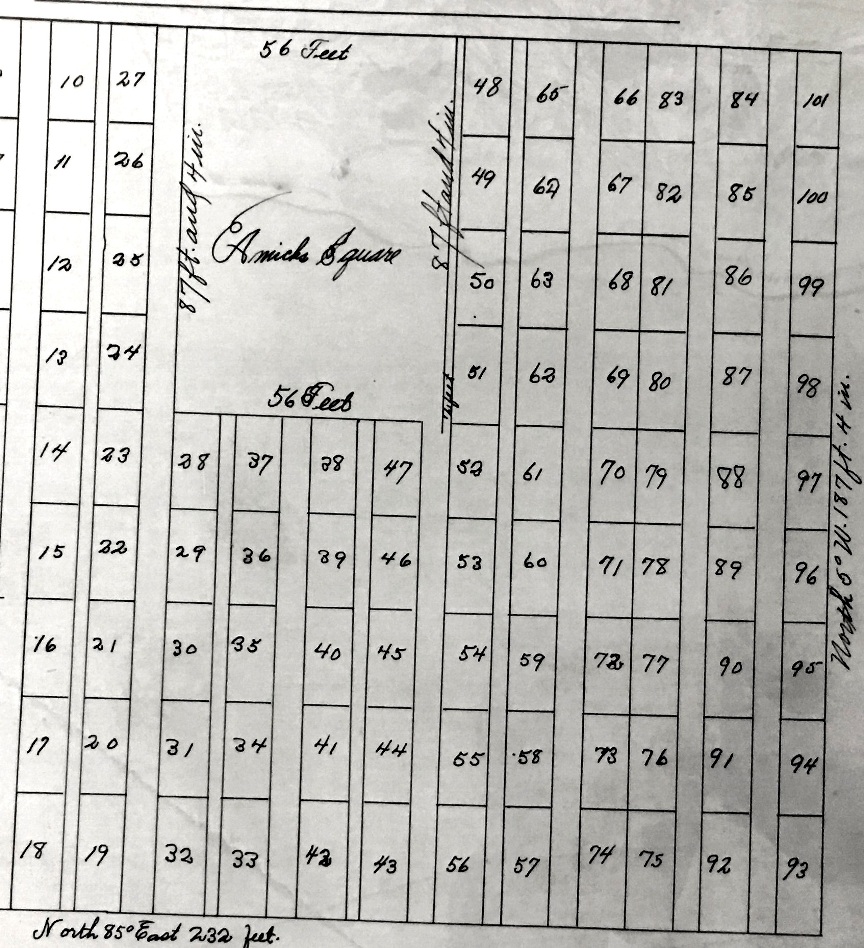 Map of Plots
(There are some notes that are impossible to read)
Item #3
List of owners of Plots matching numbers on the map. It looks like each plot would hold about 4 graves.
| | | |
| --- | --- | --- |
| LOT # | NAME | NOTES |
| 10 | Sam Wildes | |
| 11 | Wm. Miller | |
| 12 | John Miller | |
| 13 | Wm. Tharp | |
| 14 | Wm. Hutchings | |
| 15 | B. McConnell | |
| 16 | Heirs of Peter Clapp | |
| 17 | Wm. Clapp | |
| 18 | A. S. Corya | unreadable |
| 19 | A. S. Corya | |
| 20 | Heirs of Charles David Butler | unreadable |
| 21 | Heirs of Charles David Butler | unreadable |
| 22 | Heirs of Charles David Butler | Manlove Butler - unreadable |
| 23 | Mrs. Stafford | |
| 24 | E. Z. Davidson | |
| 25 | S. Whitney | |
| 26 | Wm. Stales | |
| 27 | Allen Tyler | Wm unreadable |
| 28 | W. Wilson | unreadable |
| 29 | H. A. Bease | Henry - unreadable |
| 30 | Tom Brown | |
| 31 | W. Rowe | |
| 32 | A. Draper | |
| 33 | S. L. Rodgers | unreadable-Sol__-Lee-Sallie A unreadable |
| 34 | J. Richardson | |
| 35 | Nancy Cain | |
| 36 | W. Vauter | |
| 37 | Sarah Gleason | |
| 38 | Ettie Williams | |
| 39 | C. G. Alexander | |
| 40 | I. L. Green | |
| 41 | L. Cartney | |
| 42 | Nora Bliton | |
| 43 | Lewis and Margaret Hamilton | |
| 44 | C. Bliton | |
| 45 | David Hamant | |
| 46 | Samuel Bennett | |
| 47 | Levi Roberts | |
| 48 | E. M. Thompson | |
| 49 | Ann McConnell | |
| 50 | John Burkman | |
| 51 | Peter Hyker | |
| 52 | Danial Miller | |
| 53 | Aron Lewis | |
| 54 | Milton Sealock | |
| 55 | Samual Mills | |
| 56 | G. W. Seinolt | |
| 57 | Samual Lewelyn | |
| 58 | John Wood | |
| 59 | Lewis Wood | |
| 60 | Lewis Wood | |
| 61 | Alexander Williamson | |
| 62 | Elisah Prewit | |
| 63 | James Waughtel | |
| 64 | William Stigdon | |
| 65 | William Stigdon | |
| 66 | Bice | |
| 67 | Ellen Arnold | |
| 68 | Joseph Dean | |
| 69 | William Arnold | |
| 70 | Joshua Snowden | |
| 71 | Nancy Demint | John Demint |
| 72 | P. W. Corya | |
| 73 | Sim Day | Gra Day |
| 73 (Duplicate) | C. Demint | |
| 74 | Odd Graves | |
| 74 (Duplicate) | Lydia Whelden | |
| 75 | Odd Graves | |
| 76 | Estella Cartmell | |
| 77 | Elmer Amick | |
| 78 | Ed Roe | Uriah Roe |
| 79 | William Banister | |
| 80 | James Carson | |
| 81 | Fred Fenstermaker | |
| 82 | Heirs-S. Burge | |
| 83 | T. C. Clapp | |
| 84 | Mort Long | |
| 85 | Z. D. Tanner | |
| 86 | John Waughtel | |
| 87 | Uriah Roe | Hallie Roe |
| 88 | Malon B. Peterhinds | |
| 89 | Ashby | |
| 90 | John Banister | Unreadable Banister |
| 91 | Linda W. Banister | Wm. Day |
| 92 | H. E. Forsythe | |
| 92 Duplicate | Lifeemings | |
| 93 | Odd Graves | |
| 94 | Charlie Miller | |
| 95 | W. V. Harred | |
| 96 | Nellie Waltermire | |
| 97 | Geneva Township | |
| 98 | Ruben Miller | |
| 99 | O. P. M. Poore | |
| 100 | F. A. Fenstermker | |
| 101 | Howard Mills | James M unreadable |
---
You may use this material for your own personal research, however it may not be used for commercial publications without express written consent of the contributor, INGenWeb, and