Located on the east side of Highway 3-at the border of Lovett and Montgomery Townships.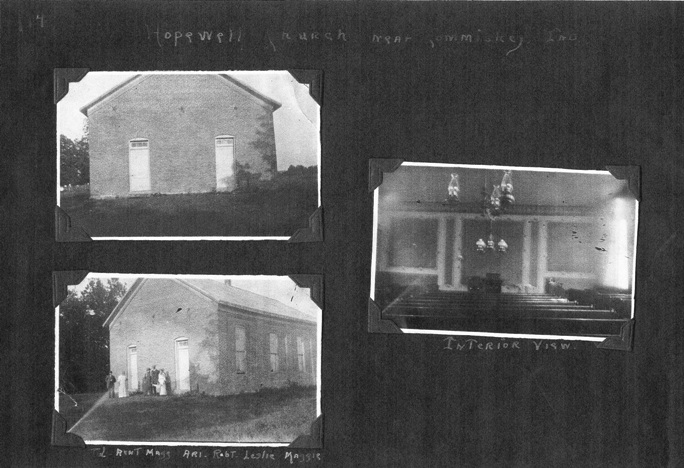 These are the only pictures I have ever seen of Hopewell Methodist Church.
They were taken in 1914, the church was on the right side and in front of the cemetery. Pictured in the photo of the church are from left to right - T.L. Thomas, Margaret James Thomas, Ariadne Ewing, Robert Watson Ormiston, and (child) Leslie Ewing Ormiston and Margaret Ewing Ormiston. I want to thank Sue Mikels, great grandaughter of Morgan Jackson Ewing and Martha James Ewing for allowing me to copy pages from her family album and use them on this site.
---
TRANSCRIPTION OF HOPEWELL CEMETERY
Lee, Ruby E. 1887-1966
Benton R. 1889-1964
Clemons, Inogene Apr. 8, 1964-Aug. 19, 1974
Lucas, Lizzie Nov. 30, 1906-Blank
Nathan J. (Sr.) Nov. 4, 1886-Jan. 8, 1977
Lucas, Larry J. son of NJ & Sue Feb. 16, 1964 (only date)
Nixon, Linnie May 17, 1900-Feb. 21, 1959
Harry Feb 4, 1900-Oct. 8, 1978
Baughman, Roy, 1888-1970
Baughman, Jessie, 1892-1957
Fields, Alia A. July 9, 1915-Dec. 18, 1981
Jordon May 12, 1911-Apr. 6, 1975
Brandon, John Jan 6, 1797-June 14, 1834
Brandon, Bathsheba Nov. 25, 1799-July 21, 1875
Shepherd, Albert Colfax son of Alexander & Barbara Sept. 7, 1866-Sept. 8, 1869 "Our Bertie"
Shepherd, Joshua, consort of N. died Mar. 22, 1859, aged 59 yrs., 11 mo., 30 days.
Shepherd, Nancy, wife of J. died Sep. 5, 1838 aged 29 yrs. 4 mos. 6 days
Steadman, James, d. Aug. 3, 1845 in his 52nd year.
Robinson, Humphrey M. died June 18, 1843 (stone repaired age gone)
League, Edwin N., 1915-1972
Nanie F., 1894-Blank "mother"
Noble E., 1892-1954 "father"
Shepherd, Jane consort of William died Jan. 15, 1828 in her 34th year.
Shepherd, Warren C., June 14, 1818-May 7, 1900
Steadman, Daniel d. May 25, 1868 aged 36 yrs 18 days
John H., d Nov. 18, 1862 aged 24 yrs 11 mos 15 days-sons of V & S Steadman
Hendricks, Eula Fay, dau of AF & Rachel 1824-1925
Hendricks, Arthur F. Mar. 31, 1904-Jan. 1, 1981
Hendricks, Rachel Allen Sep. 17, 1908-Blank, funeral home marker dated 1982
Allen Eugene July 30, 1929-Aug. 15, 1930
Thomas, Evan Feb. 22, 1757-Mar. 15. 1840 aged 82 yrs. 23 days
(Great hand carved headstone)"The old Revolutioner was born in Maryland. When a boy the
Indians killed all but him and by hiding he got away. On Dec. 10, 1778 he was married to
S. Booth.Dec. 25, 1810 was married to M. Everton." His Government marker says d. 1 Feb. 1840,
Pvt. in Col. Grishams Va. Regiment". (Revolutionary War)
Thomas, Mary dau of Moony, Sept 3, 1764-Feb. 28, 1848 aged 78 yrs 5 mos. 75 days
(Handcarved stone matches above)born in Maryland, married Evan Thomas, Dec. 25, 1810.
Hartwell, Gordon Apr. 4, 1842-Feb. 26, 1917
Margaret A., wife Jan. 24, 1854-May 10, 1929
Hartwell, George A. Feb 23, 1875-Oct. 19, 1956
Stagg, John Dec. 12, 1761-July 9, 1846
Stagg, Martha Dec. 13, 1789-July 2, 1956
Matthews, Effie wife of Dr. D.W. Feb. 21, 1882-Mar. 31, 1917
Johnson, Charles W. 1866-1923
Mae 1865-1935
Goldie 1890-1949
Nixon, Joshua July 16, 1843-Feb. 5, 1916
Lucy J., wife Feb. 7, 1860-July 16, 1928
Nixon, Albert, Ind. Rvt. 6 Cav. Sep. 11, 1884-July 15, 1934
James, William R. son of W & D died July 14, 18?? aged 4? (broken stone)
Ferguson, Elizabeth wife of W. Mar. 2, 1826-Feb. 25, 1875
Pilmer, William F. Jan. 30, 1871-Feb. 15, 1901
Pilmer, George W. Oct. 31, 1859-Aug. 17, 1891
Pilmer, Hannah, wife of Wm. Sep. 28, 1838-May 2, 1901 (Maiden name Green)
Pilmer, William Feb. 19, 1830-1932
Deputy, Richard Henry 1862-1953
Deputy, Alice (Pilmer) 1866-1932
Shepherd, Stella C. 1885-1944
Shepherd, Everett Jan. 14, 1876-Oct. 9, 1964 matches Stella's stone
Stanley, William F. "father" 1859-1922
Maggie B. " mother" 1862-1925
Wainscott, Minnie P. Sep. 12, 1877-Mar. 17, 1900
Shepherd, Washington M. May 5, 1841-June 18, 1908 Co. C. 145 Reg. Ind. Inf.
Ferguson, James R. 1862-1845
Cora L. 1868-1952
Ferguson, Jay Thomas Apr. 16, 1896-Fe. 12, 1923 Fid. Sig. HQ Co 58 Inf. 4 Div.
Ferguson, Don O. Nov. 14, 1887-Sep. 17, 1898
Ferguson, Thomas Nov. 1820-Sep. 29, 1891
Nancy J. wife of Thomas died Feb. 23, 1899 aged 73 yrs. 8 months
Elizabeth, wife of Thomas died June 20, 1856 aged 26 yrs. 8 months 8 days
Ferguson, Sarah D. dau of W & E Jan. 31, 1866-May 13, 1869
Barnes, Melvina R. dau of JS & E Sep. 7, 1852-Nov. 15, 1870
Lindsay (top is gone) Oct. 2, 1836-Nov. 5, 1858
Steadman, Julia A. Feb 4, 1836-June 19, 1908
Edward L. July 22, 1832-Feb. 11, 1896
Malick, Phillip died Apr. 16, 1860 aged 41 yrs. 9 mos 16 days (located behind Malick stones)
Shepherd, Arabelle wife of Elmer R. July 2, 1853-Sep. 21, 1901
Tate, Howard G. Aug. 22, 1890-Mar. 22, 1958
Shepherd, Thomas J. 1848-1927
Louisa, wife 1844-1912
Carson, infant dau. of Jonn & Lona, died Oct. 2, 1899 (only date recorded)
Shepherd, Karl C. 1889-1952
Ruby 1894-1922
Dixon, Dora J. dau. WT & DA d. Aug 26, 1883, 9 mos 11 d
Dixon, Savanah E. dau. WT & DA d. Mar. 20, 1881 aged 2 yrs. 3 mos. 14 days
Earl, George Washington died Aug. 31, 1868 aged 42 yrs Erected by his wife Julia
Lurton, Dr. Chas. F. Nov. 4, 1836-June 4, 1899
Mary C. Feb. 14, 1839-Feb. 20, 1891 (she has a separate stone with Feb. 14, 1939-Feb 21, 1891?)
James, Samuel T. Apr. 6, 1849-Nov. 21, 1904
Mary A. Sep. 19, 1844-Dec. 29, 1921
James, Thomas J. Aug. 4, 1821-July 9, 1905
Savannah E. Sep. 21, 1830-Dec. 12, 1881
Walker, Catherine 1794-1881
James, E.Z. 1850-1878
Dixon, Charles T. son of WT & D d. Aug 25, 1877, 1yr. 10mo.14da.
James, NA 1854-1877
James, CM 1869-1870
James, SC 1847-1868
James, T. 1867-1868
James NJ 1859-1860
James AD1851-1851
(all above are matching stones)
McGannon, Susannah wife of Samuel and Dau of Thomas & S. James, died Oct. 2, 1855, aged 37yrs, 4 mo. 26days
James, Thomas, consort of Sarah Feb. 3, 1789-Aug. 30, 1859
James, Joseph W. Feb. 19, 1816-Sep. 16, 1887
Engle, Cassimere Sep.19, 1832-Oct. 21, 1908
Ellen his wife Feb. 2, 1837- Oct. 11, 1884
Engle, Anna 1875-1943
Uebelle, Nannie Engel, 1881-1957
Thomas, Millard F. Apr.6, 1850-June 13, 1874
Thomas, Sarah J. dau. of Booth & Margaret died Oct. 17. 1846 aged 2? yrs 1 mo. 12 days
Thomas, Margaret, wife of Booth d Sep. 23, 1847, aged 27 yrs 7 mos ? days (broken stone)
Thomas, Booth, died Oct. 19, 1860 aged 70 yrs 9 mos 1 day
Thomas, Elizabeth J. dau of Wm. R. & Abigale d. Oct. 7, 1857 aged 1 yr 7 mos 16 days
Thomas, infant dau. of John S. & Isabell, d. Dec. 24, 1854 19 days
unmarked grave
Stoddard, Mary C. June 5, 1831-Feb. 17, 1892
Stoddard, Philo June 7, 1827-Feb 18, 1906
Harmon, James d. Oct. 16, 1863 aged 68 yrs. 8 mos. 20 days
McClellan, Elizabeth, consort of William, d. Jan. 19, 1845 aged 65 yrs. 4 mos. 2 days
Muster, William-no dates Corpl Co. H 27 Ind. Inf.
Conner, William H. Mar. 8, 1832-May 1, 1905
Wells, Polly d. July 5, 1881 aged 74 yrs. 5 mos. 4 days
Lemuel, d. April 7, 1870 aged 68 yrs. 6 mos. 18 days
Fletcher b & d July 13, 1837
Woodfill, Laura A. Aug. 2, 1849-Apr. 23, 1864
Woodfill, Alice J. Jan. 26, 1842-Jan. 5k 1866
Woodfill, Rachel A. d. May 15, 1874 aged 22 yrs. 3 days
Woodfill, Joseph L. Mar. 8, 1855-Apr. 23, 1875
(these are all children of Wm.M & E.R. Woodfill)
Woodfill, William M. "father" Jan. 9, 1820-Mar. 28, 1881
Elizabeth "mother' July 15, 1816-Sep. 26, 1884
Budd, B.F. Oct. 17, 1848-Feb. 16, 1900
Mary A. wife of B.F. Sep. 11, 1848-May 9, 1898
Budd, Ben F. d. Feb. 16, 1900 "Muscatatuck Tribe No. 99"
James, Emily A. wife of E.W. d. Oct. 2, 1881 aged 51 yrs. 11 mos. 18 days
Enoch W. (blank)
James, Sarah D., Dau of W & E d. Sep. 12, 1857 aged 2 yrs. 5 mos, 15 days
Ewing, Charles E., b. January 1, 1886-d. April 7, 1886 (Death notice North Vernon Plain Dealer-April 14, 1886) Deal, Mary, wife of John d. Nov. 5, 1846 aged 27-9-4
Smith, R. M., consort of H. d. Mar. 12, 1859 aged 51-4-15
Smith, Harriet, wife of E.M. d. June 19, 1837, In her 25th year
Denslow, Sarah d. June 25, 1861 aged 56 yrs 7 mos. 3 days
Tewell, Ida May, wife of Delmar Oct. 21, 1877-Jan. 17, 1915
Delmar 1872-1940
Perry, Anna L. d. Oct. 1, 1857 aged 5 yrs. 1 mo 23 days
Ford, Dr. John F. d. Dec. 1 1864 aged 32 yrs. 9 mos. 21 days
Craig, Richard H.M. son of W & Nancy d. Apr. 23, 1862 aged 24 yrs 17 days
Shepherd, Joshua H. June 14, 1822-Nov. 27, 1863
Shepherd, Talitha A. dau of Joshua H. & Druza Nov. 1, 1846-Dec. 30, 1863
broken stone
Ashton, Elizabeth Oct. 22, 1811-Sep. 28, 1897
John Aug. 2, 1843-Oct. 17, 1909
John Mar. 27, 1804-Sep. 20, 1862
broken stone
Wilson, John F. Dec. 27, 1837-June 3, 1921
Mary J., his wife Jan. 26, 1841-blank
Shepherd, James Lewis "father" 1849-1901
Byfield, Elizabeth M. wife of BF Nov. 23, 1824-Feb. 10, 1881
Dellmer Oct. 25, 1849-Oct. 6, 1864
Crawford, Martha J. wife of D.T. & dau. of W.G. & Elizabeth A. Shepherd died Sep. 18, 1882 aged 25yrs. 10 mos.
McCowan, Clifford W. son of J & L Apr. 7, 1917-Sep. 1, 1918
McCowan, Laura E. 1883-1966
Joseph 1873-1929
McCowan, Mary A. "mom" Sep. 13, 1926-blank
Chester L. "dad" Nov. 3, 1921-Feb. 10, 1978
Shepherd, Elmira wife of B.W. Nov. 7, 1840-Nov. 19, 1917
Benjamin W. Dec. 13, 1823-Oct. 3, 1907
Wright Charles Edward 1931 1936
McCowan, Louise M. April 7, 1920-blank
James T. June 25, 1911-Jan 13, 1979
McClellan, Margaret July 23, 1799-Apr. 3, 1874
Richard Feb. 4, 1792-May 13, 1875
McClellan, Richard J. 1843-1918
Sarah O., wife 1843-1888 (Maiden name Thomas)
McClellan, Ester Oct, 1856-July 5, 1918 (second wife of Richard J. McClellan, Maiden name Stoddard)
Long, Ira Mar. 10, 1882-June 10, 1904
Byers, Hattie W. Oct. 24, 1883-Nov. 27, 1905
Pergrine, Delber T. son of R & E d. Jan. 23, 1876 aged 8yrs 5mos 23 days
Shepherd, Marion A. Jan. 12, 1893-blank
America E. his wife Sep. 16, 1841-Apr. 18 1910
Shepherd, infant son of AE & MA Mar. 9, 1869
Naden, Jane wife of Henry d. June 29, 1894 aged 71 years
McCowan, Ethel E. May 30, 1918-blank
Jarvis "Shug" Mar. 4, 1909-Aug. 27, 1981 md. Aug. 30, 1939
Shepherd, John S. d. Apr. 19, 1876 aged 39 yrs 6 mos
Shepherd, Mary Frances 1836-1898
Shepherd, Marianna R. June 4, 1944-blank
Alvin D. Mar. 29, 1942-Nov. 12, 1981 md. May 27, 1962
Shephers, Evelyn A. June 20, 1921-blank
George A. July 7, 1917-blank md. Oct. 17, 1938

---
You may use this material for your own personal research, however it may not be used for commercial publications without express written consent of the contributor, INGenWeb, and