OTTO WHITE
Reflections on His Life
By Betty Cull in the May 30, 1964, North Vernon Sun
---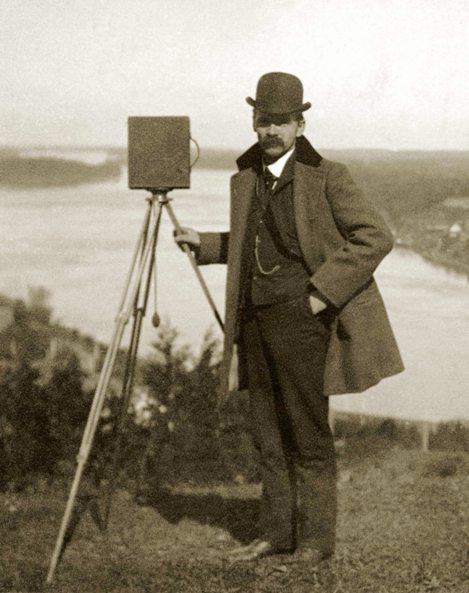 Photos from the collection of his great great grandson Galen Thies.
---
Otto White, Veteran Jennings County Citizen Who Just Celebrated His 97th Birthday, Reflects On His Life Here
On May 14 Otto White of North Vernon celebrated his 97th birthday. But don't permit that near a century age to mislead you for there is no rocking chair retiree.
In fact. White became a retiree only three years ago after as he put it "I had been in business in two centuries."
In his comfortable large home on North State Street, White recalled many happenings from his past, gave his very firm opinion on subjects and conditions of the present often raising his voice and pounding his chair arm effectively to emphasize a point.
This man, who for so many years was the city's leading photographer began his professional career not as a photographer but as a schoolteacher.
I taught nine terms of school, eight in Spencer and one in Center township, and earned a total of $1,600, he recalled. This teaching incidentally, was in the then familiar little red schoolhouse and all grades were included.
Among the reminiscences of this former teacher was one of how he effectively enforced discipline. "I kept a stout switch on the bookcase and when a child misbehaved I would say "You see that switch" Well, I am only warning you this time, but if you do it again, I am going to use that switch on you." The switch never was used.
Today, White has a number of misgivings about methods of education. One of his recommendations is indeed partially used in many schools today, that of grouping the slower students and quick learners separately.
In discussing one room schools, White observed that students could catch anything they missed the first time by hearing it repeated the next year by the class back of them.
As for his own days as a student, he told that prizes were given for the best grades in many subjects, and when he was in school, he won first prize in every subject, in which one was given. He showed samples of his mapmaking work and indeed these maps of Jennings county and one of Indiana looked as if they had been done by a professional catrographer. The latter even showed railroads.
White was perhaps exceptional in this work because of his artistic ability. One pen and ink drawing of James A. Garfield was made with only a small photograph as model. The pen and ink was superb both from the standpoint of likeness and of shadings and expression.
During some of his teaching years, White, too was a student a self-taught scholar. By reading encyclopedias, and any book he could find, he learned the art of photography, both from the picture taking angle and developing and printing. His diligent study resulted in his lifetime profession.
"On March 7, 1893, I taught my last day of school and on March 8, 1893, I opened my first gallery," he told.
The gallery, as they were then called, was on the third floor in the Central Block in North Vernon in connection with that location. White explained that there were no light for photographers in those days therefore they located their studios as high as possible in order to have windows and outside light. Today, available light photography is coming into more common use as films are faster but in those days, the photographer had to work hard to get a shot.
When he opened his gallery, he had not had one day of experience in this work, but he felt that he had learned photography well and had confidence in himself.
He chuckled as he said his first customers come from the country. He was a country boy and at that time the city folk did not think much of country folk and would not patronize him for a time.
But despite this White knew his business and he proceeded to build a clientele. Then, as he progressed White began opening studios in other cities which he operated usually on an appointment basis on specified days each week. When White's son Leslie, was old enough to take care of the studio at home. White operated studios in seven counties. He also did school pictures for annuals in a number of towns and for college at Oxford, Ohio. One he showed was of a number of girls in a gym class. Some of them were doing handstands a definite challenge to a photographer. Anyone who has photographed a number of spirtied young ladies, can appreciate the mastery needed by a photographer to capture a scene of this type.
White's commercial work was always of magazine quality. One picture he showed was of group of articles and for clarity and composition, the photo could not be bettered.
How many local residents have had their potraits made at the White Studio. The number would be thousands. However one his first group photos was as good as any he showed that had been made during his career. It was of a reunion of Civil War veterans taken in the side yard of Col. Hagerman Tripp's homestead in 1893, just two years after the Colonel died. Each man was as clear and well shown as in White's pictures of a later day. Group pictures always are difficult and with the early equipment, capturing fine likenesses was a feat. Speaking of the early methods, White showed a small rectangular wooden frame with a hinged back. The back was lined with a soft white material. He told that one opened the back and first fit a glass into place. Then came the negative and they were purposefully made quite dark in those day and then the paper upon which the print would be made. Today, a print paper can only be handled under safe light in a dark roon, but then it could be taken out anywhere. When the paper was in place, the frame's back was closed and the picture to be was laid in the sun for the time necessary to make a contact print. The photographer would take the paper out and check it to see how the print was coming. By controlling the length of time in the sun, he controlled the contrast, etc., of his print.
White told that he took extra care to make pictures that would not fade. His prints indeed do retain their clarity through the years. He found it most difficult to keep color prints from fading. In fact, the Kodak company recommended that they be kept in the dark. Correcting this fault to a large degree is a step he is pleased to see has been made.
And, along the same line of difficulties, he told that it was hard to take the old flash pictures with the subject closing their eyes in anticipation of the flash. Now, he finds many subjects seem to have their eyes too far open.
In his years of work, Otto White won 17 prizes for his work and many of them were "first" awards. When he shows a collection of his pictures, one readily sees why Artistic sunsets, landscape scenes and buildings in which even the slightest detail is clear, well composed views, all are examples of his work. With interest, one notes that pictures made as recently as three years ago when he retired are as clear cut as those made when he was a much younger man. Portraits have warmth and good lighting effects and even the smallest leaves of trees stand out well enough to give the illusion of third dimension.
Of all his work, Otto White is perhaps best remembered by anyone who was a Jennings county school child anytime during most of this century, for his wondrous circuit camera. The day for the school picture was a big event. The photographer, White, would arrange the classes in appropriate lines and set the camera. Then he would explain that the subjects were about to see something they had not seen before, a camera that moved. He admonished all to stand very still and to watch the camera work. A very highly clever way of keeping the attenction of wiggly school children and of being sure they would be looking directly into the camera when it passed them.
Few Could Use This Camera.
Only one man in 100 could work this type of camera and White was called upon to use it for a multitude of occasions. One of these was purely for pleasure. It recorded a 36-inch long print of the White family reunion in Tennessee. White explained that the camera photographs about one inch of film at a time. Thus it was possible for him to be in the picture at the beginning and son, Leslie, ran the camera, then Mr. White took over and Leslie entered the picture at the other end of the line of relatives. It is a pity that it has become so difficult to find film, etc., for this camera, for the pictures it made are superior to most group picture of today. Then, too, the photographer was one who could use it.
Another example of White's ability shows in what we now would call a "candid" shot he made of William Jennings Bryant when he lectured here. White took the picture with a #-A Kodak as the distinguished orator was striding along to the railroad station. He said that Bryant did not even know he was making the picture.
During the year 1899-1900, White was official photographer for the construction of the B&O Railroad from Cincinnati to St. Louis. His work was down west as far as Olney, Ill. He told of the danger encountered in photographing with flash gun in a tunnel in western Indiana. After a cave-in occurred, he took pictures in the tunnel in danger of more rock falling upon him.
Although retired from photography, White is always busy. He lives alone and does a good job of caring for his large house and yard. This year, however, he is having a boy to mow the lawn. He confided that he does not really cook, but uses prepared foods, which is not unlike many housewives today. He is an avid reader, even though age has taken the sight from one eye. Articles of interest are clipped and kept for handy reference and unerringly he finds them when he needs one. One recent story that told of 60,000,000 fatalities due to autos prompted his letter to an editor which suggested a 20 mile per hour governor on all cars except police vehicles, which would be set for 35 mph in order that they could be used to apprehend criminals.
Mr. White's son, Leslie, has for many years operated the White photographic studio at Madison. He learned his profession at a tender age from his father. White's daughter, Mrs. John Murphy [McKinney], and her husband are school teachers at Greenwood. Both children look in on their father at least once each week. Leslie's son, Max, lives in Missouri and he and his wife have three children.
For 35 years, White was president of North Vernon Building Company, Inc. He resigned in 1962. A responsible businessman White always was interested in progress for the community.
To borrow one of his favorite phrases. "As far as that's concerned." it was because of his level headed judgement that the North Vernon Building Company, Inc., was successful in aiding the community and was able to grow and pay dividends to its stockholders through the years.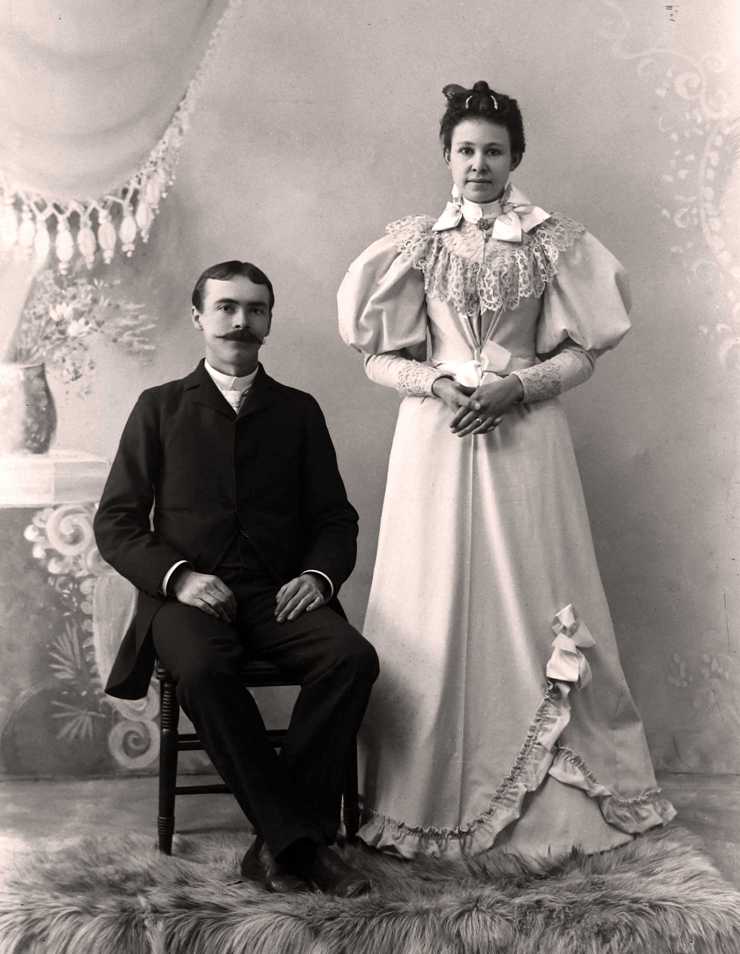 Otto & Cora (VanCleave) White wedding picture - married December 25, 1894, the year after he opened his gallery in North Vernon.
---
You may use this material for your own personal research, however it may not be used for commercial publications without express written consent of the contributor, INGenWeb, and