Welcome to Jackson County!
About the County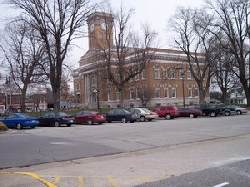 Jackson County was founded in 1814 and was formed from Washington and Jefferson counties. It was the 14th county to be formed in Indiana. Brownstown is the county seat. Jackson County is divided into 12 Townships; Brownstown, Carr, Driftwood, Grassy Fork, Hamilton, Jackson, Owen, Pershing, Redding, Salt Creek, Vernon and Washington. It covers an area of 514 square miles. In 2010, the population was 42,376.
If you would like to adopt this county, please go to the "Becoming a Volunteer" page.
Surrounding counties are; Bartholomew Adoptable, Brown by Sarah Clevenger, Jennings by Sheila L. Kell, Lawrence by Treva E. Peckham & Chuck Carey, Monroe by James D. VanDerMark, Scott is Adoptable and Washington by Dee Pavey.



This Is News!

March 5, 2020:

NEW! Added Obituaries, items in the Marriage section, and in Schools!

The Indiana Facebook group is for comments and questions about Indiana research. Karen Zach is there every day to help!

Please join us in Indiana Genealogy on Facebook.

The Jackson and Bartholomew INGenWebs Facebook Group is for questions, comments and general discussion about these two counties.

Please join us in the Jackson and Bartholomew INGenWebs Facebook Group!




If you find something you need for your research, remember to: right click > save image as. Things do disappear online, as you know.
Remember, always cite your sources!

What Is Here Now
1912 Jackson County Directory
Complete directory of 1912.
Bibles
4 bibles now online! Just uploaded the Hilliard Bible!
Cemeteries

Census
1850 census transcribed by Carol Stultz is onling. Also 1870 Mortality Schedule Census is online, with the images as well as transcript.
Death
Death records, funeral homes and information.
Families of Jackson County
Submitted families. You can submit yours.
NEW! Elbridge Blish Thompson
Funerals
Want to help build this area? Just email me!
Maps of Jackson County
Were submitted by Sandi Shockley.
Marriages
These are all the marriages. You can add to them. Email me.
Military
-from the Indiana World War Records
The Gold Star Honor Roll
~for Jackson County.
Obituaries
Death notices are included in this.
Organizations
If you would like to add to this area, just email me!
Schools
Our Yearbooks plus The Library Collection. Go to the bottom of the School page.
Scrapbooks
Bridges, People, Places and Reno Brothers Graves.
Sports
Towns and Communities
Wills and Probate
In the County
---
Thank you for visiting the Jackson County INGenWeb site. It is my mission to provide helpful information about the people and history of Jackson County. The information on this site may be copied for use in personal family records, with source citation. The pages in entirety may not be duplicated for publication in any fashion. All persons contributing material for posting on these pages does so in recognizing their free, non-commercial distribution, and is responsible to assure that no copyright is violated by their submission.
~Thank you
Betty Sellers Awards

Memorial

Carolyn J. Stultz
-former CC of Jackson County.
January 14, 1935 - January 12, 2007

This site last updated - March 5, 2020