Published January 12, 2007
Hendricks County Flyer, Avon, IN
Carolyn J. Stultz
of Danville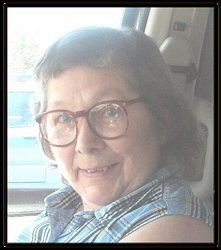 Carolyn J. Stultz died Jan. 12 at her Danville home. She was 71.
Born Jan. 14, 1935, in West Terre Haute, she was a daughter of the late Cecil and Virginia Woolley Elkins.
Mrs. Stultz worked in the office of Ralph Norman Real Estate.
She was a member of the Genealogy Society of Indiana, Tri Kappa Sorority, and Baptist Women's Circle.
Survivors include her husband, James Stultz; daughters and sons-in-law Donna and Allen Kalb of Danville, Connie and Mike Lear of Rockville, Karen and Rick Robertson of Clayton, and Virginia "Ginger" Stacy of Danville; a son and daughter-in-law, Michael and Trina Stultz of Danville; sisters Doris M. Hale and Betty Wright, both of Terre Haute; brothers Denny Pigg of West Terre Haute and Jack Pigg of Terre haute; 16 grandchildren and five great-grandchildren.
Services are 1 p.m. Jan. 15 at Fitzpatrick-Pearce Funeral Home in West Terre haute.
Calling is 3 to 6 p.m. Jan. 14 at Hays Funeral Home, 4980 N. Milton St., Coatesville, and two hours prior to services Jan. 15 at Fitzpatrick-Pearce Funeral Home.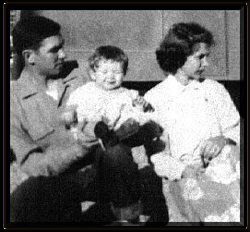 This photo was taken with her husband soon after their first daughter was born.
---
~Dedications~
Carol contributed a great deal to this site, and indeed others. I did not know her personally, but she was so warm and encouraging to me when I took over the Jackson County site. She had a lot of enthusiasm for genealogy and people. She ran the 'Genealogical Research & Publications' in Danville. Many people were helped by her work. We will all miss her.
~Sheri Bush,CC
I've been trying to find the words to say about Carol, but it's very difficult. Carol was not only a good friend to me for over 20 years, mostly by way of chat rooms and email on the internet, but also on the phone ocassionally and a couple of times I visited her at home. She was one of the most cheerful and remarkable people I've known, even through her last months. I chatted with Carol on the internet a number of times after I learned that she was going through chemo, and it never failed to impress me how cheerful she was, how concerned she was about me. It always seemed she had so much concern for others, and so little for herself. She felt herself in God's hands, and was comforted by that. I, like so many in genealogy circles, will miss her a great deal.
~Sandi Shockley
~To Sandi Shockley:
"I am Karen Joan Robertson, third daughter to Carolyne Joan Stultz. My dad had me check mom's e-mails this evening to answer any that needed responded to. Thank you so very much for your kind words. She was such a wonderful person and yes, she was always cheerful, up to the very end. I saw her the Wednesday before she passed and she just hugged me and my girls and smiled and held my hands because I was cold to keep me warm. She talked as if she had another 100 years, that was her, always happy, always optimistic! I wish everyone in the world could be a little bit like her, it would be a much better place. She was a blessing to anyone who met her. We miss her so very much but we know that she is now in Heaven with all those people she researched and her grandson (my son) and she is finally without pain. Thank you, again, for your kind words. It is a comfort to listen to others speak of her too."
the words of: Karen Joan Robertson