Many thanks to Karen Creamer, the long-time County Coordinator for Franklin County. We greatly appreciate her many years of dedication and hard work!

Welcome to the Franklin County, INGenWeb site! Come on in and look around; there's a lot of research material here. Use the menu links on the left and start exploring!

Franklin County Coordinator Cindy Arnold

INGenWeb State Coordinator, Lena Harper
Assistant State Coordinator, Jim Cox
Assistant State Coordinator, Karen Zach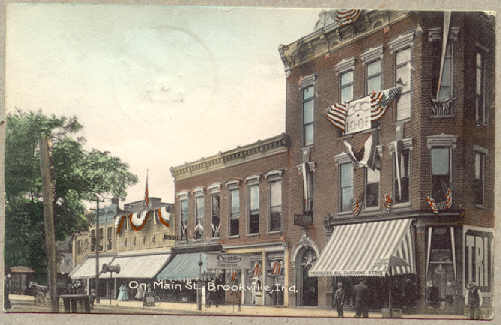 Main Street, Brookville in 1910
Some Franklin County Facts
Franklin County was the sixth Indiana county, formed in 1811 from Dearborn and Clark counties.
The county was named for Benjamin Franklin.
Brookville is the county seat. It was first settled in 1804.
A person is considered a Franklin County "pioneer" if they resided here on or before 31 Dec 1825.
There are 13 townships in the county: Bath, Blooming Grove, Brookville, Butler, Fairfield, Highland, Laurel, Metamora, Posey, Ray, Salt Creek, Springfield and Whitewater.
Four Indiana governors had Franklin County connections, as did a governor of Kansas, one of Utah and one of Wyoming.
---
Visitors since 23 Aug 2008