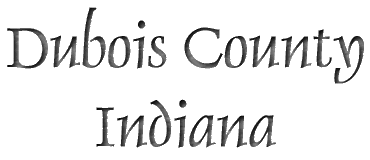 Burton Cemetery
Latitude: 38° 30 Min. 22 Sec. Longitude: -86° 42 Min. 29 Sec.
Located about 1/2 mile off E. Cuzco Road N. on private property. Permission Required
The current landowner maintains access to the site, and keeps the cemetery neatly mowed and trimmed. There are an unknown number of burials here with no marker. Two Elkins burials taken from Marvin Beatty's transcription are listed last. No markers could be found, and their location is unknown. Read and photographed May 23, 2009 by Charlie Tredway
Copyright © 1997 - 2015 Dubois County INGenWeb, Charlie Tredway, and contributors.
All material, including photographs, contained on this page may be freely copied for your personal use, but
may not be reproduced
or publicly displayed in any format without written consent
. ©
Charlie Tredway
and INGenWeb.

Click Image To Enlarge

| Row | Last Name | First Name | Born | Died | Other | Photo |
| --- | --- | --- | --- | --- | --- | --- |
| 1 | Harbison | A C | 5/2/1855 | 9/14/1901 | 45 y 5m 12 d | |
| 1 | Harbison | Everitt | 9/5/1892 | 9/7/1896 | Son of A C & M A Harbison | |
| 1 | Harbison | Carrie | 11/22/1889 | 2/6/1890 | Dau of A C & M A Harbison | |
| 1 | Harrison | Infant | | | Son of H W & M A Harrison | |
| 1 | Burton | Thompson H | | 2/27/1863 | 28 y 5 m 15 d | |
| 1 | Burton | Infant | | | | |
| 1 | Harrison | Mary A | | 6/5/1887 | 57 y 8 m 29 d | |
| 1 | Cox | Enoch | 10/6/1830 | 6/5/1887 | 57 y 8 m 29 d | |
| 1 | Cox | Caroline | | 8/11/1905 | 69 y 2 m 10 d | |
| 2 | Burton | Hiram | 9/18/1851 | 8/23/1874 | 22 y 11 m 5 d | |
| 2 | Illegible | Stone | | | | |
| 2 | Burton | Lucy A | | 4/1/1863 | Dau of Young & Mary Burton 20 y | |
| 2 | Burton | Thomas R | | 4/2/1863? | Son of T H & M A Burton 2 y 11 m 6 d | |
| 2 | Illegible | Stone | | | | |
| 2 | Burton | Louisa | | 12/13/1870 | 24 y 2 m 9 d | |
| 3 | Burton | Young | 2/28/1807 | 7/26/1892 | | |
| 3 | Burton | Mary G | 11/13/1813 | 4/9/1894 | 80 y 4 m 26 d | |
| 3 | Burton | Riley | 3/1/1838 | 11/26/1914 | 76 y 8 m 25 d | |
| 3 | Elkins | William | 11/3/1844 | 4/8/1894 | Husband of Mary F Elkins (Civil War Vet) | |
| 3 | Elkins | Mary F | 6/28/1845 | 10/3/1918 | Wife of Wm Elkins | |
| 4 | McKeighen | Isola B | | 9/2/1878 | Dau of W D & S E Mckeighen 1y 5m 17d | |
| 4 | McKeighen | Sarah | | | Wife of W D McKeighen 30y 11m 22d | |
| 4 | Blank | Stone | | | | |
| 4 | Freeman | Ellsworth | 8/27/1871 | 7/28/1873 | Son of J B & M E Freeman 1y 11m 1d | |
| 4 | Illegible | Stone | | | | |
| 4 | McCarrell | James H C | 11/9/1858 | 9/1/1888 | 29y 9m 22d | |
| 4 | McCarrell | William | 2/4/1808 | 10/19/1887 | 79y 8m 15d | None |
| 4 | McCarrell | Rachel | 11/20/1820 | 4/9/1873 | 54y 4m 19d | |
| 4 | Elkins | Charley | 2/22/1868 | 4/1/1868 | Son of Wm & M F Elkins | |
| 4 | Elkins | Thompson | 10/10/1869 | 5/21/1870 | Son of Wm & M F Elkins | |
| 5 | Nicholson | Mary L | 1/31/1885 | 12/27/1895 | Dau of D A & M Nicholson | |
| 5 | Nicholson | Daniel A | 7/1/1842 | 1/12/1889 | (Civil War Vet) | |
| 6 | Nicholson | Elza A | 3/18/1891 | 10/15/1892 | Son of A & M C Nicholson | |
| 6 | Harrisson | Amelia | | 12/13/1871 | Wife of H Harrisson 65y 10m 20d | |
| 6 | Marker | Remnant | | | | |
| 6 | Marker | Remnant | | | | |
| 7 | Kesterson | Thomas J | 2/25/1873 | 4/9/1901 | (Son of Mary (McCune) & John T Kesterson) | |
| 7 | Nicholson | Joel | | 1/3/1896 | Date recorded by Mark Mynatt, 1999. Marker now gone. Son of Daniel A Nicholson and Rhoda Potts . Husband of Viola (McCune) Little. | |
| 7 | Leffler | Raymond | 3/1/1886 | 3/15/1886 | Son of J S & A E Leffler | |
| 7 | Leffler | Elvus | 4/1/1890 | 12/19/1891 | Son of J S & A E Leffler | |
| 7 | Leffler | Alza E | 9/20/1861 | 11/20/1895 | Wife of J S Leffler | |
| 7 | Taylor | Thomas T | | 4/25/1880 | Son of W E & E G Taylor 32y 3m 8d | |
| 7 | Illegible | Stone | | | | |
| ? | Elkins | Helen Fern | 10/6/1918 | 1/17/1919 | Dau of Ed & Eva Elkins (No Stone) | |
| ? | Elkins | Richard Lynn | 6/14/1928 | 1/19/1929 | Son of Ed & Eva Elkins (No Stone) | |