---
"In all of us there is a hunger, marrow-deep, to know our heritage - to know who we are and where we have
come from. Without this enriching knowledge there is A hollow yearning. No matter what our
attainments in life there is still a vacuum. An emptiness, and the most disquieting loneliness."
Alex Haley
---



WELCOME TO THE
BENTON COUNTY INGENWEB PROJECT

Benton County INGenWeb is a part of the USGenWeb Project and is an all-volunteer effort. In June, 1996, a group of genealogists organized the Indiana Comprehensive Genealogy Database. The idea was to provide a single entry point for all counties in Indiana, where collected databases would be stored. In addition, the databases would be indexed and cross-linked, so that even if an individual were found in more than one county, they could be located in the index.
At the same time, volunteers were found who were willing to coordinate the collection of databases and generally oversee the contents of the web page.
My name is Adina Watkins Dyer and I am responsible for Benton County. This site was previously cared for by Anthony Gick. I would like to thank Anthony for all his years of dedication and work for the researchers of Benton County, and wish him all the best for the future.
If you would like to contribute information to this site, please let me know.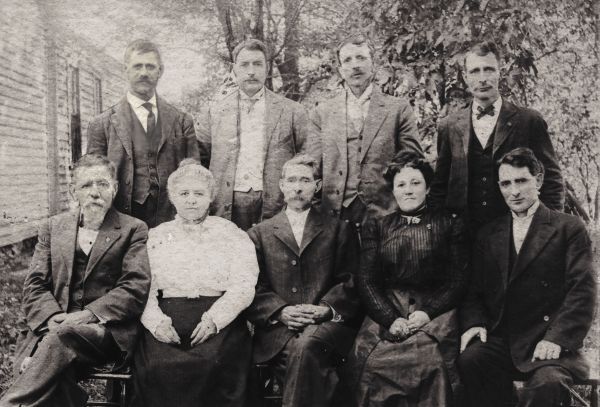 The Children of George William Harrison and Maria Louisa Davis.
Upper Row: Ludlow, Hosea, Edgar and Jesse
Lower Row: William, Hannah, Charles, Lula, and Alex
A History of the Harrison Family in Benton County, Indiana
(.pdf format)
Submitted by
Dennis Shaw
---
---
BENTON COUNTY RESOURCES





Queries

Surnames


surnames needed - submit your Benton County surnames!



Look Ups

Transcribed Documents -

submissions needed!

Bibles, Census Records, Court Records
Deaths Records, Deeds, Letters
Marriages, Wills and Probate Records

History of Benton County

Biographies

Cemeteries (at Find-A-Grave)

Message Board at RootsWeb/Ancestry

Benton County Forum at GenForum

Mailing List - Subscribe - Search - Browse


Family Pages - coming soon


---

MORE BENTON COUNTY LINKS


Map of Benton County Townships

Benton County Indiana - (Genealogy Trails site)

Sowing and Reaping: Life Story of J. L. McNeil

Dan Patch Historical Society on Facebook

Addresses for Researching Genealogy in Benton County



Benton County History Books You Can Read Online:



INDIANA LINKS





---

---

Background images by



Header by Adina Watkins Dyer

© 1998 - 2007 Anthony Gick
© 2007-2017 Adina Watkins Dyer
All rights reserved