This page was created ----
Obituaries
---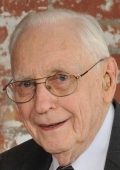 Rudolph P. (Rudy) Minneman
Source: Lafayette Journal & Courier
Issued: November 6 to November 8, 2012
Birth: Sep. 3, 1915
Franklin County
Indiana, USA
Death: Nov. 4, 2012
West Lafayette
Tippecanoe County
Indiana, USA
Rudolph P. (Rudy) Minneman, 96, died on Sunday, November 4, 2012, at Cumberland Pointe Health Campus in West Lafayette where he had resided since September of 2009. He was born on September 3, 1916, in a farm house in Highland Township in Franklin County, Indiana, the youngest of twelve children of Eli Minneman, Sr., and the ninth by his second wife, Louisa Gesell.
He graduated from Sunman High School in 1934. After attending Central Normal College in Danville, Indiana, he was certified to teach in the elementary schools in Indiana. Completing subsequent summer school courses at Central Normal, Indiana and Butler Universities, he received a Bachelor of Science degree in Education from Central Normal and a Master's degree in Administration from Butler University.
Rudy began his career teaching grades 1-8 in a one-room school in Franklin County. After jobs in Lawrenceburg and Spades, Indiana, he returned to Sunman Schools, starting as an instructor of upper elementary and then moving to high school where he taught math and music. During the last seven of his thirteen years in Sunman, he served as Superintendent of Schools. In 1953 he and his family moved to Delphi, Indiana, where he became elementary principal for thirteen years and elementary coordinator during consolidation. In 1966 he assumed the role of Director of Elementary Education at the Tippecanoe School Corporation, where he facilitated the consolidation of buildings, staff and curriculum in the elementary schools, serving in that capacity until his retirement in 1978, after forty-three years as an educator. Rudy was active in both the National and Indiana Elementary Principals' Associations, serving for eight years on the executive committee and as president of the association for one year.
On May 10, 1941, Rudy married Mary Ring, a young teacher from Dale, Indiana, in a service at St. James Lutheran Church in Holland, Indiana, officiated by his brother, the Rev. Harry Minneman. The two were active in St. Matthew's Lutheran Church and the Junto Club in Delphi, where he was also a member of the Lions Club. After moving to Lafayette in 1967, Rudy and Mary joined Prince of Peace Lutheran Church and, in 2003, became members of Grace Lutheran Church. A Lutheran all his life, Rudy was active as a Sunday School teacher and superintendent; a church council member, secretary, and treasurer; parish education committee chairman; and building project chairman in two congregations.
After retirement, Rudy worked as a volunteer tax counselor for the elderly with AARP for more than twenty years. He also served for fifteen years on the board of directors for Mulberry Lutheran Home. He and Mary enjoyed many travels across the country in their VW camper van. One of his favorite hobbies was spending time in his basement woodworking shop repairing, refinishing, or constructing furniture for family and friends. His visits to them were happily received, as he always brought his tools and know-how to fix waiting projects. The wooden nativity scenes that he designed and built are special treasures.
Rudy was a devoted caretaker for his wife during her final ten years with Alzheimer's disease, and she died on March 30, 2005. He was also preceded in death by his parents, three half-brothers, three brothers, and five sisters.
Surviving are two daughters, Donna M. Smith (husband: Jeff) of Delphi, and Dianne L. Silvestri (husband: Ron) of Natick, Massachusetts. He is also survived by his six grandchildren in whose education he took special interest: Hannah Smith, a pediatrician and an emergency medicine fellow at Washington University in St. Louis, Missouri, who is currently doing research in Malawi, Africa; Lydia George (husband: Parker), a graduate student in Indianapolis completing her doctorate in physical therapy from Indiana University; Mark Silvestri (wife: Julie), a chief resident in obstetrics and gynecology at Yale University in New Haven, Connecticut; David Silvestri, who is finishing work on his MD and MBA degrees at Vanderbilt University, Nashville, Tennessee, and presently engaged in projects in Kenya and Ethiopia, Africa; Michael Silvestri (wife: Liza), a consultant for Oliver Wyman living in Brookline, Massachusetts; and Caroline Silvestri, a graduate student at Vanderbilt University's Peabody School of Education in Nashville, Tennessee. Also surviving is great grandson Isaiah Matthew Silvestri, living in Connecticut.
In lieu of flowers, the family suggests memorial donations may be made to Grace Lutheran Church, 102 Buckingham Dr., Lafayette, IN 47909 or Cumberland Pointe Activity Fund, 1051 Cumberland Ave., West Lafayette, IN 47906.
Visitation will be from 1:30 p.m. until 3:00 p.m. on Saturday, November 10, 2012, at Grace Lutheran Church, Lafayette, Indiana. Funeral services will immediately follow the visitation with burial to follow at the Masonic Cemetery in Delphi. Pastor Ed Morrow will officiate. Share memories and condolences online at www.soller-baker.com.
Created by: Sherry Salla