Randolph County, Indiana

William H. Mote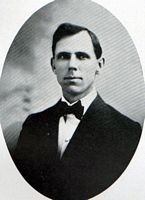 The people who constitute the bone and sinew of this country are certainly not those who are unsettled and unstable; who change from one occupation to another; who take no interest in public affairs, never assist in establishing schools, churches and in encouraging the enforcement of laws. The backbone of this country is made up of the families who have made their homes; who are alive to the best interests of the community in which they reside; who are so honest that it is no trouble for their neighbors to know it; who attend to their own business and are too busy to attend to that of others; who work on steadily from day to day, taking the sunshine with the storm and who rear a family to a comfortable home and an honest life. Such people are always welcome in any community. They are wealth producers. Randolph county has been blessed with a goodly number of such, among whom is the subject of this sketch.

William H. Mote, the present popular and efficient postmaster at Union City was born June 7, 1869, in Wayne township, Randolph county. He is a son of Rufus G. and Elmira (Turner) Mote. The father was born in Darke county, Ohio, and is still living. The mother was born near Winchester, Indiana, and is also still living. Rufus G. Mote was a soldier in Company H, One Hundred and Twenty-fourth Indiana Volunteer Infantry, under Captain Neff, having enlisted in 1863, from Randolph county, serving until the close of the war in a most creditable manner. He was with Sherman in the Atlanta campaign and was with Thomas at Nashville. He thus took part in many important battles and campaigns. He has devoted his active life to general farming but is now living retired in Union City. His family consisted of only two children, William H., of this sketch, and Olive V., now deceased.
William H. Mote grew to manhood on the home farm where he worked hard when a boy and received a good education in the common schools, later was graduated from the Eastern Indiana Normal at Portland, also was graduated from Valparaiso College. He was clerk in the county treasurerís office under Turner and Harland Ruby. He then returned to the farm and successfully engaged in tilling the soil in this county until 1899, in which year he organized a business at Bartonia, now known as the Farm Supply Company, dealing in farm implements, hardware and a number of things used by all farmers. He got a very good start, but discontinued the business there in 1901, and moved the same to Union City. Mr. Mote was at that time head of the concern and his energy, sound judgment and honest dealings made it a pronounced success and it has steadily grown to the present time. He is now a stockholder in the same.
Mr. Mote has ever taken an abiding interest in public affairs. He served four years in the common council of Union City to which he was elected in 1906, his term expiring in 1910, and during that period he did much for the permanent good of the city. He is a loyal Republican and has been influential in local political affairs for some time. He was appointed postmaster at Union City February 16, 1911, under President Taft. His term expires in February, 1915. He is discharging the duties of the same in a highly acceptable manner to the people and the administration. He owns a pleasant home in Union City. Fraternally, he belongs to the Knights of the Golden Eagle at Bartonia, also is a member of the Masonic Order at Union City. He is a member of the Christian church and is chairman of the official board of the same.
Mr. Mote was married October 12, 1892, to Florence E. Woodbury, who was born south of Union City in Randolph county, June 18, 1874. She is a daughter of Samuel C. and Alice (Galloway) Woodbury, the father a native of Indiana and the mother of Ohio. Mrs. Mote received a common school education, was also graduated from the high school at Union City (on the Ohio side). She taught one term of school before her marriage.
Two children have been born to Mr. and Mrs. Mote, namely: Harriet A., born September 8, 1893, is now a student in Northwestern University; she is a talented musician and is studying both vocal and instrumental music. Seibert W., the son, was born July 1, 1898, and is now attending high school in Union City.
Past and Present of Randolph County, Indiana, 1914.
Contributed by Gina Richardson




The Randolph County, Indiana INGenWeb family history site is maintained by Phyllis Fleming. Copying is permitted for noncommercial, educational use by individual scholars and libraries. You may link to this page with prior permission, provided no fee is required to access the link, but no commercial use of this material is permitted. This message must appear on all copied material.